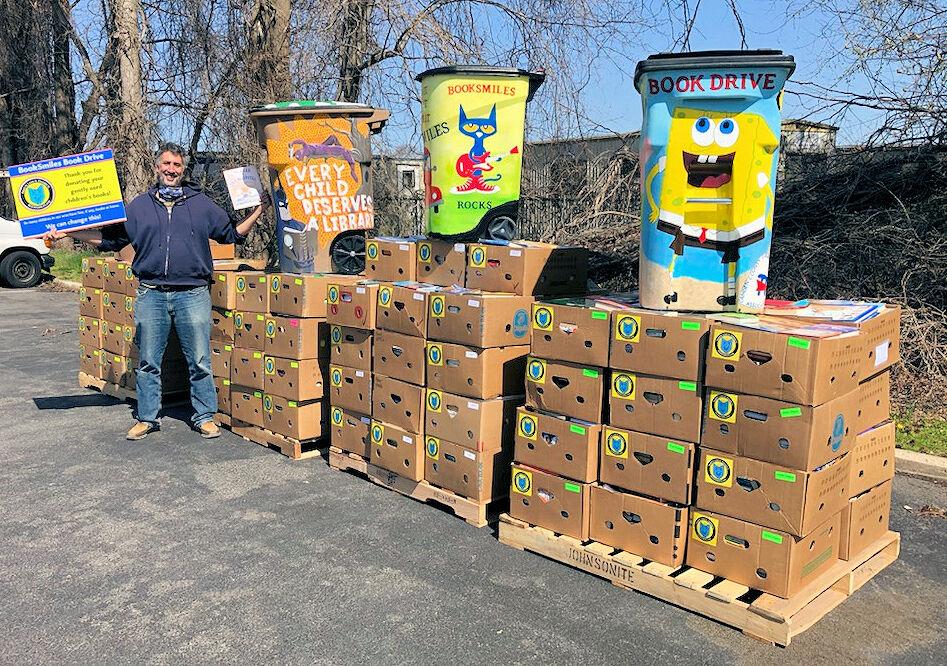 Larry Abrams builds libraries.
But Abrams, who lives on the west side of Cherry Hill near Carusi Middle School, doesn't deal in bricks, shelving or architectural drawings.
The implements used in Abrams' library building are decorated trash bins, cardboard boxes and — his greatest tool of all — the used children's books he gives away, primarily to South Jersey and Philadelphia teachers, who in turn hand them over to typically lower-income students to add to their home libraries.
How substantial are those libraries? In about four years of operation, his 501(c)(3) nonprofit BookSmiles has distributed more than 500,000 "gently used" or new books to schoolkids in the region.
"It's just our joy to irrigate book deserts in South Jersey and Philadelphia," Abrams, who blends marketing savvy and an entrepreneurial spirit for his nonprofit, told 70and73.com in a recent interview.
Abrams, who noted BookSmiles targets schools with large student populations eligible for free or reduced-price meals, said a low-income family's budget often doesn't include trips to the bookstore to stock a child's library.
"I decided that there had to be something done about book inequity," said Abrams, a high school English teacher in the Lindenwold School District. "We want every child to have their own home library of at least 50 books," Abrams said.
In late April, Abrams was named as an honoree for the 25th anniversary of the Russell Berrie Foundation's "Making a Difference Award," which is managed by Ramapo College of New Jersey in Bergen County. The virtual award ceremony will be held May 7.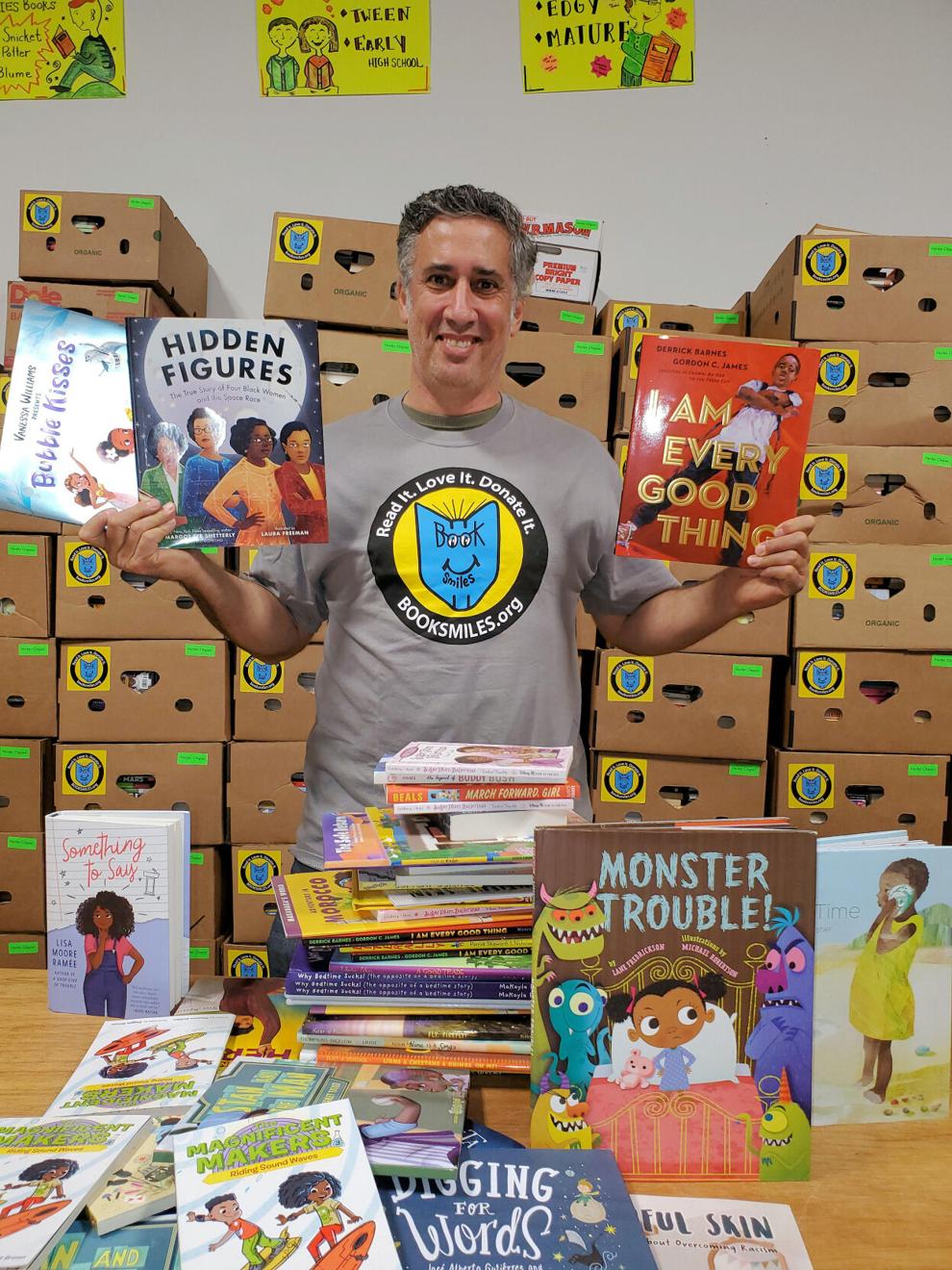 Abrams will receive a $7,500 award for his work as a champion of literacy by ensuring "underserved children have their personal library at home to help develop good literacy skills," according to the award announcement.
Teachers from across the region show up at BookSmiles' warehouse on Old Cuthbert Road in Cherry Hill to select books for their students, and many leave with bags and bags of the free books. A teacher makes a $25-a-year donation to register and become a "literacy warrior" with the organization.
One Edgewater Park middle-school teacher shared an anecdote about the joy of free children's books on the BookSmiles website. She wrote of finding a copy of the novel "The Outsiders" in Spanish: "My students clamored over to the bags, wanting to pick. One of most-quiet students immediately found that book and said 'This is in Spanish. I can read this with my mom. She doesn't read English.' I told her that I picked it up with her in mind and she could take it home. She was excited and said 'I can read with my Mom now!' "
Abrams, a Cherry Hill resident since 1998, at the beginning of his career taught in Moorestown schools, where building a child's home library was a given for most affluent families. Since 2004, he has taught at Lindenwold High School and came to realize home libraries are beyond the reach of many lower-income families, he said.
"Wouldn't it be cool to give the kids I teach all of these wonderful books that affluent kids had," Abrams said he remembers thinking.
From that thought, BookSmiles was born and the used book collection and distribution nonprofit outgrew the classroom, then the family garage, then the rented 10-by-10 storage unit and now the 1,000-square-foot warehouse space on Old Cuthbert Road. When the lease is up, Abrams expects BookSmiles to move to 3,500 square feet of space — enabling the nonprofit to distribute about 1 million books a year.
Besides the donations from participating teachers, BookSmiles also has been supported by Townsend Press, an educational publisher in West Berlin, and contributions from community members. The nonprofit's only paid staff member is Karen Hamilton, the part-time program coordinator, Abrams said.
About half of BookSmiles' books are collected through about 45 oversized "collector bins," which are hand-painted trash receptacles scattered across the region. Volunteers empty the bins and transport the books to the warehouse, Abrams explained. Book drives, and help from the Barnes & Noble bookstore chain and publisher Houghton Mifflin Harcourt, also have added to the half-million books collected, he said.
BookSmiles' latest partnership is with the Food Bank of South Jersey, which in February began collecting and distributing books for the literacy nonprofit.
Not every book is donated. At times, BookSmiles must shop, Abrams said. Hard-to-get donated books include those in Spanish and ones featuring diverse characters of different races and lifestyles, he said, adding it's "really important to kids" to see their cultures and ethnicity represented in some of the books they read.
"The teachers are the ones who know their children really, really well," Abrams said. Teachers hand-pick their books on Wednesdays and Sundays, when the warehouse looks like a cross between a used book store and an all-you-can-eat buffet, he added.
Organizations similar to BookSmiles operate in other areas of the country. Bernie's Book Bank operates in the Chicago suburb of Lake Bluff, Illinois and the Bridge of Books Foundation is in Rumson, Monmouth County. Abrams said there are other examples in the Cleveland area, Maryland and on Long Island. 
---
Donate your children's and adult books at the Book Bank, 1879 Old Cuthbert Road #33 in Cherry Hill. The warehouse is down the road from the Cherry Hill Health & Racquet Club.
---