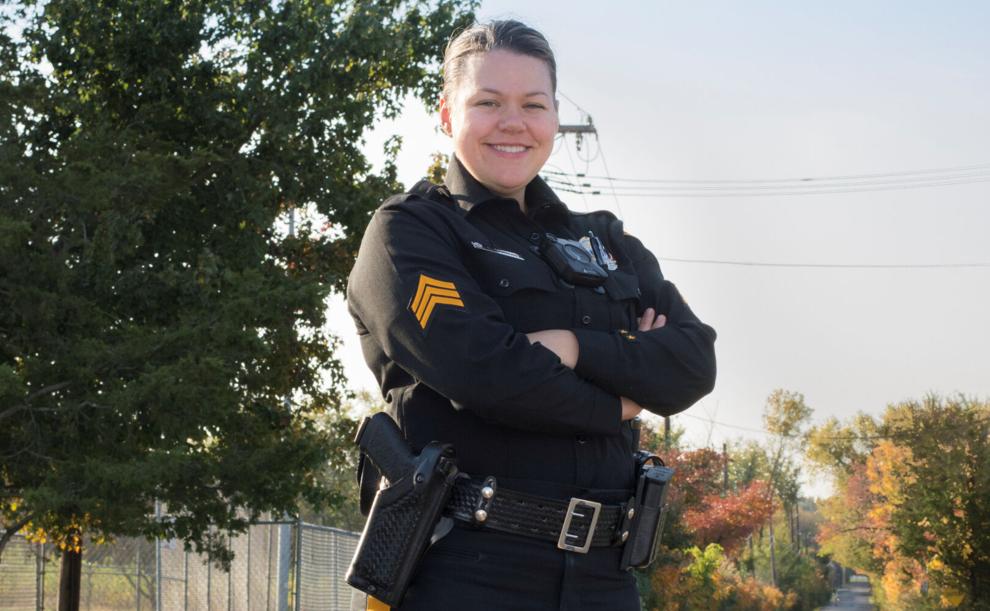 The lawyer representing Evesham Township and its manager on Tuesday formally responded to a gender discrimination lawsuit filed in August by a female sergeant on the police force.
Police Sgt. Erin Gorman, the highest-ranking female in the department, contends in her suit that Township Manager Robert Corrales and the Township discriminated against her when they twice passed over her for promotion to lieutenant.
The Township denied in its filing on Tuesday that Gorman was discriminated against in the 2020 promotional process or that she was treated differently based on her gender.
Gorman scored higher than the four male candidates who also took the lieutenant test in 2020. Gorman also was the Police Department's Supervisor of the Year for 2020. She joined the force in 2005 and was promoted to sergeant in 2012.
Lawyer Cameron R. Morgan, of the Capehart Scatchard law firm in Mount Laurel, represents Evesham and in his filing Tuesday with New Jersey Superior Court in Burlington County answered many of Gorman's charges by stating "defendants are, at this time, without sufficient knowledge or information to form a belief as to the truth or veracity of the allegations," which is a standard legal response.
Morgan asked the court for a jury trial for his clients. Gorman's lawyer, Jacqueline M. Vigilante, of the Vigilante Law Firm of Mullica Hill in Gloucester County, also asked for a jury trial.
Morgan also stated in the filing that he will ask the court to vacate a default against the defendants because they missed the October 8 deadline to respond to the suit. Morgan stated it was late because one attorney in his firm unexpectedly resigned, another was on leave and that he needed to care for a family member with a serious illness.
In the filing, Morgan admitted some facts cited by Gorman, including that Corrales is responsible for promotions in the Evesham Police Department. 
At the heart of the suit are Gorman's allegations that two former department lieutenants whom she previously had charged with harassment or "inappropriate behavior" were permitted to sit on the promotional peer review board.
The Gorman lawsuit notes that those two now-retired lieutenants, Bruce Higbee and Ronald Ritter, were allowed to participate in peer reviews during Gorman's application for promotion to lieutenant in 2017 and 2020.
In its response on Tuesday, Evesham — through Morgan — admitted that in 2008 Gorman filed a harassment charge against then-Sgt. Higbee and that Higbee was disciplined for a violation of the workplace harassment policy.
The response also admitted that in 2015 Gorman reported "inappropriate behavior" by Lt. Ritter in a report to her supervisor. Gorman's complaint against Ritter was sustained and the lieutenant was disciplined, Evesham admitted.
In the peer review by all lieutenants for the promotion, Evesham admitted that Gorman came in fourth out of the five candidates. The Township also admitted that Higbee rated Gorman the lowest of any of her evaluators and that Ritter rated her second-lowest.
In the overall process, candidates for lieutenant were scored in four areas: written test, 45%; interview with township manager, 40%; leadership evaluation, 10% and education, 5%. 
Evesham admitted that in 2020 Gorman scored a 94, the highest grade for the written examination taken by Gorman and four males candidates. It also admitted that Township Manager Corrales scored her as an 80 in his interview with her. Gorman's score was tied with another candidate's as the lowest.
However, the Township denied Gorman's charge that Corrales manipulated his interview scores to "purposely disadvantage" her. It also denied the allegation that Gorman was "purposely underscored by the Township manager so that she would not be promoted."
Gorman is seeking an unspecified amount of damages for back pay, punitive damages and attorney fees.
She grew up in Gloucester City, where her father rose to deputy chief of the police department after 25 years and where her sister now is on the police force. She still lives there with her three children and husband, Sean Gorman, who is the former principal of Gloucester City High School and now is the district superintendent for Gloucester City Public Schools. She graduated with a bachelor's degree in criminal justice from Rutgers University in Camden and then graduated from the Camden County Police Academy.
» READ MORE: Police Department's highest-ranking female officer sues for gender discrimination.