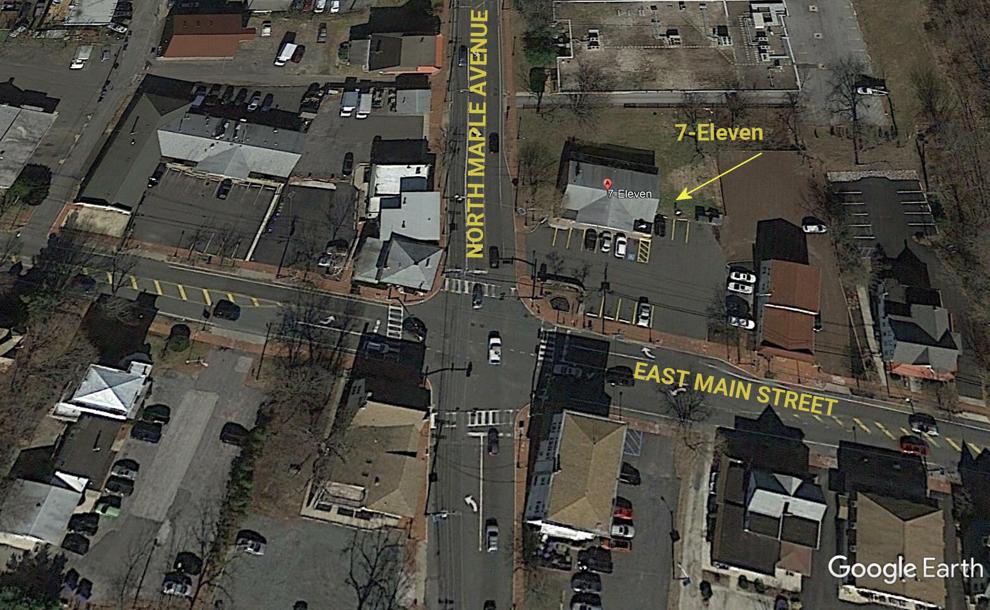 When a vision for Evesham's downtown Marlton section is discussed, the conversation often doesn't go far before the subject of the 7-Eleven convenience store comes up.
The store — built about 50 years ago and owned by the Dallas-based store chain — sits on a three-quarter-acre lot at North Maple Avenue and East Main Street in the heart of downtown and is valued at $502,100, according to tax records.
"There's opportunity to create a public space. We don't know where exactly," planner Chris Cosenza of LRK Inc. of Center City Philadelphia told the township Planning Board Thursday night when he explained a new vision plan for downtown Marlton. He said the 7-Eleven site could be selected for a centralized public gathering space.
Cosenza's firm researched and wrote the "Evesham Township Downtown Vision Plan," a 60-page document offering ways that downtown might be improved and upgraded to add more parking, sidewalk restaurants and easier access to pedestrians and bicyclists. One basis for the plan was a public meeting of residents in 2009 at which many pointed out the Maple and Main intersection as needing many improvements, with some singling out the 7-Eleven as something that didn't fit their visions of a new downtown.
"The 7-Eleven site at the primary intersection of the downtown area, Main Street and Maple Avenue, remains in its long-unimproved condition, despite having received the most 'places you like the least' red dots," according to the vision plan.
Planning Board members listened to Cosenza's presentation and voted 9-0 to adopt the report's recommendations. Board chair Alicia Marrone said "it's really a wonderful guiding document."
Only three members of the public spoke at Thursday's hearing and each was a member of town government. Ila Vassallo and Janet Rolnick, members of the Environmental Commission, discussed the green recommendations in the report. Sandy Student, a member of the Zoning Board of Adjustment, praised the report, saying "this is the way for us to go forward."
Cosenza noted the goal is to make Marlton Village "more vibrant, with civic gathering places and an inviting mix of shops, restaurants and services along a more pedestrian-friendly streetscape."
Developing the downtown has lacked a "coordinated effort," he said, largely because it is composed of small lots with many owners. It's far more difficult to develop than a highway corridor with large parcels under one ownership, he said. 
The downtown area has been designated by the township as an "area in need of redevelopment," which can come with tax breaks for owners who improve their properties. But the "ad hoc" approach alone isn't enough for an over-arching vision plan, Cosenza explained.
Cosenza cited the limited pool of public parking and how some areas within downtown now have little connectivity. He said that while the township periodically sponsors large events on Main Street, there is no public gathering place that could host events all of the time.
Resident wishes in the vision included a downtown library, community center and arts district, more sidewalks and crosswalks and more eating places. A beer garden got the most votes, he said.
A lack of parking often comes up as an issue in the downtown area. The township's zoning board at its January 25 meeting will consider a sign company's plan to build large monument signs on Route 73 and also construct a parking lot downtown.
Cosenza also recommended consideration of a pedestrian bridge over Route 73. When the Marlton Circle was eliminated in 2011 it improved traffic, he noted, but he added that "in a way, (the circle) was a landmark for the community, it was sort of an entry to Main Street and Old Marlton Pike. Once that went away with the overpass you might find yourself driving over and completely skipping the town, which is unfortunate."
The state Department of Transportation rejected the idea of a pedestrian tunnel under Route 73 when the circle was eliminated, Cosenza said. A pedestrian bridge could connect the two sides of Marlton again, from Main Street to Old Marlton Pike.
"Obviously, if it's not done right, it would actually create a negative impact to the community," Cosenza said. "So the concept of the pedestrian bridge is to really circle back from the original plan, which was the need to create some sort of connection."
» MORE: How a Route 73 pedestrian bridge fits vision for downtown Marlton.
After Cosenza's presentation, the board had little discussion before voting in favor of accepting the recommendations.
Board member Jay Levenson said he was concerned about the brick sidewalks — desirable because they allow water to flow through — in the plan. He said the current brick sidewalks downtown are a "disaster" and the "bricks are constantly shifting out of place," making the walks a danger to pedestrians.