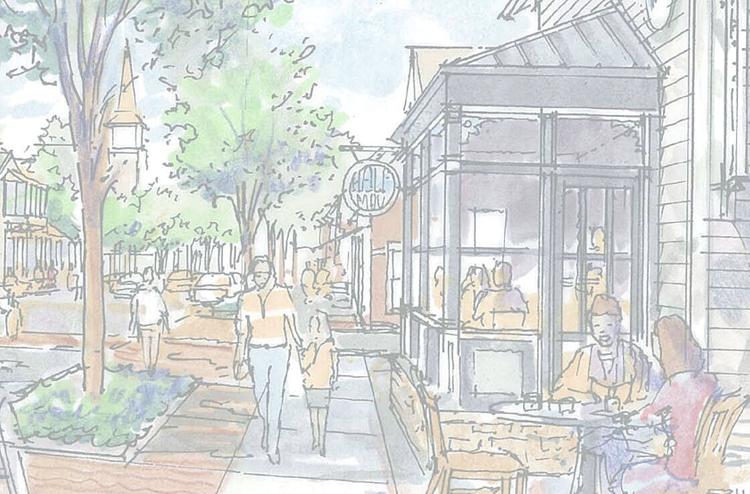 A pedestrian bridge across Route 73 in the Marlton section of Evesham Township is a key part of a "vision plan" that could result in partly redesigning and rebuilding the downtown area.
One concept shows the busy highway spanned by the bridge from the Marlton Square shopping center on the east side to a spot near the Chickie's & Pete's restaurant in the Marlton Crossing Shopping Center on the west side, according to the 60-page, just-released January 2021 plan that will go before the Planning Board at its January 21 meeting.
The plan, packed with photographs and maps, was written by LRK Inc., a Center-City Philadelphia planning and architectural firm, and is based largely on public comments about ways to improve downtown Marlton that were collected at public meetings in 2018. The township began to actively plan change in the Routes 70 and 73 corridors in 2009 in anticipation of the Marlton traffic circle elimination by the state Department of Transportation. 
At the public meetings, residents were asked about their least-favorite sections of the current downtown and what special uses, businesses and restaurants they'd like to see. They stuck red dots to maps to show the downtown spots needing the most improvement.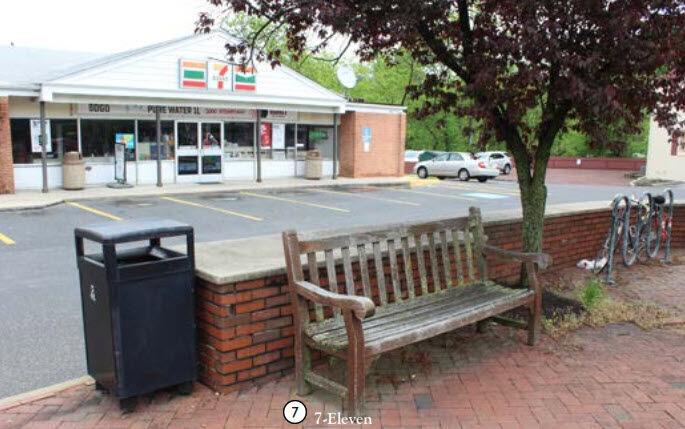 "The 7-Eleven site at the primary intersection of the downtown area, Main Street and Maple Avenue, remains in its long-unimproved condition, despite having received the most 'places you like the least' red dots," according to the vision plan.
A lack of parking often comes up as an issue in the downtown area. The township's Zoning Board of Adjustment at its January 25 meeting will consider a sign company's plan to build large monument signs on Route 73 and also construct a parking lot downtown.
"Additionally, there are various obstacles — both perceived and real — related to parking capacity and access, including numerous disconnected parking lots with their own driveways, parking lots which front on streets, limited public rights-of-way to easily accommodate on-street parking, and lack of a way-finding signage system," the report states.
---
» MORE: Read the January 2021 "Evesham Township Downtown Vision Plan."
» MORE: Register to attend the Planning Board review of the vision plan.
» MORE: How Evesham may get a new parking lot downtown.
---
Another issue that came up at public meetings was "an apparent lack of public gathering space suitable for a downtown area to serve as a focal point and to accommodate community events," according to the plan.
The vision plan states the targeted area "generally follows Main Street and is defined by the entrance to Marlton Square on the west end and S. Locust Avenue to the east. The area also follows the north-south street of Maple Avenue and is bounded by Route 70 to the north and Munger Avenue to the south." (see map below)
Trees, landscaping and special attention to storefronts are discussed in the plan. "Multiple storefronts within the same building should be visually compatible in terms of scale, alignment, and general storefront design, and distinguish between various shops using color, signage, and awnings," the plan notes. Buildings should be 1½-to-2½ stories high, with some 3½-story buildings permitted in gateway areas fronting on public spaces, it says.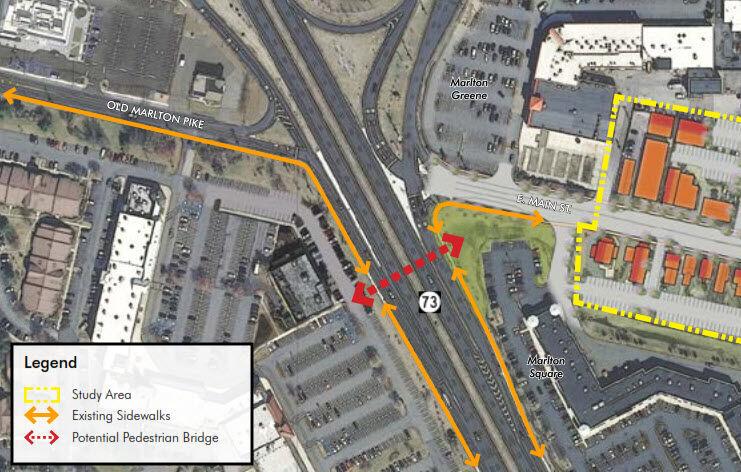 What's the 'laundry list' of public suggestions?
Here are some of the ideas from the public outlined in the vision plan:
WHAT SPECIAL USES DO YOU WANT TO SEE DOWNTOWN?
Library
Community Center
Senior Center
Open, usable space — a lot of those goals can be in there: entertaining, play spots, walking, etc.
Utilize Board of Education building (25 S. Maple Ave.) as art/community focus — history and great greenspace
Wellness/fitness facility
Arts District
Small park
Space/events for local small businesses to set up & sell items
WHAT USES WOULD ACTIVATE THE DOWNTOWN?
Pedestrian crosswalks on Main Street
Library as anchor
Bicycle/Pedestrian circulation framework to get downtown
Beer garden
Running/walking path around town for several miles
Sidewalks all connecting
Better parking connectivity and access
Shared access
Parking
More residential units to support quaint shops
Farmers market space
Character and scale for Main Street
Historic infill
Preserve the history — keep the hometown vibe
Pocket parks versus parks
Landscape streetscape
WHAT BUSINESSES AND RESTAURANTS DO YOU WANT TO SEE DOWNTOWN?
Coffee roaster shop
Farmers market
Beer garden
Ice cream shop
Local/non-franchise Stores
Pop-up food trucks
Kid-friendly restaurants
Restaurant with outdoor seating
Outdoor cafes
Casual dining
Small grocery store
Bakery