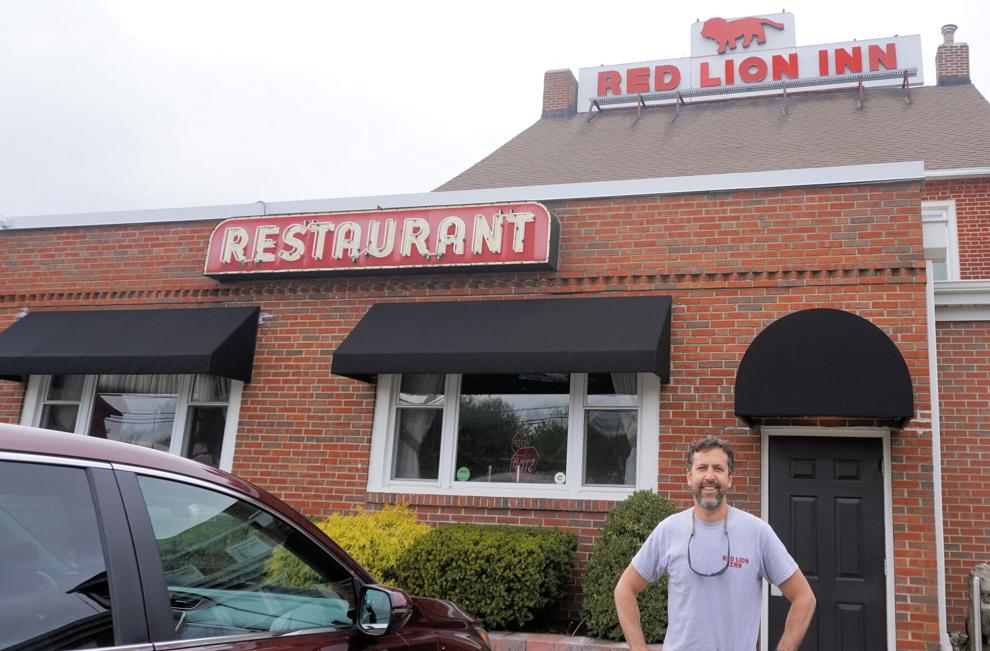 Nearly 100 years ago, Givino DiPaolo opened a restaurant in a brick building in Southampton that had originated as a hotel in 1710, and started serving his own pasta and special red sauce from his wife's family recipe.
Drop in at DiPaolo's Red Lion Inn today and, in a room off the kitchen, you'll find Stephen Black making pasta, as his great-grandfather began doing in 1923.
Before the pandemic, the routine was to pull 30 to 50 pounds of spaghetti a day from the pasta machine and lay it in antique cedar trays to dry. But the daily spaghetti order has fallen to only 10 to 30 pounds because of the pandemic.
That decline in pasta production symbolizes the impact of COVID-19 on Black's business. The fourth-generation family owner has — very reluctantly — put the restaurant, liquor license and property up for sale. It's listed with WCRE real estate for $1.4 million, which includes the 5,000-square-foot building on nearly nine acres just off the Routes 70 and 206 intersection.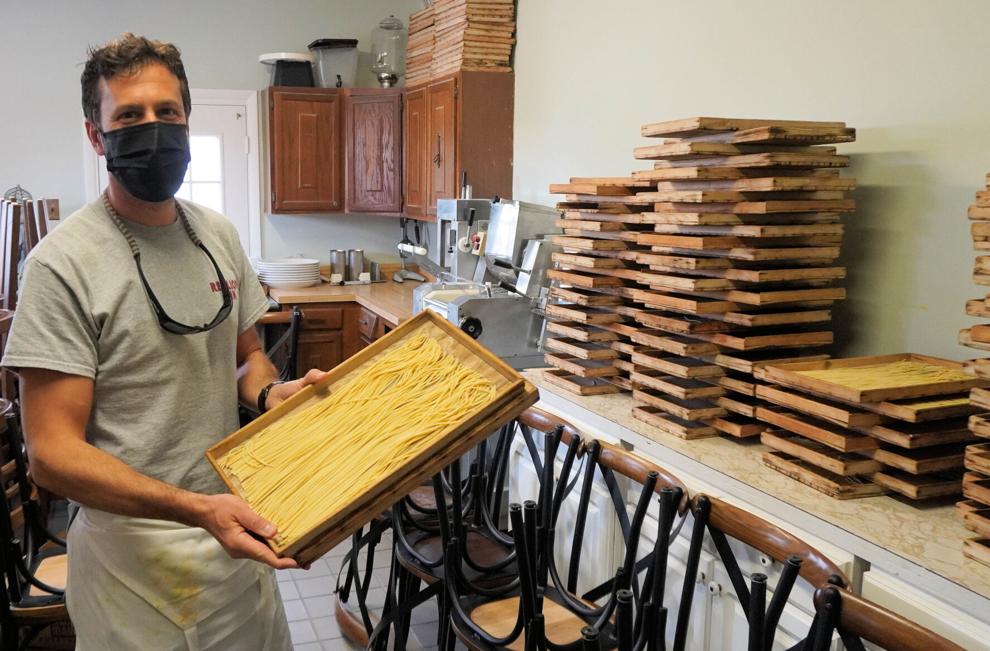 Black, 43, took over the restaurant that specializes in Italian cuisine in June 2000 and began making payments to his parents, Stephen and Christine DiPaolo Black, who had purchased it from his grandparents, Archie and Divina DiPaolo. They had taken it over from Givino.
When Black started to operate the Red Lion Inn on his own, he was always on the phone with operational questions for his father, who left the construction business to run the restaurant with his wife. Every time Black asked a question, he got clear answers and advice from his dad. Until the pandemic struck.
"I can't imagine what you're going through," he remembers his dad telling him. "I don't know what to do. I don't know what to tell you," the elder Black said.
"That was a sobering conversation," Black told 70and73.com during a recent interview.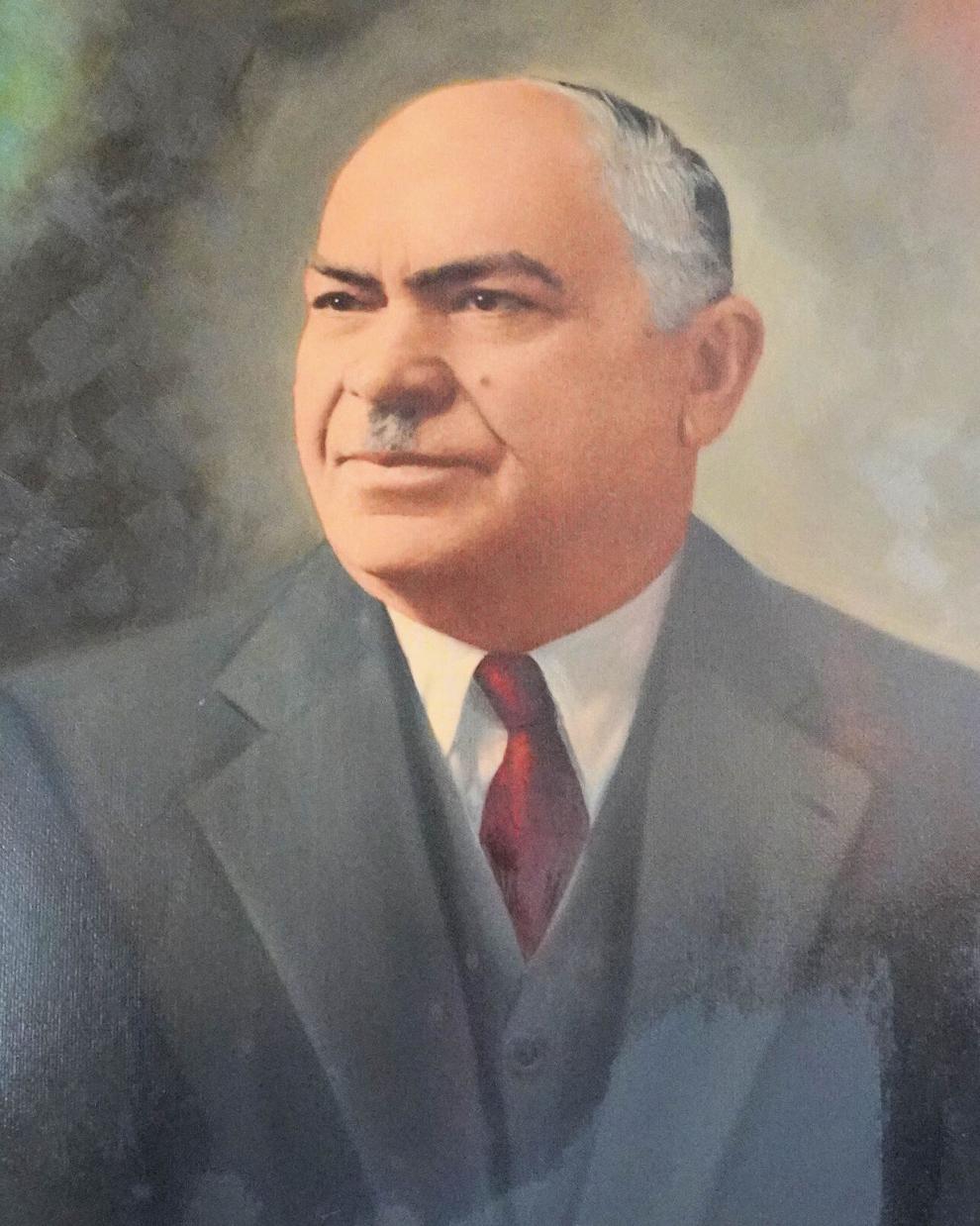 Sitting at a table in the dining room with portraits of Givino and Archie looking down from the wall, Black said the business fall-off and other pandemic effects "was mentally taxing, and reflective, too." But just as stressful is the idea of selling a family business that was having its best year yet in 2019.
"Once it's gone, it's gone," Black said grimly. "There's a lot of history here. I think I struggle with that, too."
The deepest of roots
Black grew up in the restaurant, doing his homework on the bar after school at Bishop Eustace Preparatory School in Pennsauken. He remembers climbing trees in the backyard as a kid with his friends, hoping that parents of those friends would come to dinner that evening so they could continue playing.
He reminisces as a boy playing catch and basketball outside with a young dishwasher, Larry Fuller. Fuller, of Mount Holly, spent 31 years at the restaurant before rising to chef and retiring during the pandemic. Black said he spent six days a week working with Fuller, whom he considers a brother.
"I've lost so many good employees," Black said of having to first shut down and then to reopen only for take-out and then outside dining. Now the restaurant has socially distanced tables in the dining room.
Black set about eight tables behind the restaurant during the outdoor dining period. Diners enjoyed watching the deer in the soybean field on his land, which he leases to a local farmer for $1 a year. But serving customers was a struggle for the wait staff, who carried the food from the kitchen, through a narrow dishwashing room and down steep steps to get to the backyard.
The West Virginia University graduate said he never wanted to run the restaurant and relented when his parents said they were selling and offered him first refusal. His wife, Jennifer Black, whom he met through her best friend who waitressed at the Red Lion Inn, told him on their first date that she would never marry anyone who owned a restaurant. He told her he'd own it for five years and then move on, but she joined him in his passion for the business.
'Daddy, don't sell'
Now the Blacks live in Ocean City with 8-year-old son Max and 7-year-old daughter Zoë. The commute, which takes one hour and 15 minutes, is accompanied with audio books that lean toward tales of struggles during World War II and the turn of the 20th century — selected by Black to help keep things in perspective, he said. But that commute also wears on Black, who remembers the days when the young family lived in the apartment above the restaurant where his grandparents lived their working years.
"I really desperately want to work for somebody," said Black, smiling because many people say they can't wait for the day they could be their own boss. He said the burden of running a business and worrying about things like the liquor license can be heavy in the best of times, but now it seems more crushing than ever.
His parents are supportive. "I think they understand the stress that I'm under," Black said of his parents.
One family member clearly doesn't appreciate Black's plan to sell the Red Lion Inn.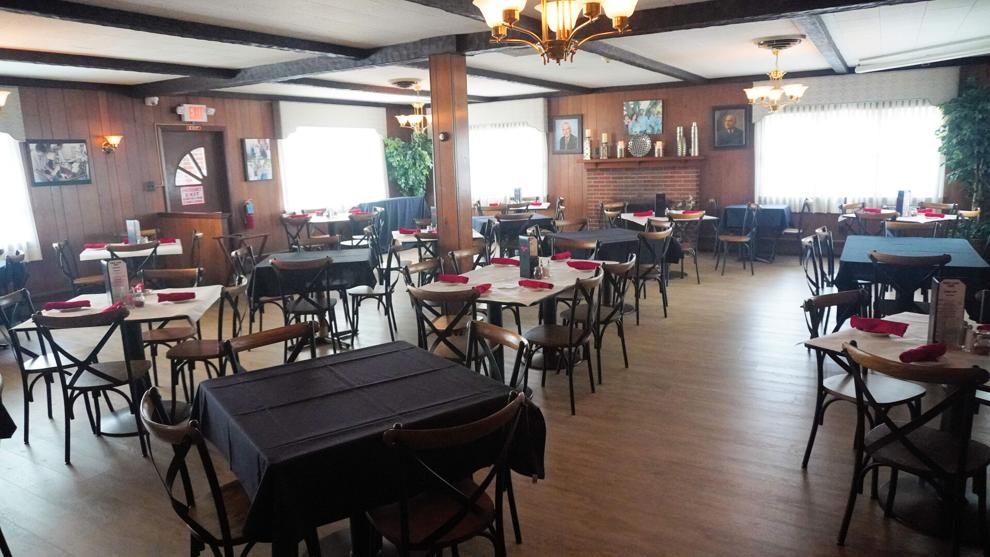 "Daddy, don't sell the restaurant," daughter Zoë pleads some nights when he tucks her in. "I want to take over the restaurant."
Zoë has "that spirit," said Black. She frequently accompanies him to the restaurant, where she will flour every eggplant or help make the 1,200 raviolis (120 orders) needed each week. The young girl often will finish making the pasta, look at her father and say "Now what?"
Some customers date back decades
After some initial marketing experimentation — Black introduced bands in the bar to attract younger customers, but stopped after finding it wasn't a good fit — the restaurateur is committed to a customer base of diners between 40 and 70 years old. 
Some began eating and drinking at the inn long before Black was born. Before the pandemic, one 90-year-old man told him he had been coming in for more than 80 years (he always ordered the "½ and ½" from the menu, part spaghetti and part ravioli with one meatball for $17).
Black said the restaurant has for years drawn many of its diners from LeisureTowne, a 55-and-older adult community in town. During good times, Black said he could look at the list of reservations for a Friday night and see the same names week after week.
"When they come here, they know people," he said of his loyal customers, who in good times would take extra time to make their way through the bar and around the dining room saying hello to acquaintances. "They always say it is exactly as they remember it in the 70s, 80s and 90s," he said.
Severe illness and death from COVID-19 has been disproportionately high among people in the age group that most frequents the Red Lion Inn. That has kept many older people isolated, but the new vaccines are giving them more confidence to venture out. And Black said he is beginning to see their return.
Maintaining the heritage
Some things haven't changed for nearly a century in the restaurant that's built around the original 311-year-old building.
A history of the Red Lion section of town on the Southampton Township website says the inn originated as the Red Lion Hotel. Quoting "Forgotten Towns of Southern New Jersey" — published in 1936 by author Henry Charlton Beck — one of the founders of the town went bear hunting in the cedar swamps and bagged a mountain lion. The bloodied lion was brought back to the settlement and that's how the name "Red Lion" developed. The early hotel hung a sign with the image of a lion above its name and that image survives today on the inn's current sign.
Also unchanged are many menu items, including the red sauce recipe that originated with his great-grandfather's wife (the first of three). Black said he has lost track of the original copy of the recipe and makes the sauce from memory in the same way his father taught him years ago. 
During the pandemic shutdown, Black and his family missed the red sauce. He started traveling to the restaurant to make special batches. He put out about 25 quarts at a time in the parking lot, inviting his loyal customers on social media to come by and get their sauce fix for free. One woman called and said she could not come by until 6 in the evening, so Black hid a quart for her behind the old magnolia tree in the yard.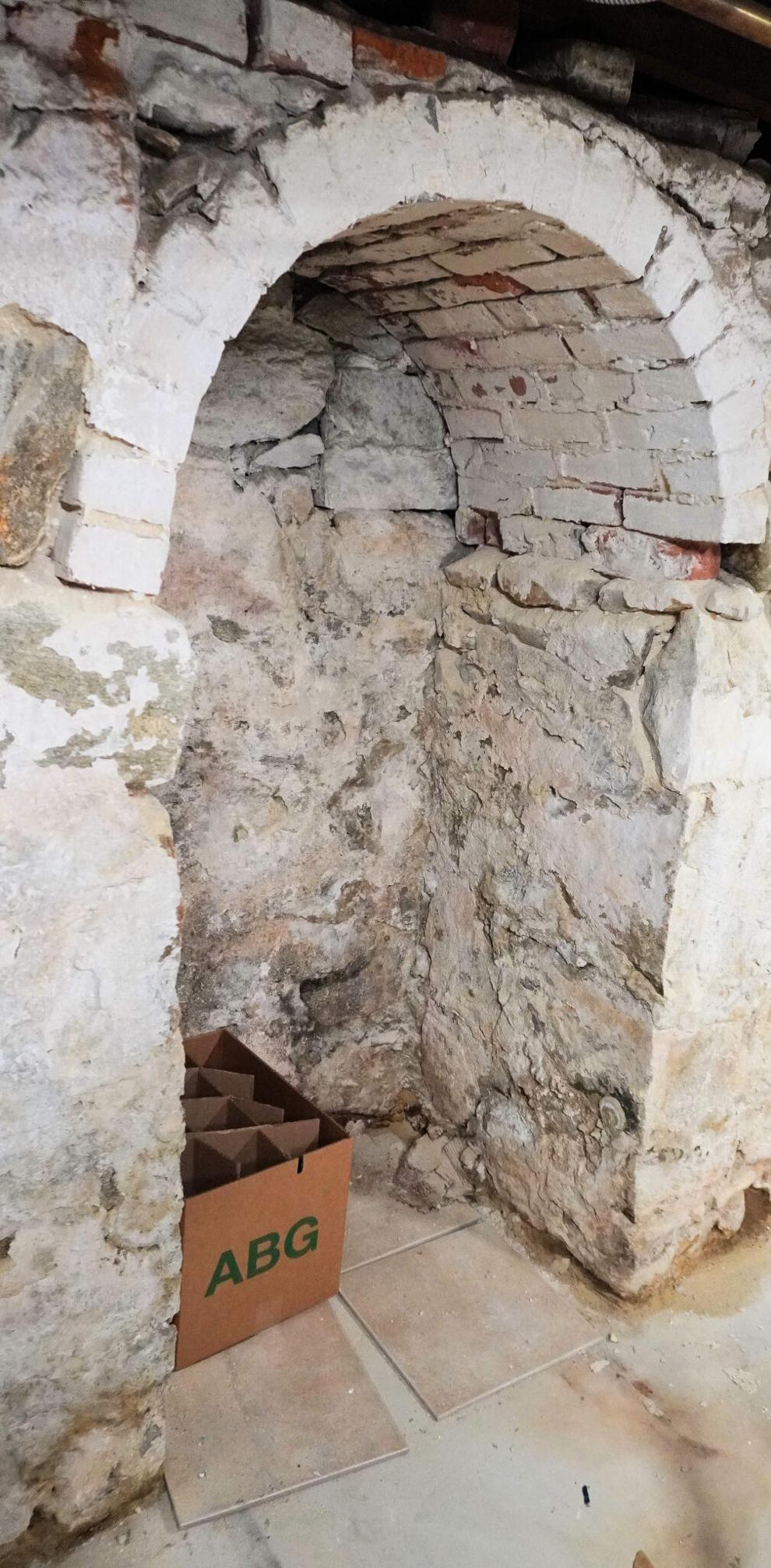 When Black's mother visits the restaurant — his parents split their time between homes in Medford and Florida — she makes her gnocchi, the only time the specialty is offered in the dining room. His mother also pitches in with her lasagna, which Black makes when she isn't available.
Taking a break, still wearing his chef's apron, Black sat in his dining room last Thursday and shook his head about the decision to sell. The restaurant is returning to profitability, assisted in part by the state order permitting 50% capacity for indoor dining.
Whenever he sees the WCRE listing agent's number on his cell phone, his heart skips, said Black, who put the Red Lion Inn up for sale in January and has shown it to prospective buyers a couple of times.
He said he sometimes thinks the optimal solution would be to wait out the pandemic and try to equal or exceed the profits of 2019.
Black gave 70and73.com a full tour of the building, bounding up the narrow stairs to the second floor and attic and down the stairs to the cellar storeroom where most people need to duck to avoid hitting their heads on the pipes. Each room had a different story, which Black proudly shared.
"I really definitely wanted to get to 100 years," he said.
---
DiPaolo's Red Lion Inn basics
Hours: Thursday through Sunday, from 3 to 8:30 p.m.
Website and menu: www.redlioninn.net
Facebook page, with specials: facebook.com/redlion1923
Phone: (609) 859-9813 (for reservations, takeout or to book a banquet)
Address: 101 Red Lion Road, Southampton 08088 (about a quarter mile from the Routes 70 and 206 intersection)
---