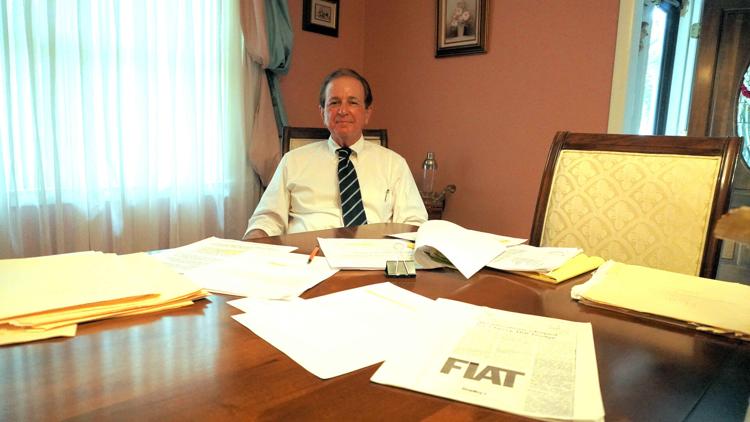 When the handsome Colonial home on Chambers Avenue in Cherry Hill was built in 1968, neighboring car dealerships sold a variety of makes along Route 70 near the Garden State Park Racetrack. Behind this property and its neighbors, Cherry Hill Rambler advertised a new 1968 Ambassador four-door automatic sedan with a radio and air conditioning for $2,995.
This was a time when the Baby Boom explosion after World War II continued to propel both residential and commercial expansion across Cherry Hill. A four-bedroom, 2½-bath home in many Cherry Hill developments could be purchased for about $25,000 as young families flocked to neighborhoods that also often contained an elementary school and swim club.
Since then, residential and commercial development has continued, and today some auto dealerships — with old brands like Rambler long gone and new names such as Kia now selling — are in a land-use war with neighbors.
Local dealers face their toughest competition ever as consumers shop widely online for the best deal and will travel to other communities or states to pick up a new car and save money. At the same, internet-only sellers touting "no pushy salespeople" allow customers to shop from home and have their vehicles delivered to their doors.
To answer the competition and let the customer find the right vehicle on their lot, dealers tend to carry about a two-month inventory of new cars. That can cram their parking lots and crowd out customer cars, vehicles awaiting service, employee cars and used-car inventory. The answer for most dealers has been to expand their lots.
Neighbors object to commercial encroachment
As car dealerships pushed into neighborhoods, homeowners often complained about noisy dealer lots, unloading the car inventory from car carriers on public roads, test-driving vehicles on their residential streets, spillover dealership lighting and fumes from car painting. Dealers in the area have bought up homes and empty lots, leaving some wondering what happened to their relatively quiet, tree-lined streets.
The continuing war between neighbors and dealers has been waged this year in Cherry Hill in the Locustwood community, roughly bounded by Route 70 and Haddonfield Road. The latest skirmish involves Cherry Hill Dodge. Hostilities earlier this year pitted homeowners against a Haddonfield Road Land Rover/Jaguar dealership.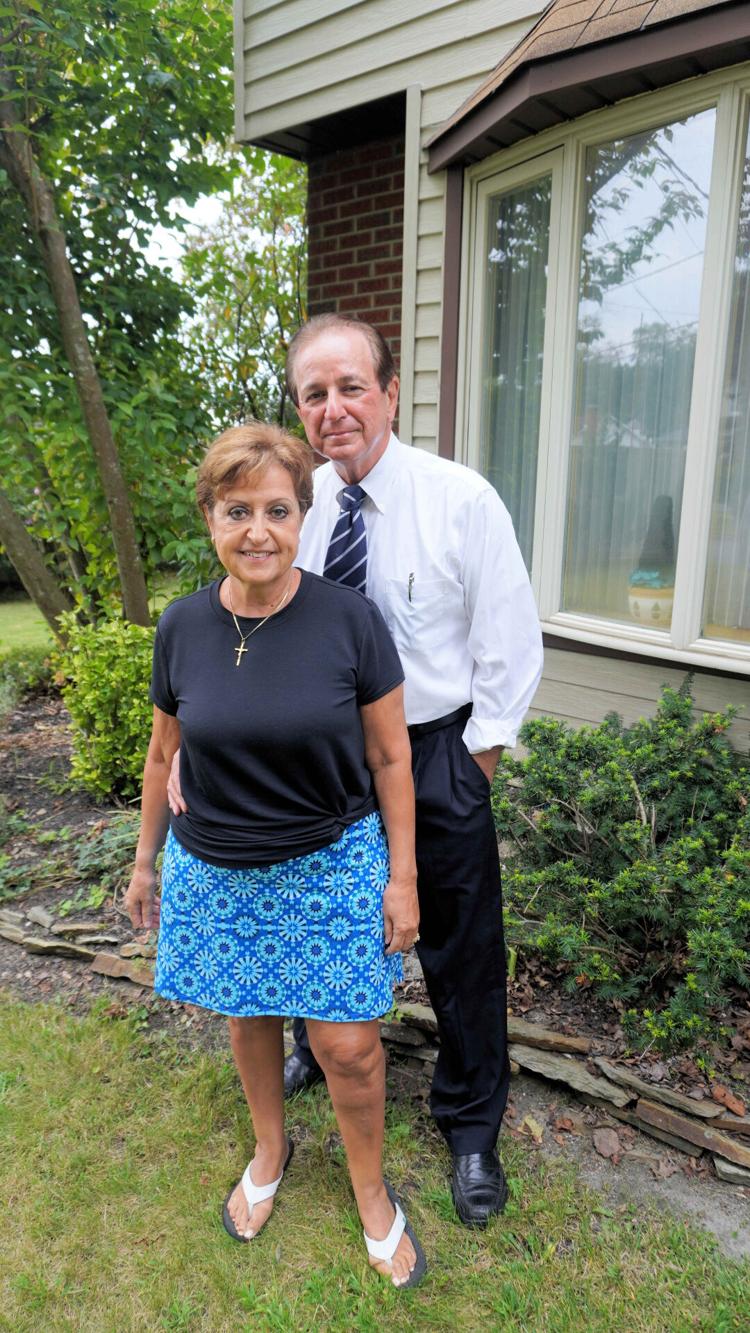 One of those Locustwood neighbors is Frank Maloney, who recently sat at his dining room table in that 52-year-old Colonial home on Chambers Avenue surrounded by manila folders filled with news clippings and complaints he has filed against dealers. He showed them to 70and73.com, explaining the history of several issues.
The home he shares with his wife, Mariana Carosella Maloney, has seen its neighbors disappear. Homes on the Maloneys' street  between their house and Route 70 were purchased by Cherry Hill Dodge, with the land turned into an enlarged parking lot. The dealership also bought the two homes between Maloney's and Wynwood Avenue, tearing down the residence next door to Maloney. It has plans to tear down the home at the corner, as well as another on Wynwood, and turn all three lots into a larger parking lot.
If Cherry Hill Dodge gets permission for its expansion at a meeting of the township Planning Board on Monday evening, Maloney's home will be hemmed in on three sides by dealership parking. 
---
Information on the Planning Board meeting Monday night and the agenda is available on the township website. Click here.
---
Maloney, who is 67 and a retired accountant, said the couple feels pressured to give up and move out. But that won't be happening, he said, noting he and his wife still enjoy the 2,500-square-foot, four-bedroom home on its 104-by-184-foot lot.
"Nobody is going to throw me out of our house," Mariana, 68, told 70and73.com. She bought the house with her late husband, Vincent, in 1985 and raised two daughters on the tree-lined street. She runs a home business offering tailoring services.
Cherry Hill Dodge, part of the Cherry Hill Triplex of new car dealers on Route 70, made a written offer to buy the home in 2005 and included an appraisal of the property. Maloney would not disclose the amount offered, but said the amount did not reflect its true market value at what he called the "height of the market" in Cherry Hill.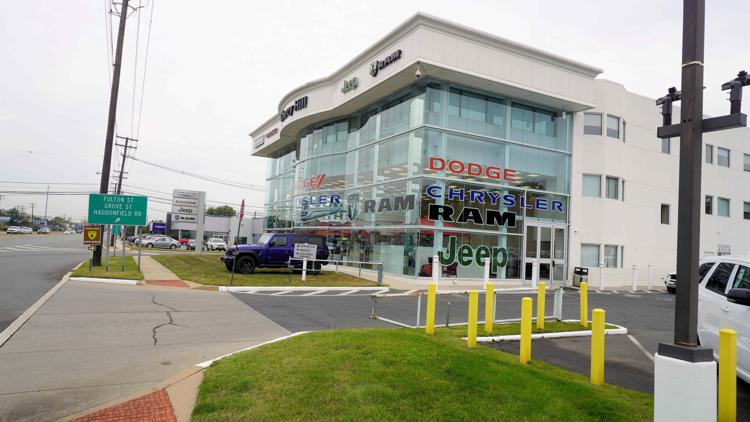 "Who would buy the house at this time?" Maloney asked. "Who would buy the other homes around here?"
Maloney said the continuing expansion of Cherry Hill Dodge and other dealerships has lowered property values. If the parking lot is expanded, Maloney said neighbors plan to appeal their property assessments as too high.
Charles "Charlie" Foulke III, who runs the Triplex dealerships, did not answer two emails from 70and73.com requesting an interview. A voicemail also was left at the car dealer's office. Foulke's father, Charles W. Foulke Jr., founded the company.
Testimony lists the gripes
Testimony by neighbors — those who appear before the Planning Board testify under oath — against the expansion dominated the Planning Board's September 9 virtual meeting with photographs, videos, and other evidence such as the unloading of new cars from carriers on public roads, lighting spillover, dealership employees driving at fast speeds to test-drive cars in the neighborhood and photographs of delivery vans parked in the road or on the curb of the Route 70/Fulton Street jug handle.
Kevin D. Sheehan, of the Parker McCay law firm, represents Cherry Hill Dodge in the application and told board members at the last meeting that those issues raised by neighbors "are serious, they're valid concerns and they need to be addressed."
Responding to the complaints, Charlie Foulke read off a long list of promises he vowed Cherry Hill Dodge would make if allowed to expand the parking lot. Those responses included "Cherry Hill Dodge employees shall act like they live next to the dealership and treat our neighbors the way we would want to be treated" and "Employees shall not use horns or alarms to locate vehicles."
Foulke also suggested a monthly, regularly scheduled meeting between neighbors and dealership executives to air concerns. The dealership owner said he would occasionally try to make a meeting and also would invite other dealerships in the area to attend.
Maloney told 70and73.com that neighborhood complaints date back decades.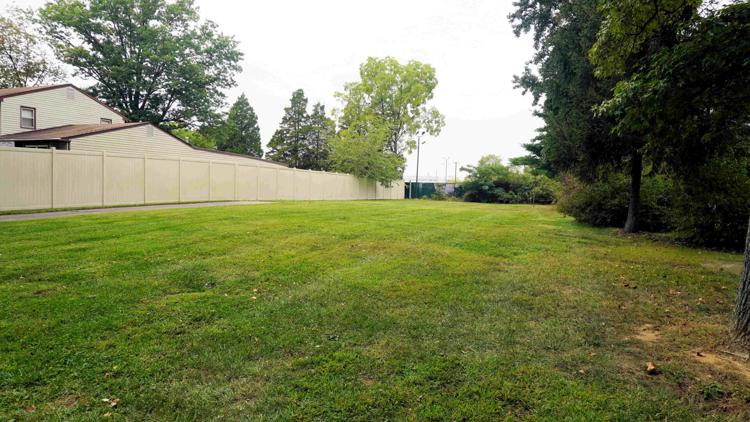 One news clipping from The Cherry Hill News tells of a neighborhood dispute with Cherry Hill Dodge over buffer zones and fencing. The Brodsky family, who lived next door to Maloney's home, hired a lawyer who told the Township Planning Board the Brodskys wanted the dealership to plant landscaping that would shield the lot and didn't want cars parked against fences.
That article was from February, 7, 1974.
The Brodsky home has since been purchased and razed by Cherry Hill Dodge and now is an empty lot. It would be part of the new proposed parking lot.
Will rules, promises be enforced? 
"It's a travesty for the neighbors," Maloney said in the 70and73.com interview. He said he was worried that after permission to expand was granted by the township the new rules would be forgotten and not be enforced.
One complaint is that lighting recently installed on the dealership lot that appeared to be pointed at the Maloney home, according to testimony before the board. Blinds and curtains on that side of the home are shut at night, Maloney said. "If you don't close the curtains on that side, you cannot sleep," he said.
One of the scheduled hearings before the Planning Board was postponed when Cherry Hill Dodge adjusted the lighting. "Our objective is to make sure that it's (lighting) not exceeding the ordinance level at the property line and generally creating a nuisance for the neighborhood," board engineer Stacey Arcari told board members at the caucus before the last meeting started.
Enforcement — and the lack of it — came up several times during the last board meeting. Planning board solicitor James W. Burns repeatedly talked about the need for better enforcement of traffic and code ordinances in the Locustwood neighborhood. "You can't have people afraid to call the cops" because of fear that nothing will get done or from retaliation by the dealers, Burns told the board.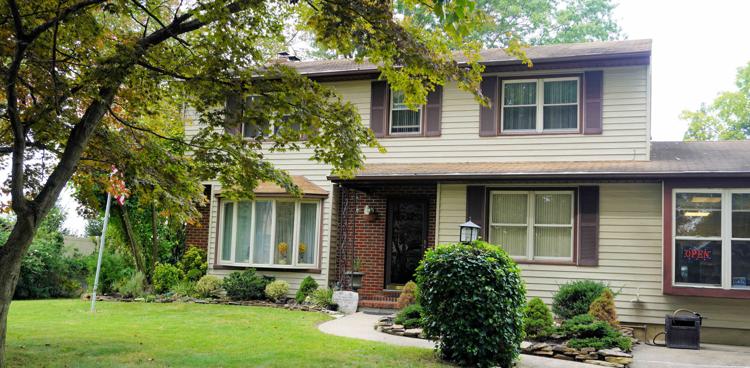 At the August 3 meeting, some board members were stunned by the complaints emerging in neighbors' testimony about Cherry Hill Dodge.
"I'm getting nauseous listening to this, I have to tell you," board member Marlyn Kalitan said. "I think we're hearing enough about what is going on with this dealership to say that he is not a good neighbor. It has nothing to do with politics. It's about being a good neighbor. And if he hasn't been following the rules before, if we're going to be granting variances, how do we feel like he's going to be following these as well?"
Cherry Hill Dodge isn't the only dealership irking neighbors. A litany of complaints emerged in July when the Land Rover/Jaguar dealership, owned by Cherry Hill Imports Auto Group, sought variances with the Zoning Board of Adjustment to expand its parking into the neighborhood.
The board permitted the dealer to demolish the former South Jersey Women's Center on Haddonfield Road for new vehicle parking, but refused to allow Cherry Hill Imports to tear down two homes it owns on Wynwood Avenue for expanded parking.
Windows of those two homes owned by the dealership at the corner of Wynwood Avenue and Mercer Street recently were boarded up with lumber that now is covered in brightly covered, spray-painted graffiti.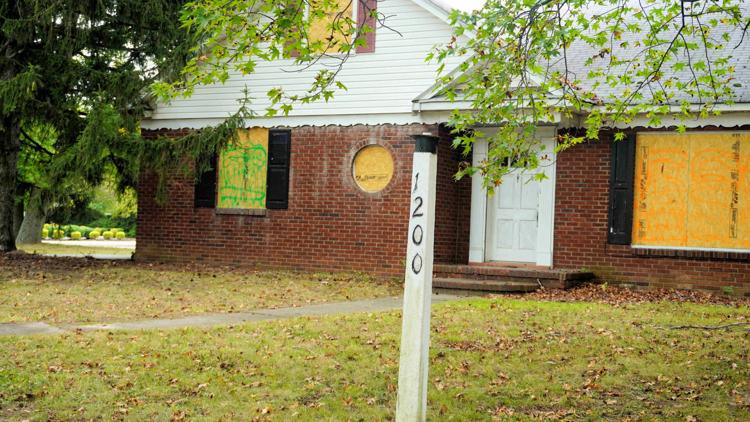 Cherry Hill's Community Development department received a complaint about the graffiti during the week of September 14 and the township's property maintenance unit issued a violation, Christopher M. Summerhayes, the township director of policy, planning and programs, told 70and73.com in an email last Friday. "The property owner has until October 5 to remove or paint over the panels. After October 5, if the violation isn't abated a summons to appear in court would be issued," he said.
The continuing hostilities and bad feelings sadden Mariana Maloney, she told 70and73.com. But the dealerships need to understand, she added, that "you cannot catch flies with vinegar."