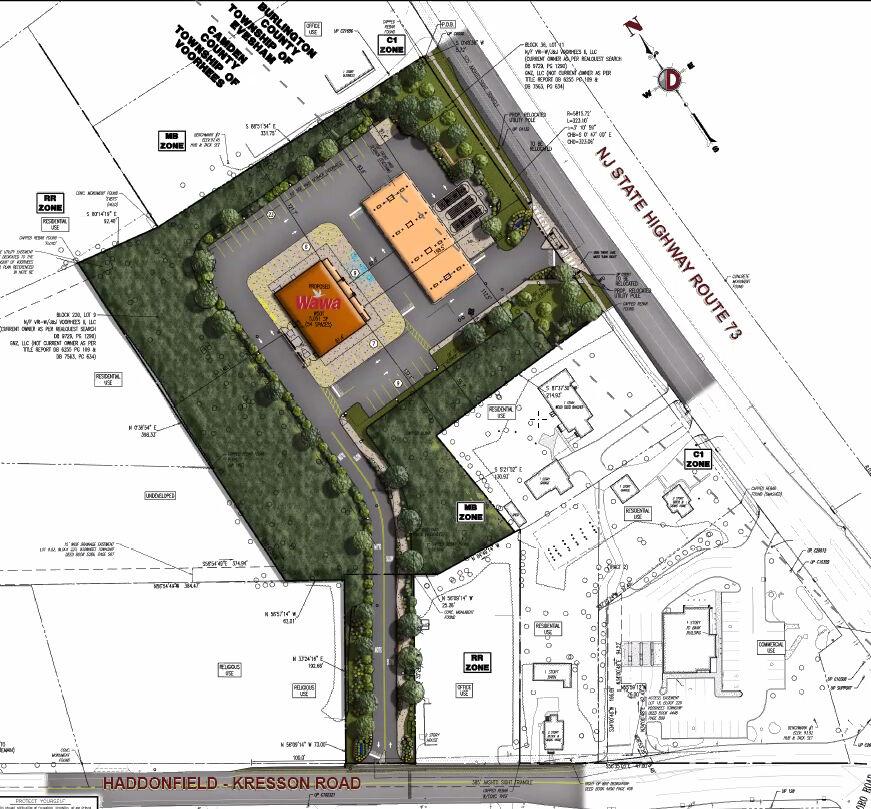 When the developer of a proposed Super Wawa near the Route 73 and Kresson Road intersection in Voorhees designed the plan, it envisioned a driveway on Kresson Road that would be in addition to an entrance and exit on Route 73.
But that driveway — a residence would be torn down to make way — would run next to Voorhees Law Center LLC, the firm operated by lawyer Howard N. Sobel in a house believed to be more than a century old with extensive landscaping and a koi pond.
The Kresson Road driveway proposal, it appears, had the effect of someone using a baseball bat to get rid of a hornets' nest.
Sobel, appearing before the board as the attorney representing his firm, staged a legal blitz at the Thursday night meeting of the Voorhees zoning board with professional witnesses of his own to oppose the plan.
He was joined by town residents who live near the proposed Wawa and continue to voice concerns that a Kresson Road driveway from a Wawa would make already-dangerous traffic on Kresson Road even worse. Neighbors also testified at the Zoning Board of Adjustment's first meeting on the plan on May 6. A decision will take at least a third meeting, on September 23, the board decided.
The Wawa would have an entrance and exit driveway on Kresson Road, although left-turn exits would not be permitted, according to Wawa's plans. The developer presented a new plan for the driveway with a traffic island that representatives said would discourage drivers from making the prohibited left-hand exit onto Kresson Road. A sidewalk from TD Bank at the intersection to the Birch Street intersection also was added.
"This is going to be a nightmare when it comes to traffic," Satyen Prabhu, who lives on Birch Street bordering the Wawa site, told board members.
Prabhu also pointed out a new Wawa would mean a heavily wooded, land-locked lot would mostly be cleared for the building and parking.
"We live here in peace. You're going to spoil all of that. It's going to be a disaster," he said.
»MORE: Voorhees neighbors say a new Wawa at Route 73 and Kresson Road would be a traffic hazard.
"We believe the safety issue is well, well overblown," Timothy M. Prime, of Prime & Tuvel of Mount Laurel and lawyer for the developer, told the board. The wooded lot was open space for years and "the neighbors don't want this site developed," he said.
Eliminating plans for a Kresson Road driveway would be a deal-breaker for Wawa, according to Prime.
"Wawa will not do it without the access on Kresson," Prime told the board, saying Wawa doesn't believe it would be safe without the Kresson driveway. It was acknowledged at the meeting that the Kresson driveway was encouraged by the state Department of Transportation, but was not a requirement.
After residents urged the board to consider Kresson Road traffic, lawyer Sobel was permitted to present his opposition to the plan.
One of his witnesses was professional planner Barbara Woolley-Dillon, who also is Atlantic City's director of planning and development, but wasn't testifying in that capacity.
Woolley-Dillon testified she had reviewed the plans on behalf of Sobel and decided a Wawa would introduce a major commercial development into a primarily residential area.
"There is no need to do this," she told the board. The driveway, she said, would be active 24 hours a day, seven days a week. "It's simply too invasive for a cohesive neighborhood," she said.
Steve Chepurny, a landscape architect with Beechwood Landscape Architecture and Construction LLC of Southampton, also represented Sobel and went over in detail, with photographs, the extensive landscaping on the law office's property. Much of it would have to be removed if Kresson Road were widened, as the plan requires, he explained.
Two large trees in front of the house would be removed and the "law office will be on top of the roadway," Chepurny said. "It's a massive impact on the property itself."
Chepurny testified the removal of the shade trees would allow too much sunlight on the koi pond, potentially affecting both the koi and the pond.
Residents testifying said 231 people signed a petition objecting to the Wawa application. Some residents said they worried about children trying to bicycle or walk to the Wawa. The Rabinowitz athletic field and Kresson Elementary School are near the site.
"That intersection is horrible," Sharon Sackstein, of Fairway Drive, said of the Kresson and Route 73 intersection, which also is fed by traffic from Kresson Gibbsboro Road. 
George Zugaib, who lives at Kresson Road and Birch Street and operates a hair salon there, said drivers already use his property as a jug handle and that the Wawa operation is going to "make matters even worse."
John Dzivak, whose family recently relocated from Los Angeles to a home on nearby Whyte Drive, said he has seen bad traffic on the West Coast, but the Kresson and 73 intersection stands out. "That is an extremely disorienting intersection," Dzivak told the board. "We avoid that intersection if at all possible."

Voorhees Route 73 Development Group LLC applied for the zoning variances and preliminary and final site-plan approval. The landlocked lot and the lot fronting Route 73 in Evesham are owned by VRI-W-J&J Voorhees II LLC, which lists the same address at 701 Route 70 East in Evesham as the applicant. The home and lot at 505 Kresson Road are owned by Walter Heil and Bobbi Jean Heil and will be cleared for the Wawa Kresson Road driveway.
The Wawa store would be 5,051 square feet and a 7,150-square-foot canopy would cover eight fuel dispensers, according to the board's review letter. 
Most of the 4.16-acre site is in Voorhees, but a small part fronting Route 73 is in Evesham. In 2018, plans for a super Wawa and a Tractor Supply store at the site sparked neighbor protests and failed to pass the Voorhees Planning Board.