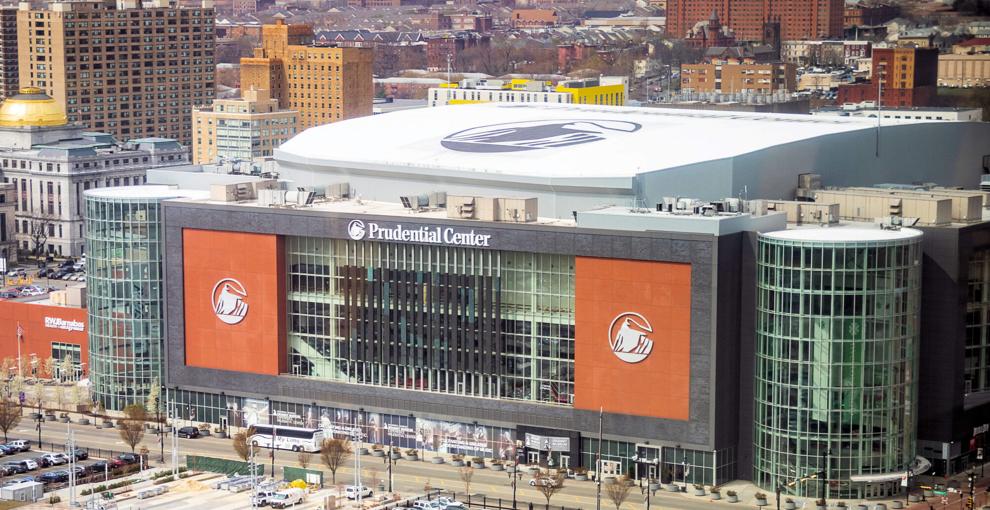 Updated with news from the state's afternoon COVID briefing.
---
Pandemic restrictions on sports and entertainment venues — both indoor and outdoor — will be relaxed slightly beginning next Monday, Gov. Phil Murphy announced Monday morning.
"A week from today at 6 a.m. for any venue that has 5,000 or more capacity, whether it's indoor sports or indoor entertainment, we're going to allow 10% of capacity for folks to attend. And if it's outdoors, if it's an outdoor venue, 15%," Murphy announced in an interview on WFAN radio in New York City. If you buy your tickets together, you can sit together, he added.
Murphy also said that, beginning immediately, parents and guardians may attend collegiate athletics in the state, Murphy said. The governor on February 12 announced similarly relaxed rules for parents or guardians of high school athletes.
At his afternoon briefing, Gov. Murphy said that, effective immediately, houses of worship and religious services may operate at 50% capacity.
No single COVID-19 statistic prompted the state to make the decision, he said. The state continues to monitor hospitalizations, number of cases, positivity rate and the rate of transmission. 
"We're keeping a close eye on these variants" of the original COVID-19 virus, he said. So far, face coverings and social distancing appear to work against the variants, he added.
Murphy also said:
Restrictions on indoor capacity at restaurants may continue to be loosened. The state earlier this month increased indoor capacity to 35% from 25% for restaurants. "I hope we'll be able to continue slowly but surely to do that. Again, these variants are the reason why frankly we're probably not taking a more aggressive move on that front. We just don't want to move up and then to have to come back."
"I'll be shocked if we're not at a higher level of capacity for Jets, Giants, Rutgers football, you name it as we get into the summer and fall." He said he was confident the state will be at higher capacity numbers by then.
The Jersey Shore outlook for the summer is good. "I think it's a decent outlook....I really believe you combine better weather with increased capacities, vaccination shots...there will be millions of New Jerseyans who will have had a vaccine shot. I think that combination bodes well for the Shore."
SECOND DOSES, COVID-19 VACCINES
| STATE | RATE |
| --- | --- |
| Connecticut | 7,595 |
| Vermont | 7,214 |
| New York | 6,004 |
| New Hampshire | 5,993 |
| Rhode Island | 5,816 |
| New Jersey | 5,746 |
| Maine | 5,661 |
| Massachusetts | 5,335 |
| Pennsylvania | 4,937 |
| | |
| US average | 5,699 |
| | |
| BEST RATES | |
| Alaska | 11,246 |
| West Virginia | 9,657 |
| New Mexico | 9,289 |
Meanwhile, as of Sunday the state reported that 1,134,626 in the state had received first doses of the vaccine. That amounts to 24% of the 4.7 million goal set by the state. The state also said 505,465 had received the second dose, as well, or 11% toward the goal.
New Jersey is about average in the United States for second doses administered per 100,000 residents, according to the Centers for Disease Control and Prevention.
The state's rate per 100,000 population was 5,746 on Monday morning compared with a national average of 5,699 per 100,000. Among Northeast states, New Jersey is ahead of Maine, Massachusetts and Pennsylvania, but lags Connecticut, Vermont, New York, New Hampshire and Rhode Island.
Among all states, the inoculation leader for second doses per 100,000 residents is Alaska, at 11,246, according to the CDC.
At Monday afternoon's COVID briefing, state Health Commissioner Judith Persichilli reported that one-third of state residents 65 and older have received their first dose of the vaccine. About 13% of residents 80 and older have also received the second dose, she said. The 65-and-older group has accounted for more than eight out of 10 COVID-19-related deaths in the state.