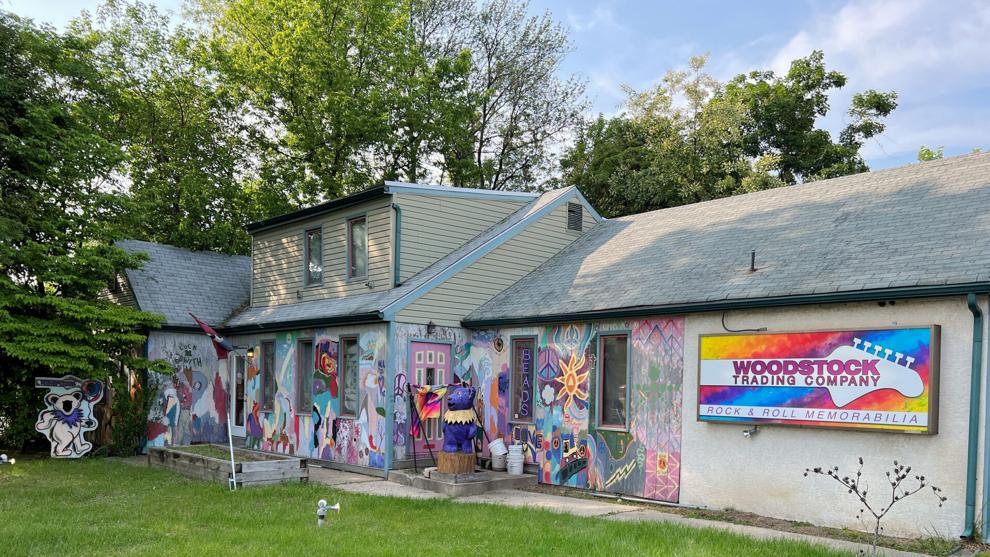 The Woodstock Trading Company in Cherry Hill opened in 1988, shortly after owner Gladys Glass had an epiphany while attending a Grateful Dead concert with her son, Seth Glass.
"There's something about the sense of community about the Grateful Dead community," she told 70and73.com. "If you don't know the language…you're still surrounded by the sound. And the enthusiasm (I experienced) of being separate and united at the same time."
Upon returning home, her husband asked if she had a good time at the show.
"I know what I'm going to do with the rest of my life," she recalled telling him 35 years ago.
Glass did not take long to turn her husband's former dermatology practice on Route 70 into the Woodstock Trading Company.
---
Fixtures is a regular feature of 70and73.com, celebrating the aspects of our suburban life that have become fixtures in our world. Often, they can be businesses. But not always. We have set out to chronicle these long-standing parts of our lives while they still are around. (Fixtures is a news feature and not intended to promote any business.) If you have a nominee, send it to contactus@70and73.com.
70and73.com FIXTURES:
---
Inside its doors, Gladys and Seth sell classic rock memorabilia, including posters, T-shirts, coffee mugs and hats of classic rock groups from the distant past and some recent ones, including the Beatles, Aerosmith, Fleetwood Mac, Lenny Kravitz, Alanis Morissette and of course, the Grateful Dead. Her husband and Seth's father, Harvey Glass, is the shop's "shipping engineer," Gladys said with a chuckle.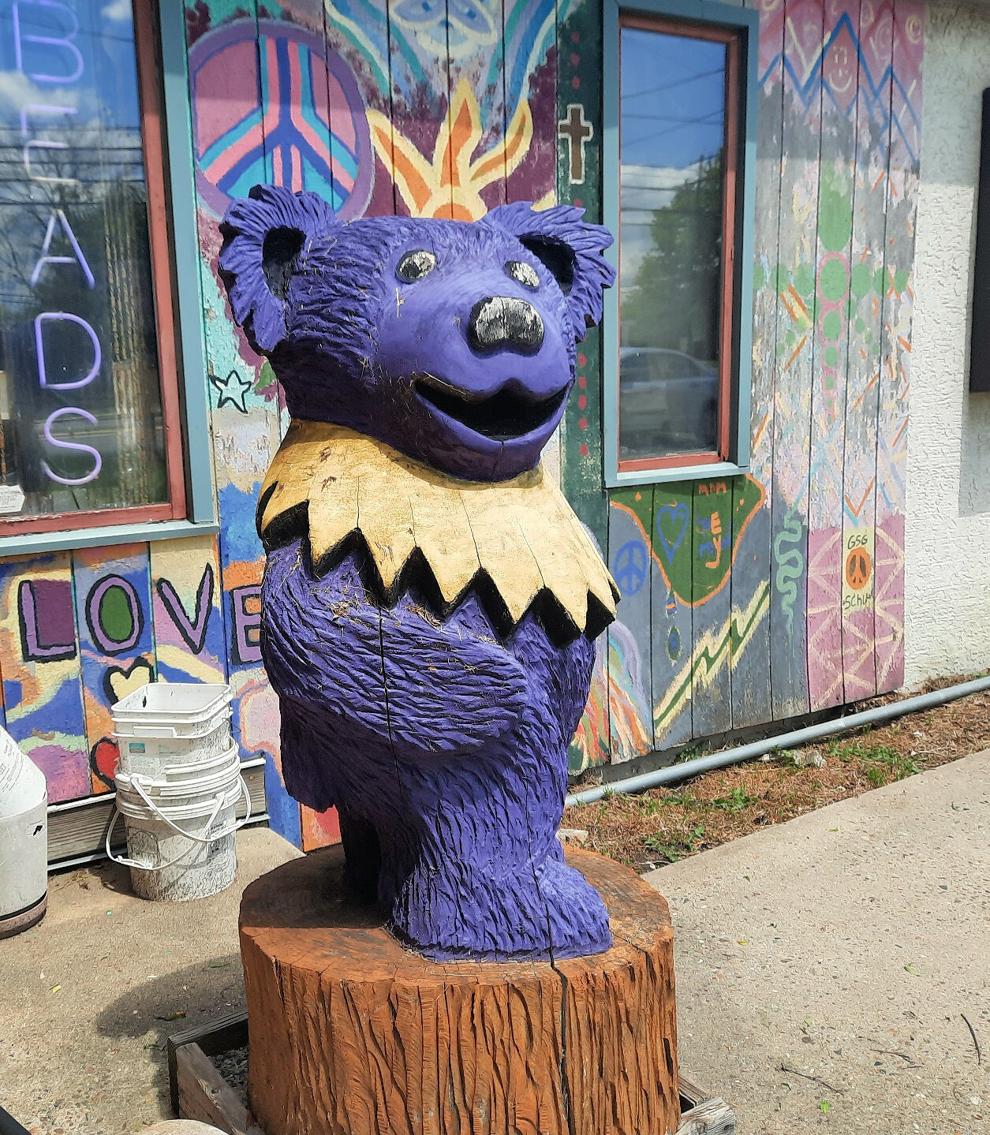 That purple bear that stands outside the door?
Gladys said it is homage to the similar-looking bears on the back cover of the Dead's 1973 album, "History of the Grateful Dead, Volume One (Bear's Choice)." According to Gladys, the classic car with flat tires parked out front is also a tribute to the musical group that changed her life.
Other items for sale inside the Woodstock Trading Company include hooded sweatshirts, beads and necklaces. Many of the jewelry items contain charms made from hand-blown glass produced by Gladys and Seth.
"These have become our obsession," she said, as she cut some cords to make a necklace.
But it is not just the products — many featuring bands at their professional peaks long before today's millennials were born — that make the Woodstock Trading Company's business model somewhat more unique than others.
"I do not boost posts on Facebook (and) I do not boost posts anywhere," she stated, referring to a common marketing method. "When I put something up on social media, it's just to announce that we have something."
Seth added: "When somebody calls us, we answer the phone. You don't have to press one (to get a live person). Sometimes that flusters people because they weren't prepared to actually interact with another human being."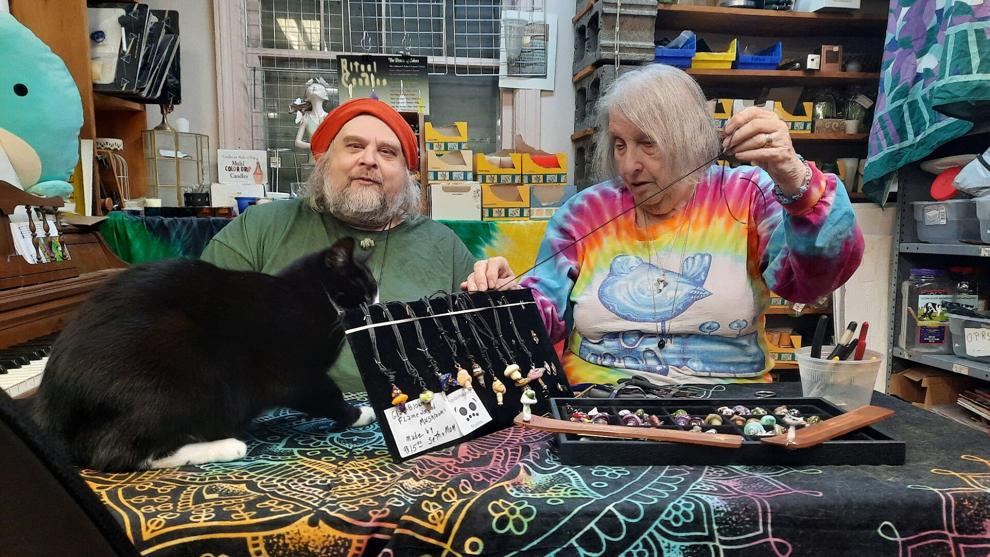 From time to time, the Glasses will host small concerts or hold jewelry-making classes at Woodstock Trading Company. The dates and times of these events are posted on the shop's website.
The Woodstock Trading Company's impact on the community may be measured in a single Facebook post, according to Gladys.
Seth posted on that social media site several years ago that the Woodstock Trading Company was closed. Dozens of calls and messages came in, erroneously thinking the store was closed for good. But it was just closed for the day, according to Gladys. 
Most of the business comes from repeat visitors, who are warm and friendly, they said. While this interview was taking place, several customers came in. One even stopped to say hello to "Mom," which Gladys proudly said is the nickname some customers gave her.
However, Seth and Gladys also acknowledged that not everyone is as welcoming.
"People thought we would have druggies and people who were not sober (as customers), especially when we first opened," she explained.
Nothing could be further from the truth, Seth added.
Undaunted, both Glasses say they never intend to change the shop's theme.
"I see (Woodstock Trading Company) as our church," Gladys said as she looked around the shop. "I see great-grandparents, parents, many generations of people coming in and hugging and enjoying joyful noise, the art, the crafts and the history."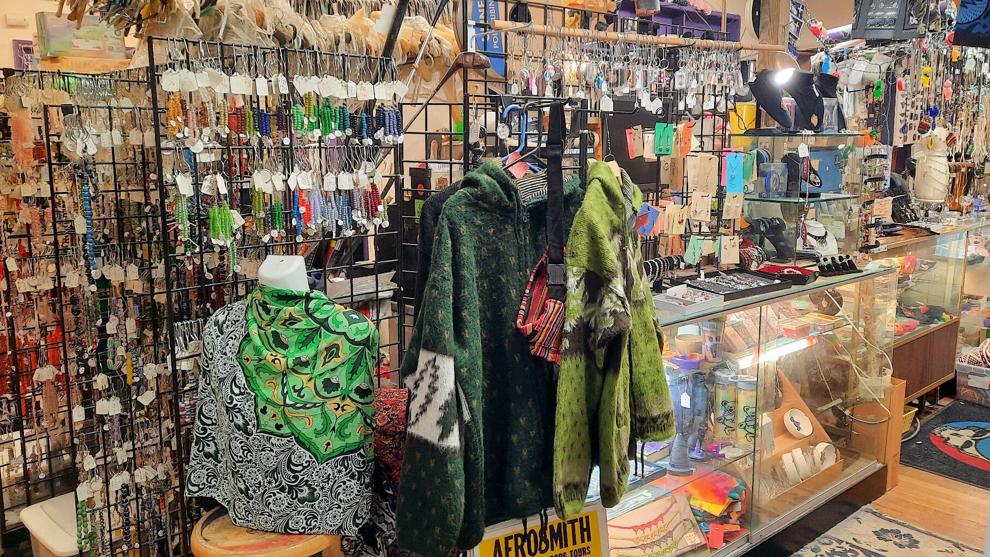 ---
IF YOU GO:
Woodstock Trading Company is at 1880 Route 70 in Cherry Hill. The store is open Mondays through Fridays from 11 a.m. to 7 p.m. and Saturdays and Sundays from 12 p.m. to 5 p.m. Its website is www.woodstocktradeco.com. 
---