"One bicycle does not fit all" is one of the missions of Erlton Bicycle Shop in Cherry Hill.
And it also may be a reason why the store that primarily assembles, sells and repairs bikes and sells bike accessories has stayed open for nearly half a century.
"A lot of people think anything with two wheels is a quality bicycle," shop owner and New Jersey native Rich Tustin told 70and73.com. "But you have to get the right bicycle to know exactly what cycling is."
The bike store opened in 1974, about a block down from its current location on Route 70, Tustin said. It has been in its present location for about 30 years, he said.
---
Fixtures is a new, regular feature of 70and73.com, celebrating the aspects of our suburban life that have become fixtures in our world. It debuts with Route 70 fixture, Erlton Bicycle Shop. We would like to chronicle these fixtures while they still are around. If you have a nominee, send it to contactus@70and73.com.
---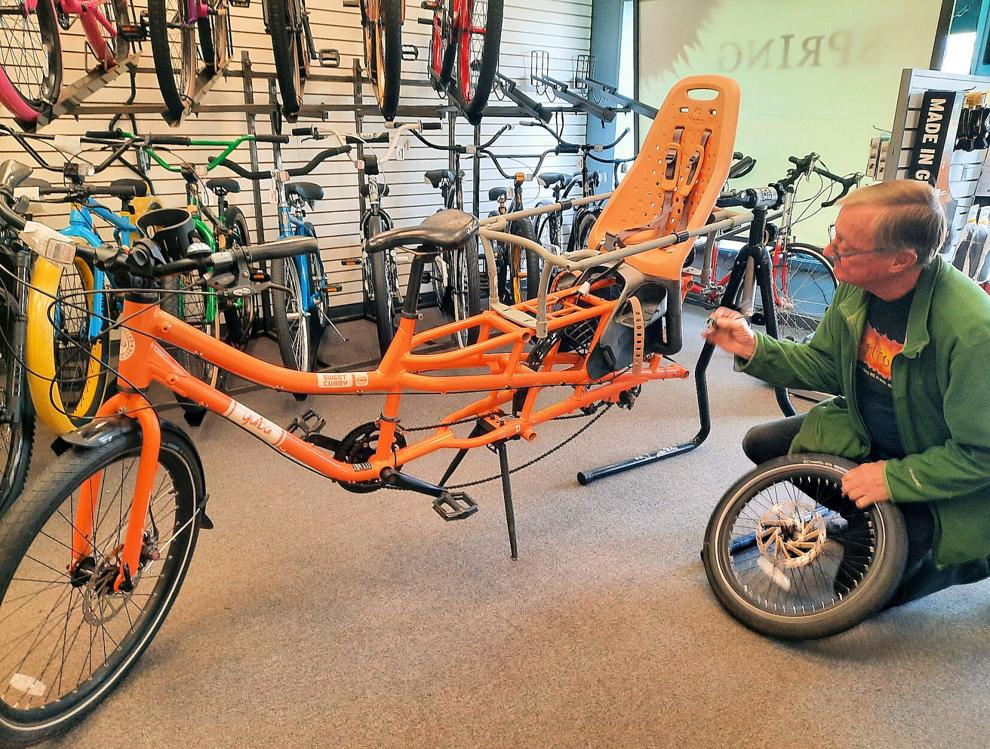 Tustin does not know of the shop's original owner, who was the same man whom Peter and Christine Hinski purchased the store from in 1976. Haddonfield native Peter Hinski, who lived in Cherry Hill, died at 67 in January 2015, according to an obituary in The Philadelphia Inquirer.
At about the same time when the couple bought the store, and about 1,750 miles away in Denver, Tustin's fiancée talked him into taking a bike ride to Oregon.
The experience so shaped Tustin's life that when he returned to the Garden State in the late 1970s to help his family with some matters, he also began working on and off at the shop.
Tustin became the bike shop's manager in 2008.
"Then in 2015, Pete passed away," Tustin said. "Christine was with the shop for a while [after that] but her heart wasn't in it. She said, 'There are too many memories. I'd like to retire.' She wanted to keep the shop as a bicycle shop. I needed a job. So, I bought the place and brought in my son (Arron) as my partner."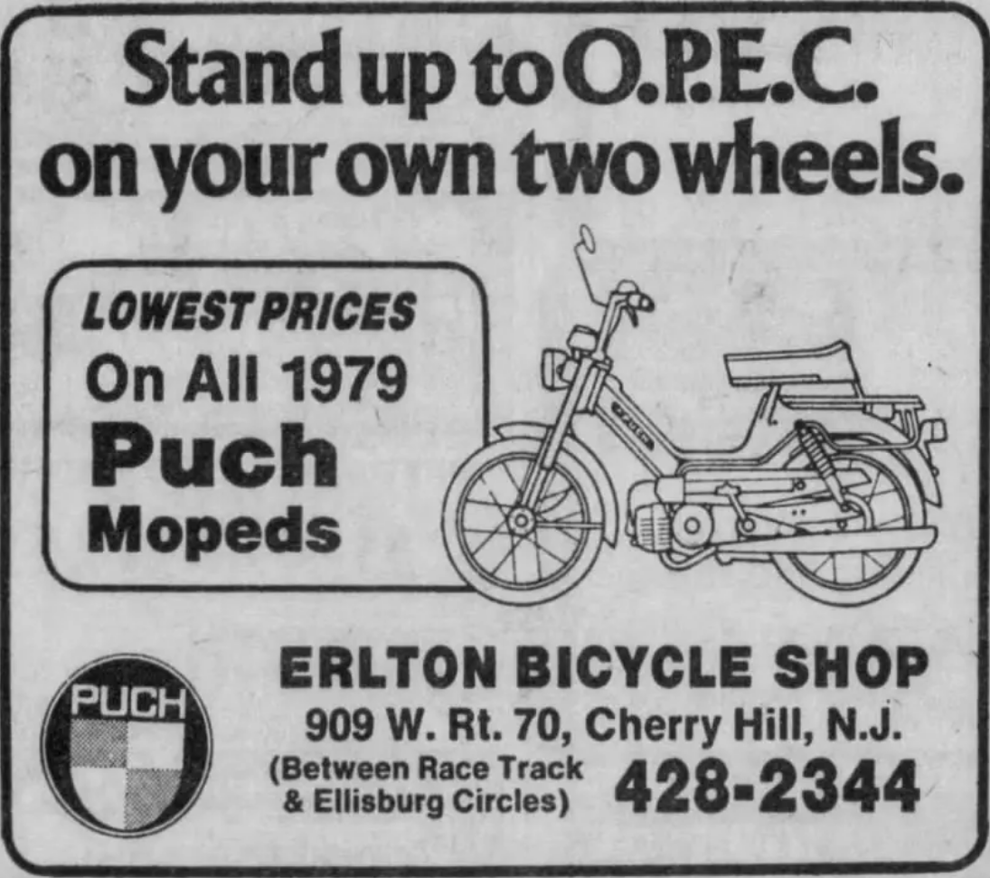 Over the years, bike models have come and gone, such as the Huffys and BMXs that were popular in the past to the Boardman Van Rysels of today.
Regardless, since his first day in the shop all those years ago, Tustin has made a point of getting to know why a customer wants a bicycle instead of simply trying to quickly make a sale.
To that end, those who stop by the shop can expect an employee to ask questions such as "Where do you intend to ride the bike?" and "What do you intend to do with it?"
Employees also note some of the physical characteristics of the potential buyer, such as height and body shape, so that the handlebars, seats and other bike fixtures can be adjusted properly.
Tustin said he wants to get as many people on bicycles for a couple of reasons. "It's good for the environment [and] it's good for people's physical health and mental health. Getting on a bicycle and taking a ride [makes] the cares of the world melt away."
He said many of the bicycle shop's customers are repeat customers — perhaps another reason why the store has survived amid many big-box and online retailers getting into the bicycle market.
"If you don't have regular customers, you're out of business in a year," he said. "Regular customers are those you see once every two to three years. That's what you're shooting for in any business and especially the cycling industry."
Tustin said all the customers, no matter what part of his store's mission they fulfill, are special. His customers have included the mayor of Cherry Hill and the Cherry Hill Police Department, he said.
Customers look for the row of bikes parked out front of the store when coming to Erlton Bicycle Shop, an attention-getter for decades in the strip of shops on the eastbound side of Route 70.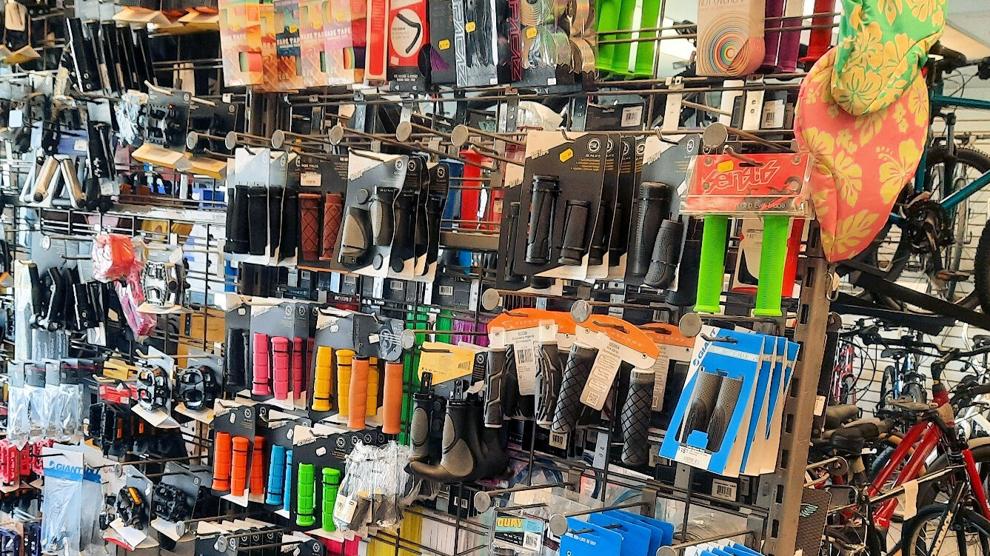 "That is a great sales technique," he said, pointing to the bikes parked outside the shop. "You don't have to pay a thing to have all those bikes sitting out there enticing people."
Perhaps the biggest challenge the bicycle shop faced was the COVID-19 pandemic, according to Tustin.
"Due to social distancing, we were unable to have customers in the shop," he explained. "Everybody had to wait outside. We'd run out the door…talk to one customer at a time…grab their bike, bring it back in here, work on the bike, and then run the bike back out there."
He added: "Each one of my guys will tell you they lost at least 15 pounds running…back and forth all day long and helping customers."
The shop's busiest months are those in the spring, summer, early fall and the week before the December holidays, Tustin said.
In the offseason, and with multiple basements throughout the 70and73 area containing bikes that need assemby or repairs, Tustin said he and his employees are always busy.
Tustin said by the end of this decade, he intends to turn running the business over to his son.
He said that he won't completely stop working at the shop and looks forward to doing more of something he enjoys doing immensely: Riding his bike, of course.
---
FIXTURES FOND MEMORIES
Our Fixtures feature on Erlton Bicycle Shop helped to evoke wonderful memories on Facebook. Paul Isaacson wrote on Cherry Hill United: "I saved up my allowance for a year and bought my bike there in 2001!" On the What's up in Cherry Hill page, Jonathan Simon fondly remembered: "Got my orange diamond back hot streak here in 1987. I am 46 and still feel the excitement from that day!"  Tyler Kademian, also posting on What's up, noted: "Erlton Bike Shop did a phenomenal job restoring my dad's 1976 Schwinn Continental. It was a surprise for me for Christmas and I was blown away at the love and care they showed." Said Wendy Smith Gumpper on What's up: "I got all my bikes there as a kid a zillion years ago and continued going there throughout my kids' childhoods."
---
IF YOU GO
Erlton Bicycle Shop is at 1011 W. Marlton Pike in Cherry Hill. The store is open from 10 a.m. to 6 p.m. Tuesdays, Wednesdays, Thursdays and Fridays and open from 10 a.m. to 5 p.m. on Saturdays. The shop is closed Sundays and Mondays, and its website is www.erltonbikes.com.
---