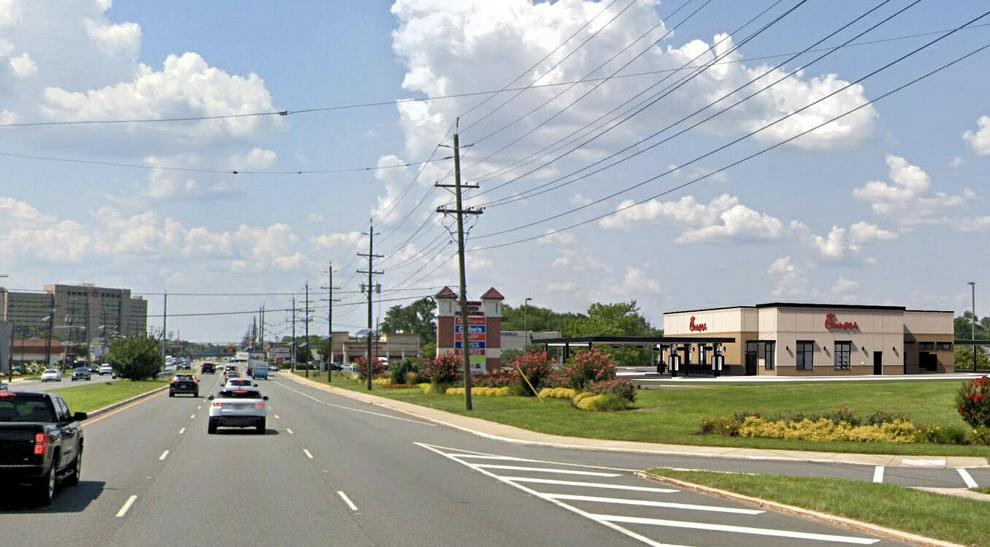 Trends in the restaurant business often embody the notion of "out with the old, in with the new." 
That will be evident near a busy intersection in Cherry Hill at Route 70 and South Cornell Avenue as the now-vacant and traditional Friendly's restaurant will be torn down to make way for a Chick-fil-A with dual drive-through lanes.
The Cherry Hill Planning Board voted unanimously on Monday night to approve preliminary and final major site plans and bulk variances to build a new 5,147-square-foot Chick-fil-A after it demolishes the existing 4,727-square-foot Friendly's, which closed in 2018 after 15 years. It is a permitted use under Township zoning ordinances.
An existing Chick-fil-A, without drive-through lanes, in the Garden State Park shopping center will move into the new facility, Clint Mattson, Chick-fil-A's principal development lead, based in Atlanta, told the Planning Board. He noted the drive-through lanes are an important marketing focus for the restaurants.
Chick-fil-A versus Friendly's is a tale of two very different restaurant operators.
Friendly's has struggled financially in recent years. In the late 1980s, Friendly's had more than 800 restaurants. Today, the chain, founded in 1935 in Western Massachusetts, has 130 corporate-owned or franchised outlets.
In January, Amici Partners Group LLC bought the chain, which once was owned by the Hershey Co. A close Friendly's location to Cherry Hill is in the ShopRite/Kohl's shopping center on Route 70 in Marlton. The center's owner plans to demolish that Friendly's as part of new development plan. Another location is in the Town Center Boulevard development in Voorhees.
Chick-fil-A's story is just the opposite, with rapid growth in recent years and, in many cases, community excitement when it opens a new location.
The Atlanta-based company debuted its first Chick-fil-A in 1967 and has grown to more than 2,400 restaurants in 47 states.
Truett Cathy, the chain's founder, decided in 1946 to close his first restaurant in Georgia on Sundays because he had worked seven days a week in restaurants elsewhere and "saw the importance of closing on Sunday so that he and his employees could set aside one day to rest and worship," according to the company's website.
Cherry Hill's new Chick-fil-A will have 98 seats indoors and 14 outdoors. Its plan stated it will remove four existing trees and replace them with 27 new trees. Restaurant employees will take orders on the drive-through lanes under canopies, which have fans for the summer and heaters for the winter.
Board member Sheila Griffith said she was pleased a new business would replace a Friendly's Restaurant that has been shuttered for several years. Member Marlyn Kalitan said she was impressed with the excitement for the new location that she has heard from residents.
Chick-fil-A's representatives agreed to look into installing solar panels on its drive-through canopies and the building's roof after resident Martha Wright of Munn Lane made the solar suggestion during the meeting. She was the only member of the public who testified.
Chick-fil-A has two other locations in Cherry Hill: near the Cherry Hill Mall on Haddonfield Road and on the eastbound lane of Route 70 at the Kresson Road intersection.