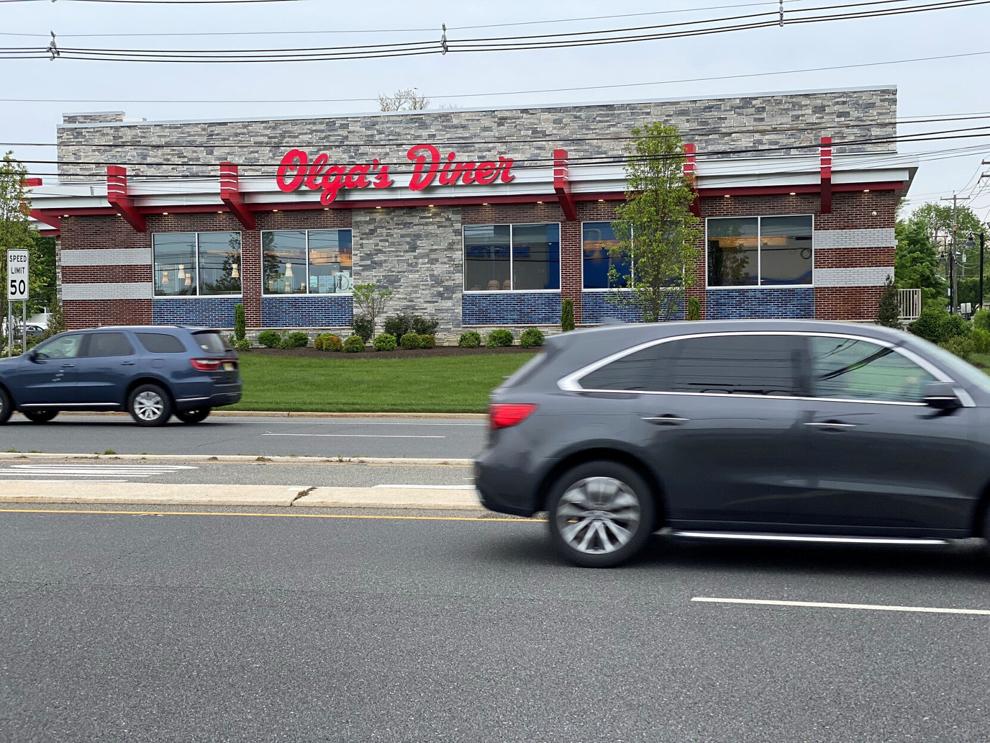 When Olga's Diner in Marlton placed help-wanted ads for experienced waitresses a year after it opened in 1959, it didn't bother with a street address. It simply listed the intersection of Routes 70 and 73 — after all, the diner was a hotspot on the Marlton Circle.
That legendary New Jersey diner shut its doors several times in 2008 and then closed forever that December. Making way for the elimination of the Marlton Circle, the building was razed in 2017.
But, as any realist will tell you: That was then, this is now.
Brush aside that veil of nostalgia and consider the Olga's of today, about a half-mile from the old Olga's on Route 73's northbound lane in Marlton, an inviting diner hybrid related to the original place in name only.
Mystery Muncher watched the Olga's of the 21st Century open its doors late in 2019 and decided to wait a while before sampling. Then the COVID pandemic closed in on all of us in 2020 and Mystery Muncher went on hiatus.
The Muncher and an acquaintance decided to meet for breakfast on a recent weekday and, at least for the early-morning experience, Muncher, who had visited the old Olga's in the past 30 years, was delighted with the historic diner feel with a modern approach.
---
If you have suggestions for Mystery Munching, email contactus@70and73.com. We dine incognito and always pay for our own meals, although we might reach out to restaurant management after our visit. Restaurants that make it to the Mystery Muncher series are ones we would recommend to friends.
---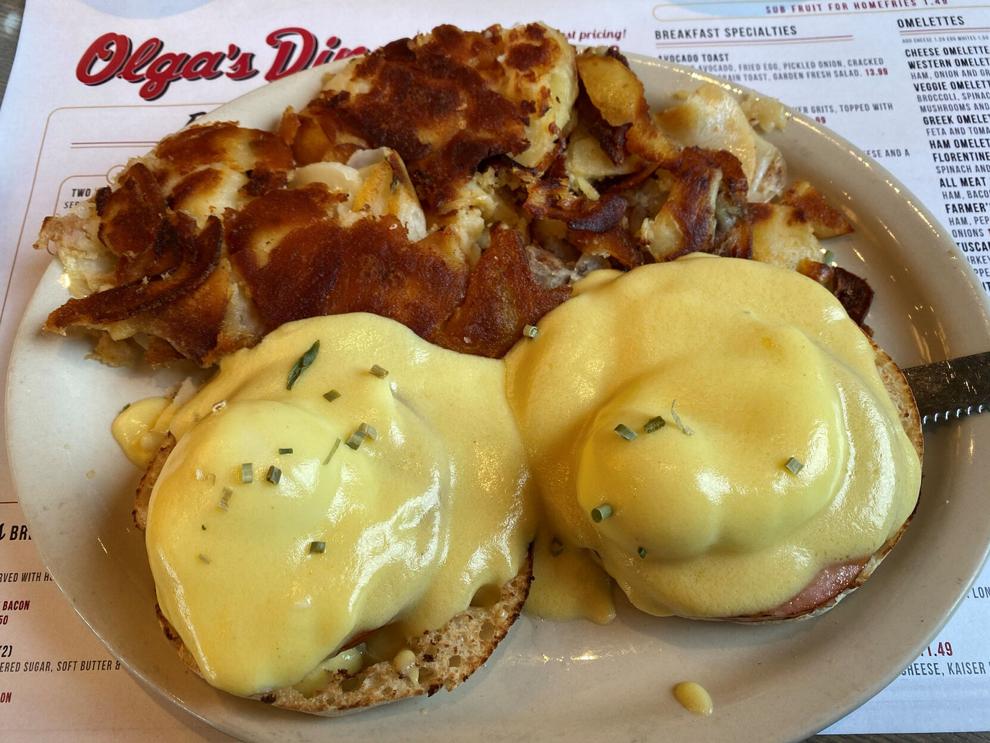 Without fail, Muncher opens a breakfast menu and immediately scans for basic Eggs Benedict. Olga's "traditional" Benny measured up to competition of many other 70and73 Land breakfast spots. Its price was in line: $10.99 for the traditional compared to similar dishes at the Medport Diner ($10.29), Turning Point ($12.35), Ponzio's ($12.59) and the Voorhees Diner ($9.95).
Muncher's breakfast companion had a Tuscan Omelette ($11.49), which featured turkey sausage, spinach, roasted red peppers and provolone cheese. His word for it: "delicious."
"Breakfast all day" at the new Olga's is a blend of the old world of the diner with the contemporary restaurant. The atmosphere also is a blend of diner and dining room. Menu choices range from a Lox Platter ($14.99) to Avocado Toast ($13.49) to Belgian Waffles ($8.99).
The breakfast, lunch and dinner menus are online (olgasdiner.com) and if you're interested in exploring, set aside some time. Olga's menu is extensive and varied, much like its diner ancestors.
Ask Olga's General Manager Rory Narcisi what is his favorite dish and he pauses and then tells 70and73.com: "That's tough."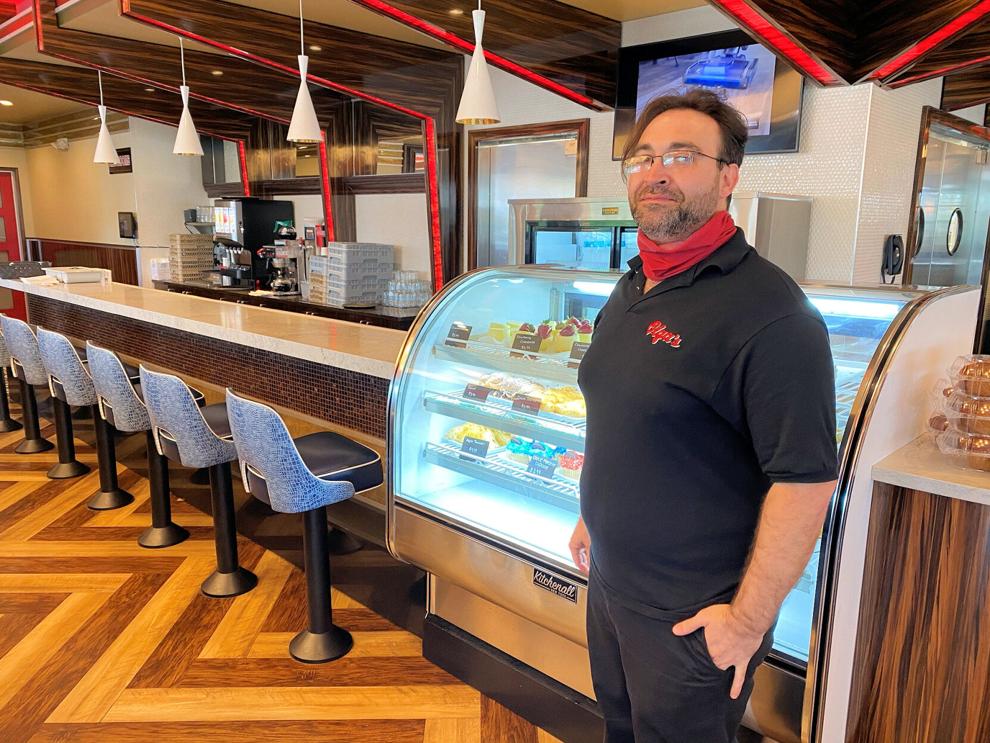 The Sicklerville resident said he likes to try out the restaurant's regular specials on the menu. But, pinned down, Narcisi acknowledged in an interview earlier this month: "The Chicken Parmesan ($16.99) is always a go-to that is never going to disappoint." Olga's also was running a Chicken Teriyaki Stir Fry that "doesn't scream 'diner', but people love it." The Shepherd's Pie ($14.99) was "moving like crazy" during the cooler months but has slowed a bit as the weather got warmer. 
Narcisi, 42, is no stranger to the legacy of the old Olga's Diner on the Marlton Circle. When he played volleyball for Washington Township High School, the team would stop on weekends on the way to tournaments in North Jersey. His volleyball fuel at the old diner: a stack of pancakes and sausage.
The red, script Olga's sign isn't the only tie to the past. The current Olga's head chef, Mike Mihos, used to cook at the old Olga's. And Narcisi said he's seen old Olga's regulars show up and a few told him they didn't know the diner had moved. 
John Stavros and his family ran the old Olga's. The new one is owned by Chris and Bill Kolovos and their family, including cousin Bill Dovas. The family also owns the Mansion on Main Street in Voorhees, the Lucien's catering hall in Berlin, the Colonial Diner in Woodbury and the Penrose and Oregon diners in Philadelphia. Narcisi works closely with Spyros Kapnisis, an on-site manager who is a cousin involved in the Kolovos family business.
Narcisi joined Olga's less than a year ago, with the pandemic impacting the whole restaurant industry. Before that, he worked for a real estate developer and for years was a general manager at an Applebee's restaurant.
Just as the old Olga's was a frequent advertiser for waitresses, hostesses and bakers, the new Olga's today is always on the hunt for new employees. Like other restaurants and employers in general, finding help in the age of COVID-19 is a struggle. 

Is Olga's finding it difficult to hire staff? "Heck yes," replied Narcisi. "It's been a battle. My crew is working very hard." The diner has about 45 employees. Narcisi said business is picking up but it's a "double-edged sword" because now that more people are coming through the door it's getting difficult to get people to take care of them.
Another old-versus-new similarity between the diners: they each emphasized their in-house baked goods. The baker works overnight at the diner and pre-orders for baked goods are accepted, Narcisi said.
Olga's is open 8 a.m. to 10 p.m., seven days a week. Saturdays are busy and Sunday brunch is even busier, he said.
For some customers, "we see the same people multiple times during the day," Narcisi said. In other cases, the regulars have their own "dayparts" — breakfast, lunch or dinner, he added.
The diner has four tables now for outdoor dining, but last summer had as many as 16 tables outside. "Our outdoor dining kept us afloat last year," Narcisi said. But if the diner can't hire enough staff, outdoor dining — with greater travel and time by wait staff — would be the first thing that gets sacrificed, he said.
» MORE: Watch a Facebook video of the old Olga's shortly before demolition.
---
The basics

Hours: 8 a.m. to 10 p.m. seven days a week.
Address: 200 Route 73, Marlton, 08053.
Telephone: (856) 452-5966
Website menu: olgasdiner.com
Facebook: facebook.com/olgasdiner
Order takeout online: Yes
---