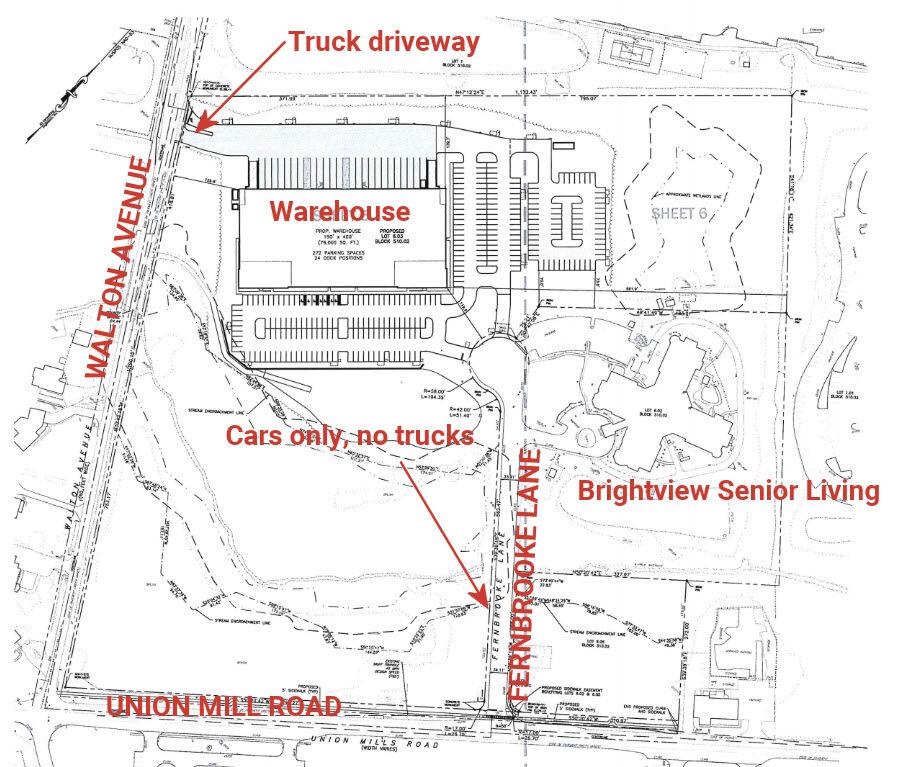 A more-detailed plan for a Mount Laurel warehouse — with truck movements specified — goes before the Planning Board on Thursday evening.
In its original application to build the 76,000-square-foot warehouse, applicant Union Mill Road LLC said truck traffic would be evenly split between driveways on Walton Avenue and on Fernbrooke Lane, which connects with Union Mill Road and is a private road owned by the Brightview Senior Living facility.
The application was amended to limit Fernbrooke Lane traffic to only passenger vehicles, but the amended plan was not in-depth enough for the board at its August 12 meeting. "I'm hearing a lot of open-ended issues," board chairwoman Lisa Conte said at that meeting. A decision on the project was postponed to Thursday evening's meeting, which begins at 7.
"Truck traffic to and from this site will be restricted to the Walton Avenue access," according to a supplemental traffic-impact study received by the board on October 4 from transportation engineering firm McMahon Associates of Inc. in Yardville. McMahon represents the developer in the plan to build on the heavily wooded lot.
The amended plan also notes: "Signs posted along Walton Avenue between Union Mill Road and the proposed site driveway prohibit vehicles over four (4) tons due to a wooden bridge. This restricts tractor trailers from traversing Walton Avenue from Union Mill Road and results in trucks accessing this site driveway only to/from the north."
A table in the supplemental study shows 100% of the tractor-trailer traffic would reach the driveway from the north end of Walton Avenue.
Union Mill Road LLC is affiliated with CoreOne Industrial LLC of Connecticut.
» READ MORE: Planning Board postpones decision on Union Mill Road warehouse project.