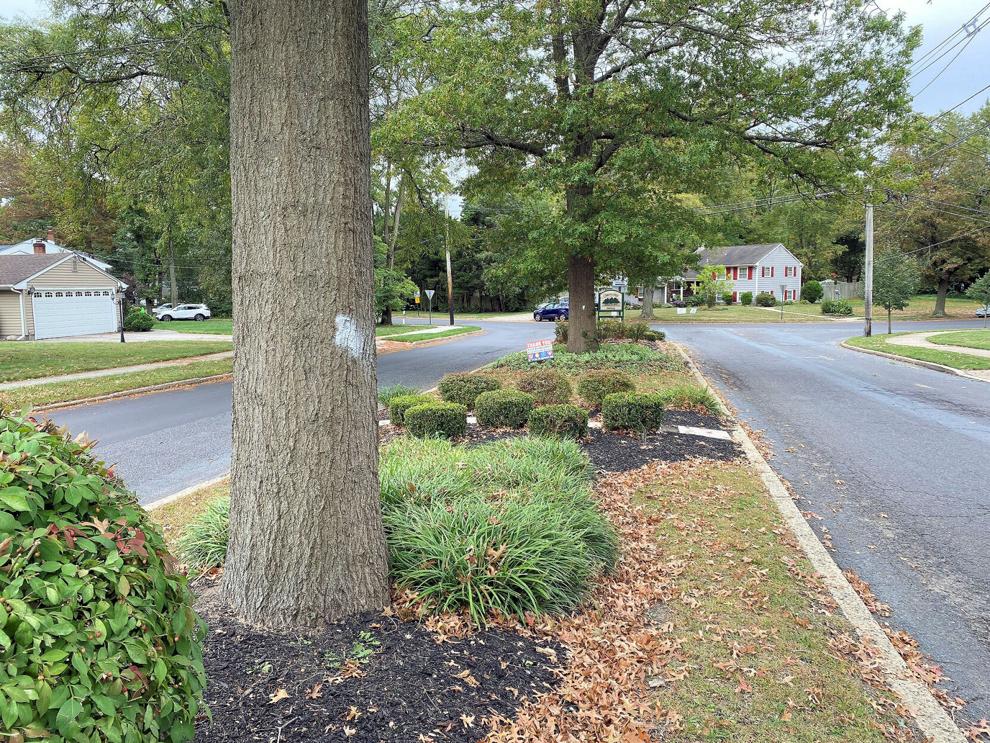 If it were a movie, an apt title might be "The Siege of West Gate Median."
First, the long roadway island — nicely landscaped with mature trees, bushes and plants — separating the lanes of West Gate Drive near Route 70 in Cherry Hill was the target of the proposed development of a Super Wawa.
And now spray-painted white spots on the bark of the four trees show they're marked for the chainsaw by the state Department of Transportation as part of a separate project to grade, pave and improve drainage on Route 70.
The median with its Barclay Farm sign was added to the development in the 1960s by builder Bob Scarborough. Residents have helped manicure the median and were outraged when plans for a Super Wawa in the Barclay Farm Shopping Center called for its removal to make way for increased traffic.
That battle to save the median is being fought by Township Council, which adopted a resolution on September 13 telling the DOT that the medians on West Gate Drive and Kingston Drive should not be eliminated as part of Wawa's traffic plan, which requires DOT approval.
The Township sent out a letter on Tuesday to the DOT, concerned about the trees being marked for cutting.
"It has come to our attention that several mature trees planted along the medians of West Gate Drive are marked for removal by a contractor for the New Jersey Department of Transportation," Mayor Susan Shin Angulo and Council President David Fleisher said in the letter.
They told the DOT that Cherry Hill, and not the DOT, has the jurisdiction for maintenance and control of West Gate Drive.
"The removal of trees was just brought to our attention with no prior advance notice," the letter stated. "The landscaped medians constitute a vital community aesthetically pleasing feature for the Barclay neighborhood."
The two town officials requested that the DOT cease any planned tree removal and that the state agency schedule a meeting with the Township to "discuss less destructive alternatives to the removal of these trees."