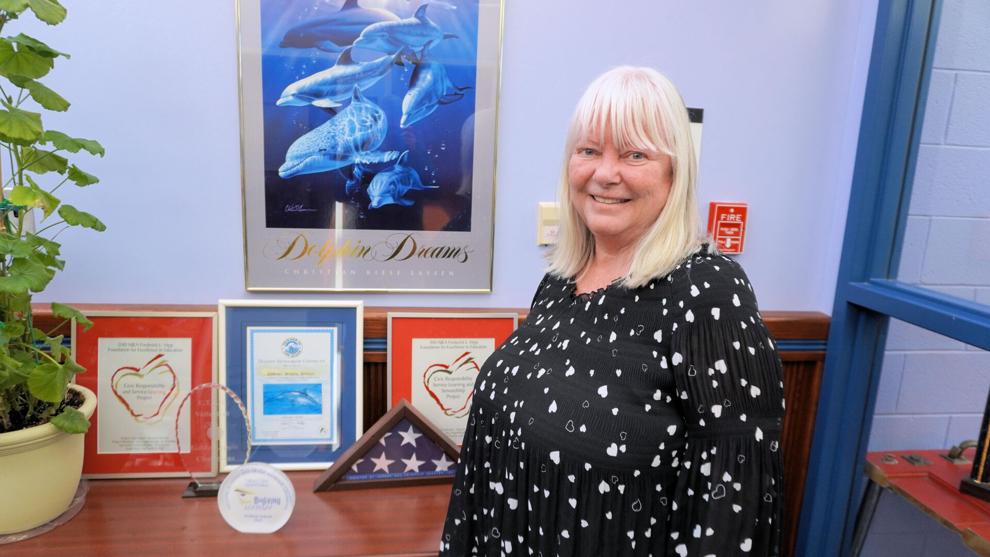 The 11-year-old photograph shows about three dozen Evesham middle school students atop a huge mound of old tires on the side of a road, with lush Pinelands forest behind them.
Maureen Heenan remembers the day well.
"The kids were filthy from head to toe and they couldn't have been happier," Heenan, a pioneering environmental educator at Frances S. DeMasi Middle School, told 70and73.com in an interview.
As part of their service project, the students spent the day with Heenan pulling about 450 discarded tires from the Black Run Preserve in Evesham. When the Township sent a truck to collect the tires, the workers were shocked by the volume, Heenan recalled.
Heenan, who has spent many of her 22 years at DeMasi involved with science education and Black Run, will retire after this school year and in July will move from Tabernacle to her home in St. Augustine, Florida, where her daughter lives.
---
Our teachers and other school staff members inspire us during our developmental years. Can you nominate a retiring educator or staff member for 70and73.com's Inspirational Educators feature? If so, email contactus@70and73.
---
"Maureen's heart is huge and her dedication to education, service and the environment is unmatched," says John Volpa, who founded Friends of the Black Run Preserve in 2012. "Her presence in the BRP will be sorely missed. Her retirement is well earned."
Black Run, preserved and owned by Evesham Township, contains 1,300 acres of former cranberry bogs, trails and woods and wildlife, particularly beavers. 
Volpa wondered about Heenan's students who removed the hundreds of tires from Black Run: "How many of those students were inspired to some day become a concerned and active volunteer for life? The ripples of a career well-lived go on forever."
Evesham school Superintendent Justin Smith praised Heenan's pioneering.
"She has been a driving force of environmental education in the school and district, providing many community service opportunities and field experiences for her students," he told 70and73.com in an email. "From writing an innovative STEM curriculum, to creating and implementing Girl's STEM Day, and training students to become ambassadors of the local Black Run Preserve, Heenan has been an intrepid leader and an inspiring example for students and colleagues alike."
Heenan, who lives in Tabernacle, was born in Jersey City and lived there until her family moved south to Cherry Hill. She lived in the Woodcrest and Willowdale neighborhoods and graduated from Cherry Hill East High School. She graduated from Loyola University in Baltimore and worked in private education, then at Elk Township public schools and, for the last 22 years, at DeMasi.
Her inspiration to immerse herself in the environment grew from a tragedy, the death of her 23-year-old son, who was studying at Stockton University with aspirations to become an environmental lawyer. He was an avid camper and canoeist, Heenan said.
"I felt like it was a way that could help me actually honor him and help me heal through the nature," she recalled.
Maureen Heenan, a teacher at DeMasi Middle School in Evesham, talks about using the Black Run Preserve as an environmental teaching tool.
She got involved with Volpa's environmental program for educators and became a volunteer at Black Run. Over the years, about 1,000 students were exposed to the preserve by Heenan, either as her students or by her setting up visits for others, she estimated.
When she first started taking her students to the wilderness, a fundamental issue become apparent.
"The biggest problem was there wasn't a bathroom," she recalled. "Well, what are we going to do?" Heenan said they asked. 
To her students, visiting the wild "was very mysterious." They got to work with scientists and some of their projects focused directly on the science they studied in the classroom.
The middle-schoolers studied invasive phragmites, a tall grass that can have a negative impact on the ecosystem. 
"This was real science," Heenan said, explaining that for several years her students learned of the invasive species and then hiked into Black Run to cut the seed heads off phragmites, bagging them and discarding them to curb growth. 
"We eradicated thousands, tens of thousands," she recalled.
Heenan wrote the part of the STEM curriculum for the district devoted to teaching about the Pine Barrens. She credited the Evesham district's administration with promoting an atmosphere to innovate and experiment.
"If you fail, you fail. Move on," she said. But if it is a success, the district supports the staff to try it again and again, she added.
"By leveraging relationships formed over many years with environmentalists and other scientists, she provides an invaluable conduit between students and professionals who deliver genuine, hands-on experiences for students both in the classroom and on field trips," said school superintendent Smith.
Smith emphasized Heenan's work with girls and younger students. "These efforts have had a noticeably positive impact on the school's aspiring female scientists," he said.
Heenan said leaving Burlington County will be tough, although she looks forward to living in Florida. Her husband, Matthew Heenan, will continue to work remotely as a software engineer. She will leave behind her mother and six siblings and their families, all of whom live in the Burlington County area.
And retiring from teaching will not be easy, she said.
"Being a teacher is really an identity," Heenan said.