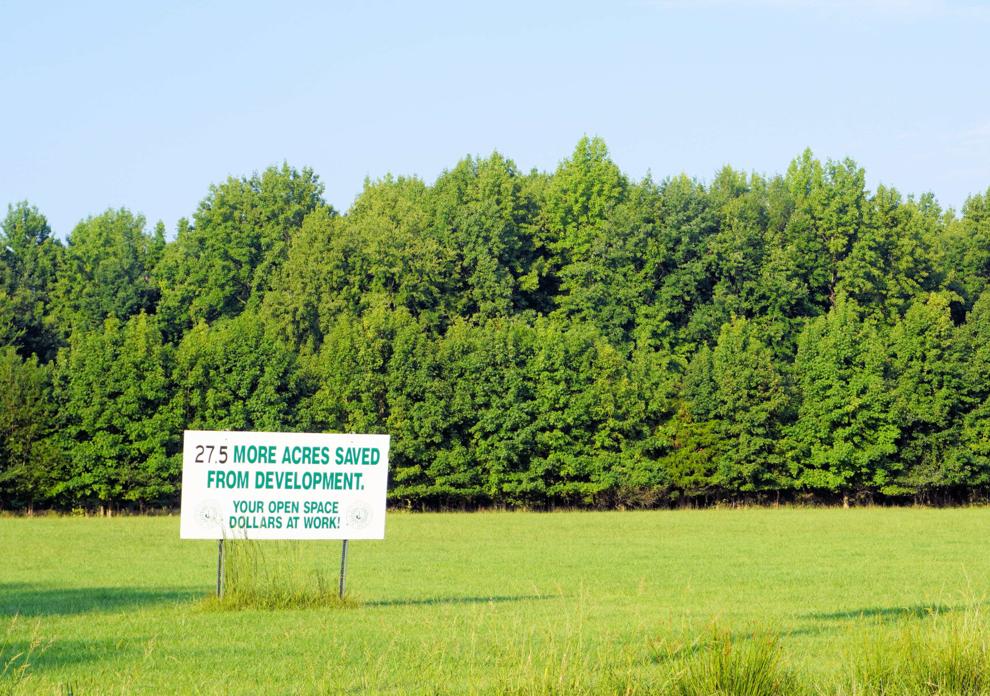 Scan the comments on social media about any town's new developments — from large housing projects to Super Wawas to Dunkin' Donuts — and a common lament emerges: Why are all of those green, tree-filled fields being allowed to disappear?
But the flip side of the struggle is the continuing campaign by towns to claim what open space is left — often former farms — and forever protect them from development.
Land preservation comes in many sizes for the South Jersey communities that often stand out more for their commercial and residential sprawl than green space.
Cherry Hill, with Camden County, is saving the relatively small 4.6-acre strip of land on Haddonfield-Berlin Road next to Route 295 that used to be the headquarters of USS New Jersey Lodge No. 62 of Free and Accepted Masons. Evesham on Monday has a special Township Council meeting to appoint a firm to prepare a concept plan for the former Beagle Club, the 166 acres of mostly fields and woods on North Elmwood Road that Evesham bought this year.
And Mount Laurel is in the midst of polling its residents on what they expect from open space, with the goal of writing an updated Open Space Plan for the Township's more than 1,300 acres of committed open space.
"We know residents would prefer land preservation over development," Township Manager Meredith Tomczyk told 70and73.com in an interview. "We're always looking to preserve land in the Township, especially large parcels where we can add trails."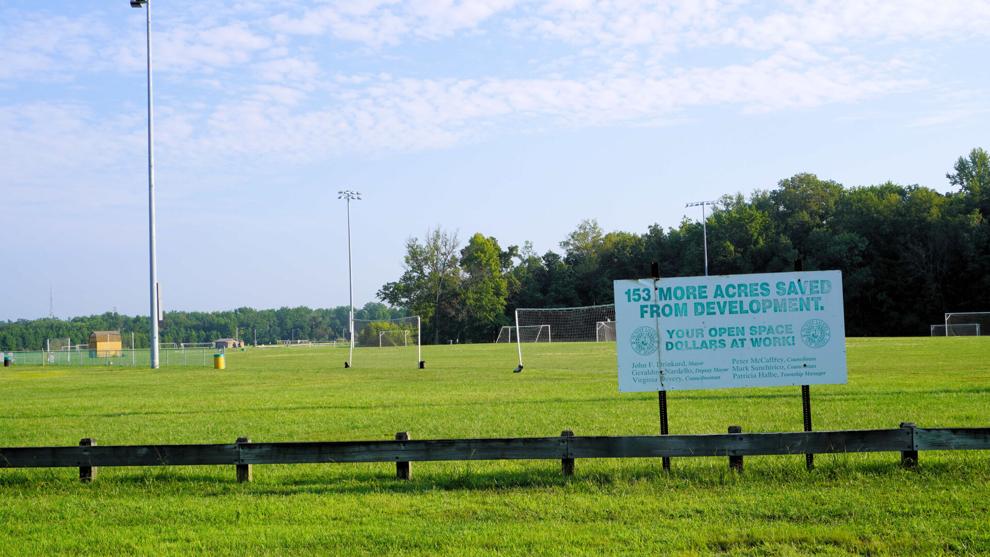 Mount Laurel's preserved property ranges from the nearly 154 acres at Trotters Crossing on Walton Avenue, now used mainly for fields by the Mount Laurel United Soccer Association, to small pockets of land that are a fraction of an acre and in neighborhoods.
---
Mount Laurel residents can take the survey here.  
Mount Laurel's open space map here.
---
The Township has made two large purchases since its 2017 inventory of open space. One, in December 2018, was 21 acres on Union Mill Road for $885,000. The other was $4.64 million for the 71-acre property and buildings of the former Cistercian Monks monastery on Walton Avenue.
Tomczyk says the Township is near completing the conversion of the monastery — 26 bedrooms, 26 baths, she notes — to The Laurel House, a new community center that was named through a school competition last year.
The Laurel House relieves some of the scheduling burden from the Township's community center at the municipal complex on Mount Laurel Road. Yoga and zumba classes and the Boy Scouts now use The Laurel House and the second floor is being remodeled into six conference rooms with mechanical doors that can be opened to make larger meeting rooms, Tomczyk explained. The building also can be rented for baby showers, birthday parties and other occasions, she added.
The Union Mill Road property, next to the Township's Laurel Acres Park, likely will get a man-made lake for fishing and walking trails, Tomczyk said. A lake in Laurel Acres now is stocked by the state with trout once a year, but fishing is from the grass around the lake, she explained. The new lake at the Union Mill property would have docks that residents could fish from.
Tomczyk wants to allow residents to fill out the open space survey, possibly extending its availability into November. She said an early tally shows the simple preservation of land to be a top priority among those who have answered. Walking trails also score highly. 
Engineering firm Pennoni Associates Inc. will pull together residents' sentiment and other information and write the proposed Open Space Plan, which will be presented to the Township Planning Board.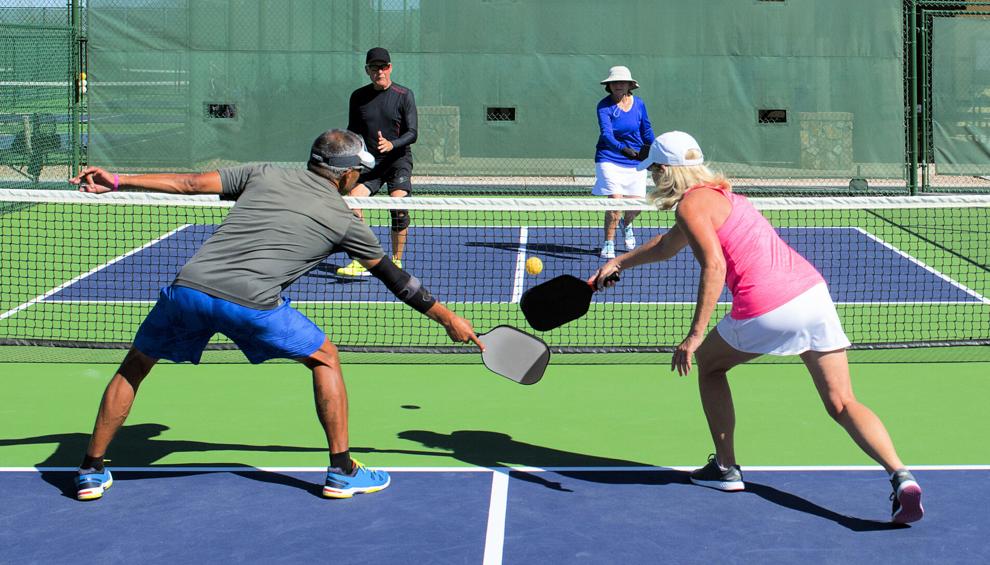 A standout request among residents, Tomczyk said, is for more pickleball courts. The paddleball sport, one of the fastest-growing in the nation, blends tennis, badminton and ping-pong and also attracts a lot of former indoor racquetball players. 
"The rules are simple and the game is easy for beginners to learn, but can develop into a quick, fast-paced, competitive game for experienced players," according to the Arizona-based U.S. Pickleball Association. The association states the sport was invented in 1965 on Bainbridge Island, near Seattle, by three fathers whose children were "bored with their usual summertime activities."
The Township's only municipal pickleball courts are on town land at Willow Turn, Tomczyk said. Mount Laurel painted pickleball stripes on the former tennis courts a few years ago and the residents brought portable nets. This year, the Township installed permanent nets, she said. More pickleball courts may be part of the new plan for open space and recreation.
Volleyball courts also are popular with Mount Laurel residents, she said. Two courts were added to the two existing volleyball courts on Township land next to the Hartford School. The Township may locate courts on other open space, including on the The Laurel House property.
Who pays for protecting land from development? Part of the bill is paid by Township property owners and part is funded by the state.
The Mount Laurel property tax includes eight cents per $100 of assessed property. The average residential assessment is $237,600, with an annual contribution to the open space trust fund of $190, according to Dennis DeKlerk, township assessor.
Tomczyk said the trust fund pays for both land acquisition and improvements to the property. For example, the fund was used to pay for a second pavilion in Laurel Acres Park after it was determined one was not enough to fill demand, she said.
---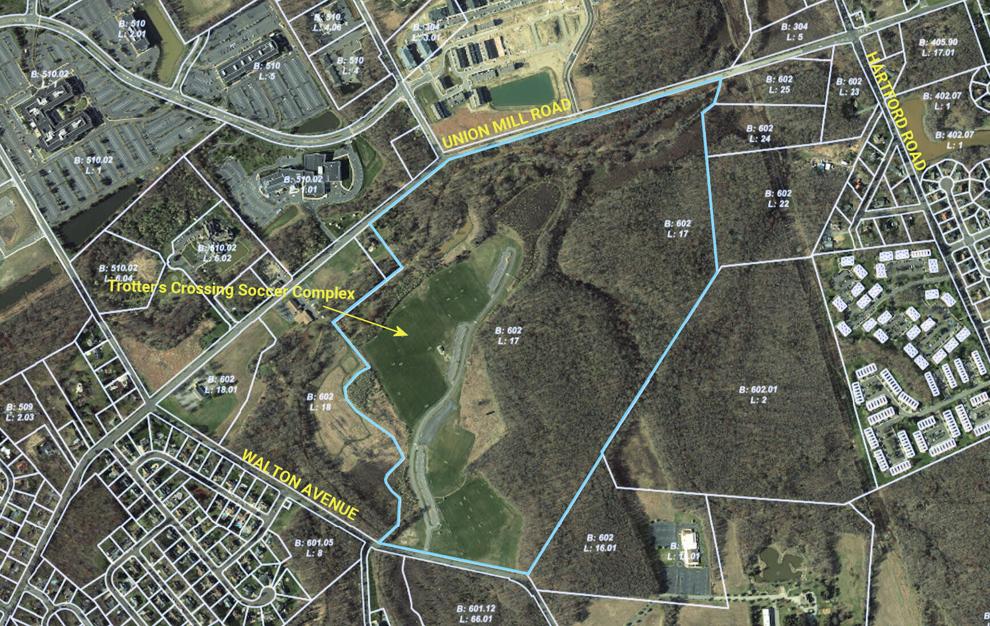 MOUNT LAUREL RECREATION AND OPEN SPACE INVENTORY (July 2017)
| ADDRESS | NAME | ACRES |
| --- | --- | --- |
| 540 WALTON AVE | TROTTERS CROSSING | 153.62 |
| 235 MT LAUREL ROAD | CONROW TRACT/GOODWIN | 94.39 |
| HARTFORD ROAD | SCLAROFF | 84.87 |
| 1045 S CHURCH STREET | LAUREL ACRES PARK | 51.86 |
| 1045 S CHURCH STREET | | 51.45 |
| 3207 MARNE HIGHWAY | DEVONSHIRE | 41.70 |
| MICHAELSON DRIVE | | 40 |
| HARTFORD ROAD | SPRINGWOOD VILLAGE | 32.67 |
| GASKILL ROAD | KOWALASKI FARM | 29.11 |
| HAINESPORT-MT LAUREL ROAD | | 27.61 |
| 280 MT LAUREL ROAD | BAUM FARM | 24.79 |
| 142 HOOTON ROAD | CUZZIMANO FARM | 22.88 |
| GASKILL ROAD | KOWALASKI FARM | 22.54 |
| 3076 & 3726 CHURCH ROAD | | 20.91 |
| ARK ROAD | | 18.52 |
| *UNION MILL ROAD | | 17.06 |
| FOX RUN | CHURCH ROAD-FOX RUN | 17.05 |
| HAINSPORT-MT LAUREL ROAD | | 17.02 |
| 1151 ACADEMY DRIVE | RAMBLEWOOD FARMS | 16.31 |
| HARTFORD ROAD | PARAGON TRACT | 15.88 |
| CANDLEWOOD LANE | TIMBERCREST | 15.74 |
| HAINESPORT-MT LAUREL ROAD | EVANSCO TRACT | 14.27 |
| 99 WILLOW TURN | WILLOW TURN | 13.82 |
| 134A DORCHESTER ROAD | CANTERBURY-DORCHESTER POINT | 13.55 |
| 481 HARTFORD ROAD | GUIDOTTI TRACT | 13.44 |
| 190 ELBO LANE | | 13.11 |
| 709 CORNWALLIS DRIVE | RAMBLEWOOD FARMS | 12.56 |
| 4847 CHURCH ROAD | BARRETT PROPERTY | 11.40 |
| 359 MT. LAUREL ROAD | | 11.18 |
| HARTFORD ROAD | LARCHMOUNT ESTATES | 10.54 |
| MICHAELSON DRIVE | | 10 |
| ABINGTON ROAD | | 9.89 |
| EDINBURGH LANE | | 9.79 |
| 359 MT. LAUREL ROAD | | 9.51 |
| HARTFORD ROAD-REAR | LAKE ESTATE | 9.12 |
| HAINESPORT-MT LAUREL ROAD | EDWARD'S FARM | 8.46 |
| 262 ST. DAVID DRIVE | | 8.40 |
| 135 UNION MILL ROAD | CARROLL PROPERTY | 8.37 |
| HAINESPORT-MT LAUREL ROAD | EVANSCO TRACT | 8.17 |
| 1105-07 HAINSPORT-MT LAUREL ROAD | PAWS FARM | 8.00 |
| 3076 &3726 CHURCH ROAD | | 7.87 |
| 250 & 258 MT LAUREL ROAD | THUNDERBIRD FARM | 7.45 |
| HARTFORD ROAD | | 7.34 |
| HOPEMONT DRIVE | LAUREL KNOLL EAST | 7.22 |
| WALTON AVE | LAUREL KNOLL EAST-MILLSTREAM | 7.00 |
| 359 MT. LAUREL ROAD | | 7.00 |
| CHURCH STREET | | 6.65 |
| CHURCH ROAD | CHURCH ROAD-PERRY DRIVE | 6.43 |
| 325 ELBO LANE | ELBO LANE | 6.08 |
| 23A BRETTON WAY | BRETTONWOOD | 6.06 |
| UNION MILL ROAD | DICRISTO TRACT | 6.06 |
| 250 & 258 MT LAUREL ROAD | THUNDERBIRD FARM | 6.00 |
| 812 S. CHURCH STREET | | 5.99 |
| 1071 S CHURCH STREET | MILL RUN PARK | 5.59 |
| 440 HARTFORD ROAD | SPRINGVILLE | 5.41 |
| HOLIDAY STREET-REAR | | 5.31 |
| GASKILL ROAD | KOWALASKI FARM | 5.30 |
| 1061 S CHURCH STREET | MILL RUN PARK | 5.10 |
| 73 STERNLIGHT DRIVE | RANCOCAS POINT TENNIS | 4.99 |
| 65 ELBO LANE | | 4.80 |
| 104 LOWER PARK ROAD | VFW PROPERTY | 4.58 |
| MOORESTOWN EVESBORO ROAD EMERGENCY SQUAD SITE | | 4.56 |
| 1050 ACADEMY DRIVE | | 4.54 |
| 235 CREEL RPAD | CARL JENSEN FIELD | 4.46 |
| LARCHMOUNT BLVD | LARCHMOUNT ESTATES | 4.08 |
| HARTFORD ROAD-REAR | LAKE ESTATE | 3.73 |
| 520 CREEL ROAD | TIMBERCREST | 3.55 |
| 709 CORNWALLIS DRIVE | RAMBLEWOOD FARMS | 3.38 |
| UNION MILL ROAD | | 3.18 |
| MARNE HIGHWAY | DEVONSHIRE | 3.13 |
| GASKILL ROAD | KOWALASKI FARM | 3.13 |
| 25 PREAMBLE DRIVE | RAVEN'S CLIFF | 3.00 |
| 295 LARCHMONT BLVD | LARCHMONT TENNIS COURTS | 2.80 |
| 225A HUNTERS DRIVE | | 2.69 |
| LARCHMOUNT BLVD | LARCHMOUNT ESTATES | 2.65 |
| 55 VIRGINIA LANE | VIRGINIA LAKE PARK | 2.56 |
| CANTERBURY & HOOTON ROAD | | 2.50 |
| NORWOOD ROAD | VIRGINIA LAKE PARK | 2.28 |
| 345 TEXAS AVE | | 2.00 |
| PREAMBLE DRIVE | RAVEN'S CLIFF | 1.94 |
| 820 CHURCH STREET | | 1.77 |
| HAINESPORT-MT LAUREL ROAD | THE LAKES | 1.75 |
| 170 ELBO LANE | | 1.66 |
| HARTFORD ROAD-REAR | | 1.60 |
| 104 CREEK ROAD | RANCOCAS WOODS | 1.53 |
| CEDAR STREET | P/O PARAGON TRACT | 1.47 |
| STATTON LANE & LARCHMONT BLVD | SPRINGWOOD II | 1.45 |
| FARNWOOD ROAD-REAR | | 1.33 |
| HAINESPORT-MT LAUREL ROAD | THE LAKES | 1.28 |
| LARCHMOUNT BLVD | IVY RIDGE | 1.19 |
| MICHEALSON DRIVE | | 1.17 |
| 440 HARTFORD ROAD | SPRINGVILLE | 1.12 |
| PREAMBLE DRIVE | RAVEN'S CLIFF | 1.06 |
| LARCH ROAD | RANCOCAS WOODS | 1.03 |
| HOOTON ROAD | NEUBER MEMORIAL PARK | 1.01 |
| 210 CARLETON LANE | SPRINGWOOD VILLAGE | 1.00 |
| ARK ROAD | BRETTONWOOD | 1.00 |
| ELBO LANE | | 1.00 |
| 713 S. CHURCH ROAD | | 0.91 |
| 221 MEADOW DRIVE | | 0.90 |
| 512 MEADOW DRIVE | | 0.90 |
| BURNAMWOOD DRIVE | SPRINGWOOD VILLAGE | 0.80 |
| BENTLY DRIVE | | 0.77 |
| FULTON DRIVE | | 0.77 |
| CHURCH ROAD | | 0.72 |
| 1197 ACADEMY DRIVE | RAMBLEWOOD FARMS | 0.70 |
| 151 SQUIRREL TREE LANE | TIMBERCREST | 0.59 |
| LUMBERTON TWP | | 0.55 |
| CANDLEWOOD LANE | TIMBERCREST | 0.55 |
| BURNAMWOOD DRIVE | SPRINGWOOD VILLAGE | 0.50 |
| 19A STRATFORD LANE | DEVONSHIRE | 0.44 |
| LARCHMOUNT BLVD | IVY RIDGE | 0.42 |
| BERKLEY PLACE-REAR | | 0.39 |
| WINTERBERRY COURT REAR | FOX RUN | 0.35 |
| 100 S. ST. ANDREWS DRIVE | | 0.31 |
| HOLIDAY STREET | | 0.30 |
| 22 ROBERTS LANE | | 0.29 |
| RAMBLEWOOD PARKWAY | | 0.29 |
| 783 CORNWALLIS DRIVE | RAMBLEWOOD FARMS | 0.28 |
| LARCHMOUNT BLVD | IVY RIDGE | 0.28 |
| HARTFORD ROAD | P/O PARAGON TRACT | 0.26 |
| LUMBERTON TWP | | 0.24 |
| FARNWOOD ROAD | | 0.23 |
| WHITECHAPEL DRIVE | LARCHMOUNT ESTATES | 0.20 |
| CHURCH STREET | | 0.18 |
| CARLETON LANE | SPRINGWOOD VILLAGE | 0.15 |
| CARLETON LANE-REAR | SPRINGWOOD VILLAGE | 0.15 |
| HORSESHOE DRIVE | | 0.14 |
| 783 CORNWALLIS DRIVE | 42' x 104' | 0.10 |
| 783 CORNWALLIS DRIVE | 42' x 104' Sewer Easement | 0.10 |
| VIRGINIA LANE | | 0.09 |
| SADDLE DRIVE | LAUREL RIDINGS | 0.06 |
| FARNWOOD ROAD | | 0.06 |