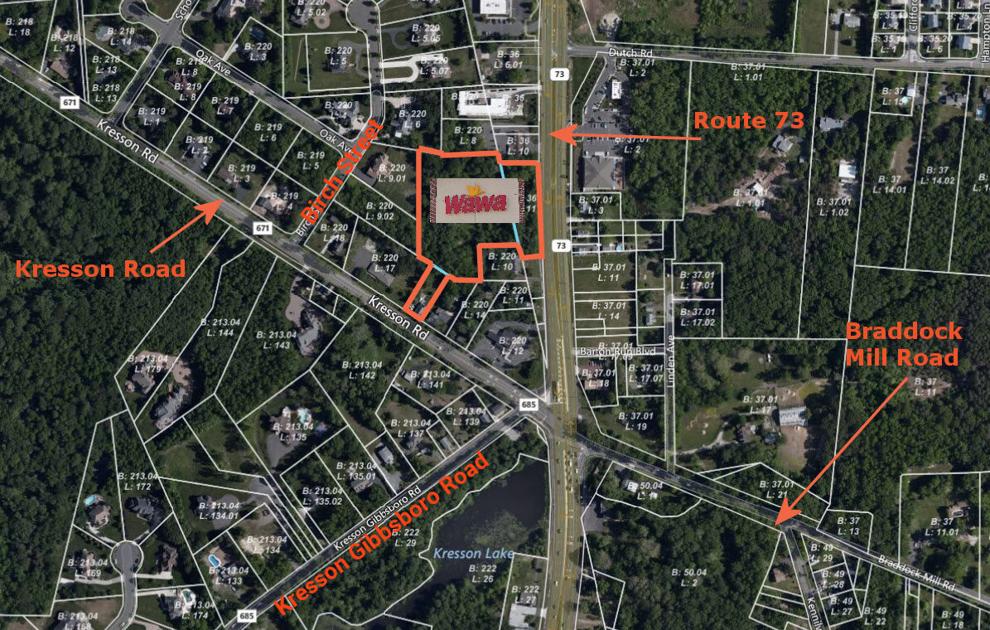 Some Voorhees residents say an already-busy and complicated intersection at Route 73 and Kresson Road could worsen with new traffic from a proposed Super Wawa near that corner.
That proposal is on Thursday's zoning board agenda, the Township told 70and73.com on Friday.
The site, which straddles the Voohees-Evesham border, includes a land-locked wooded lot, a wooded lot on Route 73 and a home that would be torn down to make way for a Kresson Road entrance and exit driveway to the Wawa.
"I would like one board member here to look me in the eye and tell me why, other than corporate greed, there needs to be an entrance and exit way on Kresson Road," Dr. Anthony Smeglin told board members at the May meeting. Smeglin has lived on Birch Street next to the proposed Wawa site since 2013. He said getting in and out of his street already is a problem and will be exacerbated by a new Wawa.
» 70and73 REPORT ON MAY MEETING: Voorhees neighbors say new Wawa at Route 73 and Kresson Road would be a traffic hazard.
Voorhees Route 73 Development Group LLC applied for the zoning variances and preliminary and final site-plan approval. The landlocked lot and the lot fronting Route 73 in Evesham are owned by VRI-W-J&J Voorhees II LLC, which lists the same address at 701 Route 70 East in Evesham as the applicant. The home and lot at 505 Kresson Road are owned by Walter Heil and Bobbi Jean Heil.
The Wawa store would be 5,051 square feet and a 7,150-square-foot canopy would cover eight fuel dispensers, according to the board's review letter.