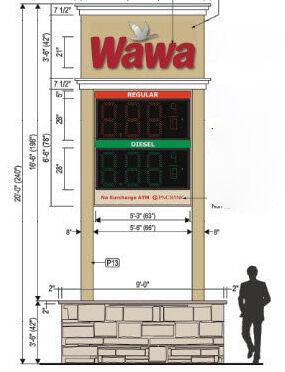 Plans for a super Wawa in Voorhees and Evesham at Route 73 and Kresson Road are scheduled to go before the Voorhees Zoning Board of Adjustment in two months.
In 2018, plans for a super Wawa and a Tractor Supply store at the site sparked neighbor protests and failed to pass the Planning Board. Last February, only a super Wawa was proposed for the mostly wooded 4.16 acres, but the proposal never made it to the zoning board as the COVID-19 pandemic struck.
An entrance and exit from the southbound lanes of Route 73 would be constructed on a wooded lot in Evesham. The Promenade Car Wash and County Line Veterinary Hospital are to the north and a TD Bank is to the south, on the corner of Route 73 and Kresson Road.
The remainder of the property — about 3.5 acres — is in Voorhees. A narrow lot fronting on Kresson Road would be converted to another driveway for the Wawa. "Roadway widening is proposed for both Route 73 and Kresson Road at the driveway intersections," according to a review letter from board engineer Rakesh R. Darji of Environmental Resolutions Inc. of Mount Laurel.
Voorhees Route 73 Development Group LLC applied for the zoning variances and preliminary and final site-plan approval. A wooded landlocked lot and wooded lot fronting Route 73 in Evesham are owned by VRI-W-J&J Voorhees II LLC, which lists the same address at 701 Route 70 East in Evesham as the applicant. The lot at 505 Kresson Road is owned by Walter Heil and Bobbi Jean Heil.
A hearing before the zoning board is scheduled for May 6, according to Stella R. Sytnik, the zoning board's secretary.
The Wawa store would be 5,051 square feet and a 7,150-square-foot canopy would cover eight fuel dispensers, according to Darji's review letter.