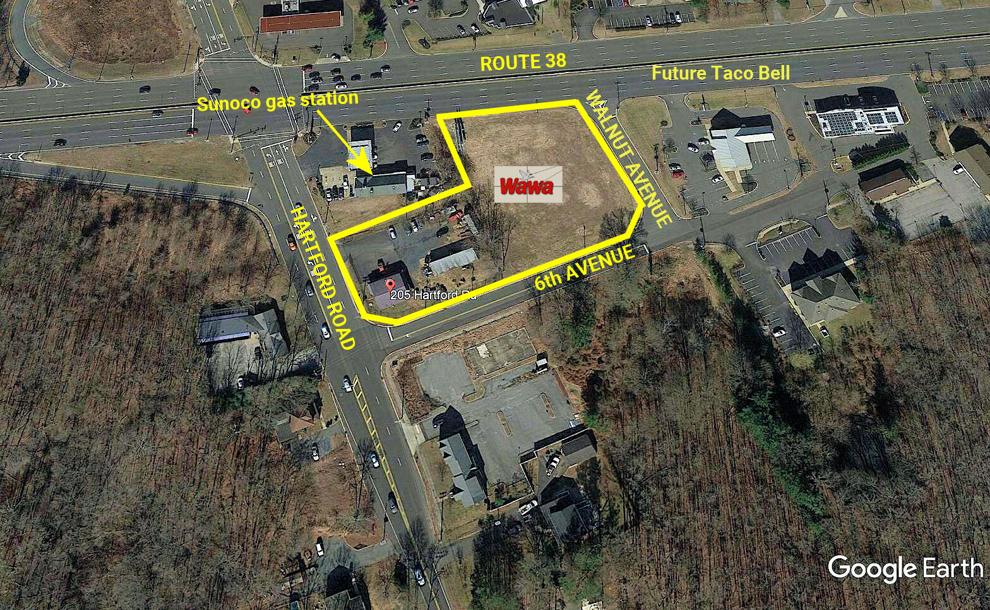 A new and controversial "super" Wawa near Route 38 and Hartford Road was approved by the Mount Laurel zoning board after a nearly five-hour meeting Wednesday night.
Zoning Board of Adjustment members voted 5-2 in favor of the conditional use with deviations and 4-3 in favor of zoning variances and preliminary and final site plans.
"It's not a great fit," board member Renee Chambers-Liciaga said of the proposal, voting against each motion. She said she probably would have approved a smaller Wawa, but that a "super" Wawa was too large. 
Member Brian List also voted against both motions, saying the site is not suitable for the "super" Wawa with gasoline pumps and a convenience store. 
Board members who voted in favor of the plan said that, under zoning law considerations, Wawa and its developer made a strong case for approval.
Traffic safety concerns came up repeatedly in residents' testimony during the meeting, attended virtually by more than 100 on the Zoom software because of COVID-19 restrictions.
Mount Laurel Zoning Board of Adjustment vote
| Member | Yes | No |
| --- | --- | --- |
| Jeff Bailey (Chair) | 1, 2 | |
| Renee Chambers-Liciaga | | 1, 2 |
| John Francescone | 1, 2 | |
| Joe Green | 1,2 | |
| Robert Killen | 1,2 | |
| Alan Kramer | 1 | 2 |
| Brian List | | 1,2 |
Residents told the board they were worried about the impact of vehicle flows on Route 38, Hartford Road and Sixth and Walnut avenues — roads that will surround the combined gasoline/convenience store.
But they were repeatedly told that traffic safety issues cannot be considered by the board in its decision whether or not to grant Wawa permission to build. 
"We can't deal with the traffic issues," said board Chairman Jeff Bailey.
All four roads around the Wawa site are under the jurisdiction of the state Department of Transportation and the state agency, which will decide separately on the developer's application, board officials said. 
Pat Halbe, a long-time Mount Laurel resident who served for years as township clerk and town manager before retiring, testified that the state DOT is known for making errors in its decisions that local residents then must live with. "I don't believe this is the right location," the Denham Court resident said.
"This is an accident waiting to happen," Steven Stern of Normandy Drive told the board. "Building a site that is a recipe for disaster is not a public good."
Several residents challenged the applicant for not disclosing in its zoning application that a property noted as a "bank" next to the Wawa site on its map actually is a Taco Bell restaurant that is being built. The Taco Bell site formerly held a bank. Residents said Taco Bell would add to the traffic. 
Laurel 38 Developers LLC of Lakewood, Ocean County, is the developer and was represented by Tyler T. Prime of the Mount Laurel law firm of Prime & Tuvel LLC. Laurel 38 Developers is a unit of Paramount Realty Services Inc., also of Lakewood, and Wawa will lease the property from the company, according to Prime. The site now is owned by Norman Shabel of Moorestown and Panarello Property Management Co. LLC of Delran, according to the application.
Prime said during the meeting that Wawa also is looking for yet another location in Mount Laurel.
Lawyer Jeffrey I. Baron of the Voorhees law firm of Baron & Brennan, representing property owner Shabel, told the board that state Supreme Court case law is clear about the need to grant deviations from conditional uses under zoning law.
Baron also said that a billboard on the site will be removed when Wawa builds. He said the removal could be seen as a win for the township because the billboard is a non-conforming and "perhaps undesirable" use.
The Wawa will be the immediate neighbor of the Stiles Sunoco Ultra Service Center, which has occupied the corner of Route 38 and Hartford Road for the last 45 years. Shawn Wilson, who owns the Sunoco franchise with his wife, Darlin-Jo Wilson, has told 70and73.com that staying in business will be difficult with the 24-hour Wawa next door.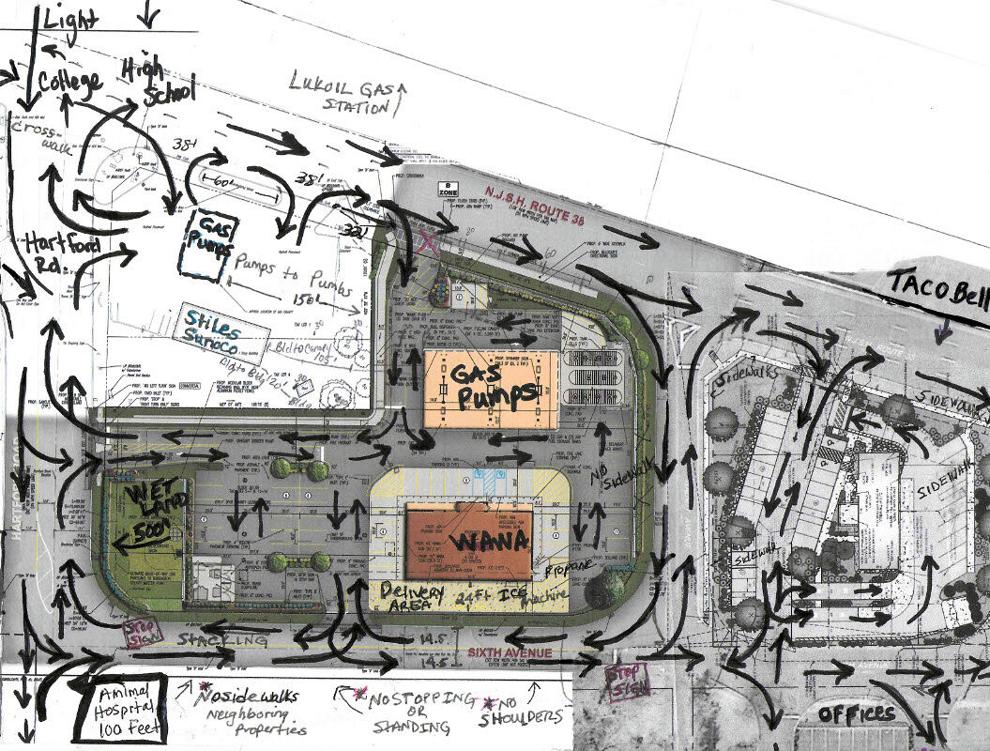 When news of the Wawa reached social media sites, hundreds of Mount Laurel residents — many of them Stiles' customers — said they opposed the Wawa proposal.
The Wilsons, who are longtime Mount Laurel residents, said they were concerned about heavy traffic volume and the flow direction as well as the impact on owners of nearby lots. They said they understood business competition issues could not be considered by the zoning board.
The developer sought exceptions that included:
The lot-depth requirement is 125, but the depth is just under 121 feet. The width complies with the zoning law.
Walls of buildings must be set back at least 50 feet from the street, but the back wall of the Wawa would be 24 feet from Sixth Avenue. The setback from Route 38 to the gasoline pump canopy also is less than required.
The building height may not exceed 20 feet, but the applicant proposes a 33-foot building.
Outdoor displays selling goods is not permitted, but Wawa wants to install a kiosk for a propane tank exchange outside its store.
Fifty-two parking spaces would be required, but Wawa proposes 50 spaces.
Mount Laurel's zoning law also prohibits the combination of retail store and motor vehicle service stations. Wawa seeks relief to combine fuel sales with retail sales.
» MORE: David versus Goliath for Stiles Sunoco in Mount Laurel.