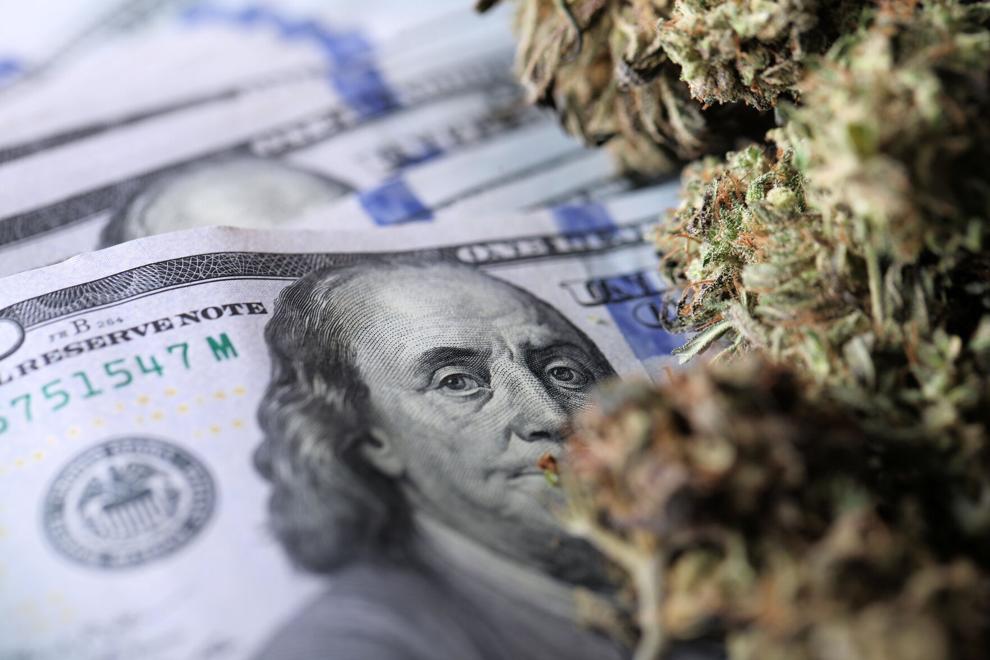 Maple Shade doesn't want recreational marijuana businesses in town.
Moorestown is leaning toward permitting all types.
And Cinnaminson would allow them, but retailing would have to be connected to cultivating or manufacturing cannabis.
They are the latest communities in South Jersey wrestling with the decision of whether or not to permit marijuana operations to open for business within their borders.
---
Review the community-by-community list below.
---
Municipalities across New Jersey are under pressure to make a decision before August 21, when the state Cannabis Regulatory Commission will disclose its regulations. If a municipality makes no decision, the cannabis sales, cultivation and manufacturing would be permitted within its borders for five years, under the state law.
Just over 1 in 5 municipalities in South Jersey — from Burlington County south to Salem and Cape May counties — so far have said recreational marijuana businesses will be permitted in some form. An analysis of proposed ordinances by 70and73.com shows 20 municipalities will welcome cannabis businesses while 71 will prohibit them. Several still have yet to decide, including Cherry Hill, Evesham and Voorhees. Mount Laurel is permitting sales, while Medford and Medford Lakes are prohibiting them.
New Jersey voters last November overwhelmingly decided to permit recreational marijuana use and sales for those 21 years and older.  Even though cannabis businesses might not be permitted in a given community, its residents are allowed to smoke marijuana and use other cannabis products under the law.
A special committee of the Moorestown Town Council on Monday recommended letting in all businesses, including retailers, cultivators, manufacturers, distributors and wholesalers. They would be limited to parts of town, and not on Main Street, the committee reported.
Mark Hines, chairman of Moorestown's Economic Development Advisory Committee, presented the committee's findings to Council members on Monday night. Like other municipalities, Moorestown has focused on the potential revenue from taxing marijuana sales at every level. Local communities can impose up to a 2% tax on retail sales and a 1% tax on other cannabis businesses. This is in addition to the state's 7% sales tax.
Hines told Council the special committee, which included Mayor Nicole Gillespie, recommends no limit on the number of licenses for the different cannabis outlets. The committee also suggested taxing the businesses at maximum allowed levels and using the money, at least in the beginning, for property tax relief. 
The growth of the cannabis industry in New Jersey is a "business reality," Hines said.
One exception: Moorestown will not allow retailers to have public consumption rooms where customers can use cannabis.
Moorestown's proposed ordinance will be introduced to Council on July 26 and will be considered for adoption at the second reading on August 9.
Cinnaminson will allow cannabis retailers, but only if they are connected to manufacturing or cultivating operations.
---
RECREATIONAL MARIJUANA SALES IN SOUTH JERSEY
| MUNICIPALITY | COUNTY | DECISION |
| --- | --- | --- |
| Absecon | Atlantic | ALLOW |
| Atlantic City | Atlantic | ALLOW |
| Brigantine | Atlantic | PROHIBIT |
| Buena Vista | Atlantic | PROHIBIT |
| Egg Harbor Township | Atlantic | ALLOW |
| Estell Manor | Atlantic | PROHIBIT |
| Longport | Atlantic | PROHIBIT |
| Margate | Atlantic | PROHIBIT |
| Mullica Township | Atlantic | PROHIBIT |
| Northfield | Atlantic | ALLOW (5) |
| Port Republic | Atlantic | PROHIBIT |
| Somers Point | Atlantic | PROHIBIT |
| Ventnor | Atlantic | PROHIBIT |
| Weymouth | Atlantic | PROHIBIT |
| Bass River | Burlington | ALLOW |
| Beverly | Burlington | ALLOW |
| Bordentown | Burlington | PROHIBIT |
| Burlington City | Burlington | ALLOW |
| Burlington Township | Burlington | PROHIBIT |
| Chesterfield | Burlington | PROHIBIT |
| Cinnaminson | Burlington | ALLOW (1) |
| Delanco | Burlington | PROHIBIT |
| Delran | Burlington | ALLOW |
| Eastampton | Burlington | ALLOW |
| Evesham | Burlington | ALLOW |
| Fieldsboro | Burlington | PROHIBIT |
| Florence | Burlington | PROHIBIT |
| Lumberton | Burlington | ALLOW |
| Mansfield | Burlington | PROHIBIT |
| Maple Shade | Burlington | PROHIBIT |
| Medford | Burlington | PROHIBIT |
| Medford Lakes | Burlington | PROHIBIT |
| Mount Holly | Burlington | ALLOW |
| Mount Laurel | Burlington | ALLOW |
| New Hanover | Burlington | PROHIBIT |
| North Hanover | Burlington | PROHIBIT |
| Palmyra | Burlington | PROHIBIT |
| Pemberton Borough | Burlington | PROHIBIT |
| Pemberton Township | Burlington | ALLOW |
| Riverton | Burlington | PROHIBIT |
| Shamong | Burlington | ALLOW |
| Southampton | Burlington | PROHIBIT |
| Springfield | Burlington | PROHIBIT |
| Tabernacle | Burlington | PROHIBIT |
| Westampton | Burlington | PROHIBIT |
| Wrightstown | Burlington | PROHIBIT |
| Audubon | Camden | PROHIBIT |
| Audubon Park | Camden | PROHIBIT |
| Barrington | Camden | ALLOW |
| Bellmawr | Camden | PROHIBIT |
| Berlin Borough | Camden | PROHIBIT |
| Berlin Township | Camden | PROHIBIT |
| Camden | Camden | PROHIBIT |
| Cherry HIll | Camden | PROHIBIT |
| Chesilhurst | Camden | PROHIBIT |
| Clementon | Camden | PROHIBIT |
| Haddon Heights | Camden | PROHIBIT |
| Haddon Township | Camden | PROHIBIT |
| Haddonfield | Camden | PROHIBIT |
| Hi-Nella | Camden | PROHIBIT |
| Lawnside | Camden | PROHIBIT |
| Lindenwold | Camden | PROHIBIT |
| Magnolia | Camden | PROHIBIT |
| Merchantville | Camden | ALLOW |
| Mount Ephraim | Camden | PROHIBIT |
| Oaklyn | Camden | ALLOW |
| Pine Hill | Camden | PROHIBIT |
| Runnemede | Camden | PROHIBIT |
| Stratford | Camden | PROHIBIT |
| Voorhees | Camden | ALLOW |
| Avalon | Cape May | PROHIBIT |
| Cape May City | Cape May | PROHIBIT |
| Dennis | Cape May | PROHIBIT |
| Lower Township | Cape May | ALLOW |
| Middle Township | Cape May | PROHIBIT |
| North Wildwood | Cape May | PROHIBIT |
| Ocean City | Cape May | PROHIBIT |
| Sea Isle | Cape May | PROHIBIT |
| Stone Harbor | Cape May | PROHIBIT |
| Upper Cape May | Cape May | PROHIBIT |
| Upper Township | Cape May | PROHIBIT |
| West Wildwood | Cape May | PROHIBIT |
| Wildwood | Cape May | PROHIBIT |
| Wildwood Crest | Cape May | PROHIBIT |
| Woodbine | Cape May | ALLOW |
| Deerfield | Cumberland | PROHIBIT |
| Greenwich | Cumberland | PROHIBIT |
| Maurice River Township | Cumberland | PROHIBIT |
| Upper Deerfield | Cumberland | PROHIBIT |
| Vineland | Cumberland | ALLOW |
| Deptford | Gloucester | PROHIBIT |
| East Greenwich | Gloucester | ALLOW (4) |
| Logan | Gloucester | ALLOW (2) |
| Mantua | Gloucester | PROHIBIT (7) |
| Monroe | Gloucester | ALLOW |
| South Harrison | Gloucester | PROHIBIT |
| Swedesboro | Gloucester | PROHIBIT |
| Washington Township | Gloucester | PROHIBIT |
| Wenonah | Gloucester | PROHIBIT |
| West Deptford | Gloucester | ALLOW |
| Westville | Gloucester | PROHIBIT |
| Woodbury Heights | Gloucester | PROHIBIT |
| Alloway | Salem | PROHIBIT |
| Carneys Point | Salem | ALLOW |
| Elsinboro Township | Salem | PROHIBIT |
| Lower Alloways Creek | Salem | ALLOW (3) |
| Mannington | Salem | PROHIBIT |
| Oldmans | Salem | PROHIBIT |
| Pilesgrove | Salem | PROHIBIT |
| Quinton | Salem | PROHIBIT |
| Salem | Salem | PROHIBIT |
| Upper Pittsgrove | Salem | PROHIBIT |
| | | |