You may remember sitting in your dad's '76 Ford on a periodic trip to the car wash decades ago.
The car shook when it was engaged by the mechanism after dad handed his cash to the attendant. You were pulled into a dark tunnel, barely able to see the giant whirling brushes and jets of soap hitting the windows. A bit spooky, but — because pops was there — fun, nevertheless.
That was before widely available computers and video cameras and sophisticated marketing to consumer preferences.
"Gone are the days where it's a dark, dingy car wash," car wash entrepreneur Chris Vernon told 70and73.com in a telephone interview.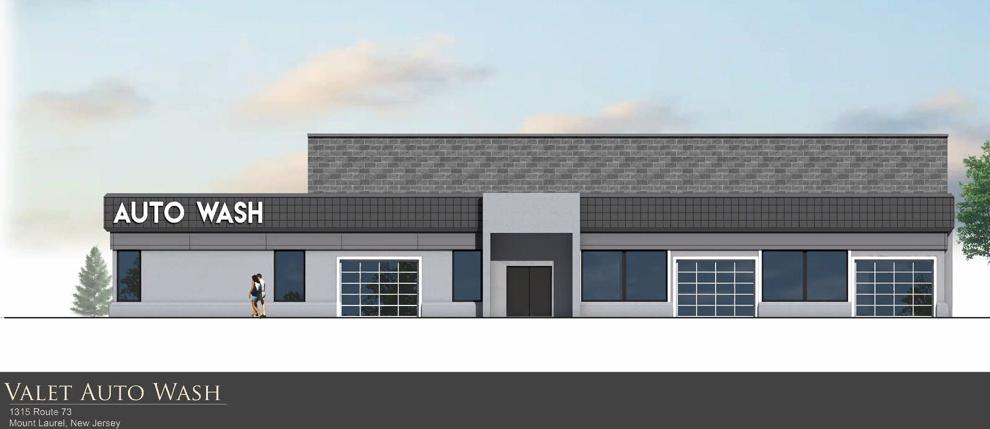 Vernon's company last week was granted zoning variances in a 7-0 vote by the Mount Laurel Zoning Board of Adjustment, allowing the company to purchase and retrofit a Giant Fitness gym on Route 73 into a car wash. When completed by December 2022, the car wash will be Valet Auto Wash's 14th. Others in the area are in Burlington, Cinnaminson and Bordentown.
"We are reinventing an industry," Vernon told zoning board members last Wednesday night.
The Route 73 building, now owned by Balducci Inc. of Haddonfield, would have been turned into a medical marijuana dispensary, but the zoning board gave the proposal a thumbs down in September. It once was home to the DeSimone Cadillac dealership.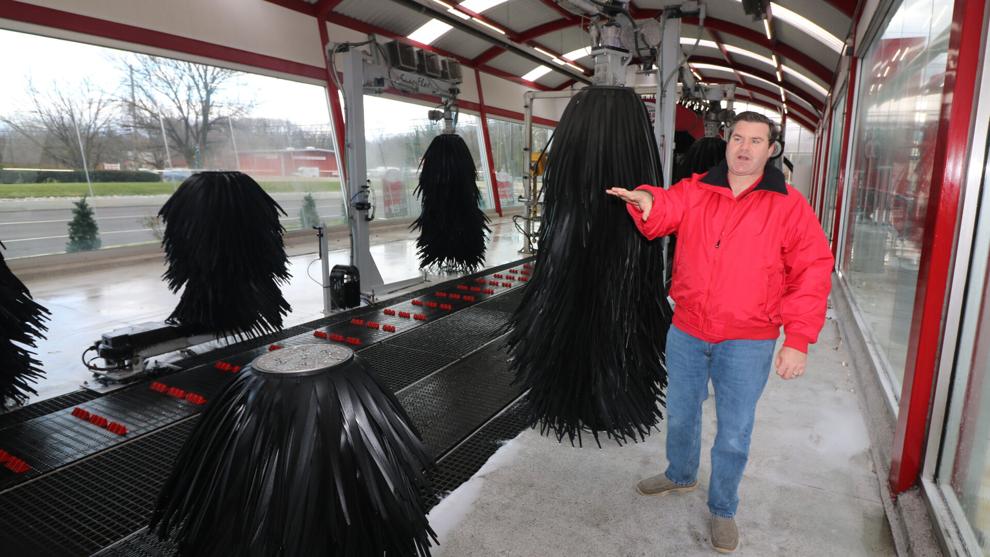 Meanwhile, a few miles away on Route 70 on the long-vacant G Boys Garden and Christmas Center property in Marlton, Robert Giannone expects to have all necessary approvals and permits to break ground in April for his high-tech Sammy's Express Car Wash. Giannone has another on Route 38 in Maple Shade and now is scouting for property to open a third on Route 38 in Mount Laurel.
Giannone told 70and73.com this week that there's a chance his Marlton car wash could open by the end of this year.
The modern car wash business model
High-tech car washes are not inexpensive investments. Giannone said his can cost $5 million or more to open. Vernon said his can cost upwards of $10 million.
How do they differentiate their products? A lot of the marketing positions new car wash versus traditional car wash, rather than the new, technology-heavy ones positioning themselves against each other.
Speed is important — both for the wait in line and the time of the wash. "We do not want you to wait," said Vernon, whose washes use technology to read a bar code or license plate to speed monthly subscribers through payment lanes.
Bright lighting and overcoming the fear of some drivers of dark, seemingly unsafe car washes is another marketing plus. Giannone gave 70and73.com a tour of his Maple Shade wash in December and emphasized the two walls of windows brightening the consumer's experience.
» MORE: Getting the family car clean has turned into a science.
Post-wash amenities also are seen by the operators as lures. While your dad might have pumped a quarter or two into a vacuum canister after the wash, the new car washes often provide free vacuums, free reusable drying towels and high-pressure air hoses to blow off any excess water from the car.
Vernon's wash on Route 73 will have 38 outdoor and 13 indoor vacuum spaces, which will be in a lighted space with polished floors, according to the company's zoning board documentation.
How the consumer pays for the wash also is important: both Vernon and Giannone emphasize weekly wash clubs starting at $19.99 a month for unlimited washes. At Sammy's, for example, the driver can pay $10 for the most-basic wash or $19.99 a month for as many washes and free vacuum services as he or she wants. Vernon said his chain of washes has more than  club members, who can use their pass at any of his car wash locations.
Vernon told 70and73.com the story of one monthly customer who, the entrepreneur heard, had been bragging to friends about how he had his car washed 20 to 30 times a month for the one subscription fee. Although the customer was acting crafty, Vernon said, consumers of his type are among "our best customers." He said the sharing of tales of frequent car washes is the best advertisement.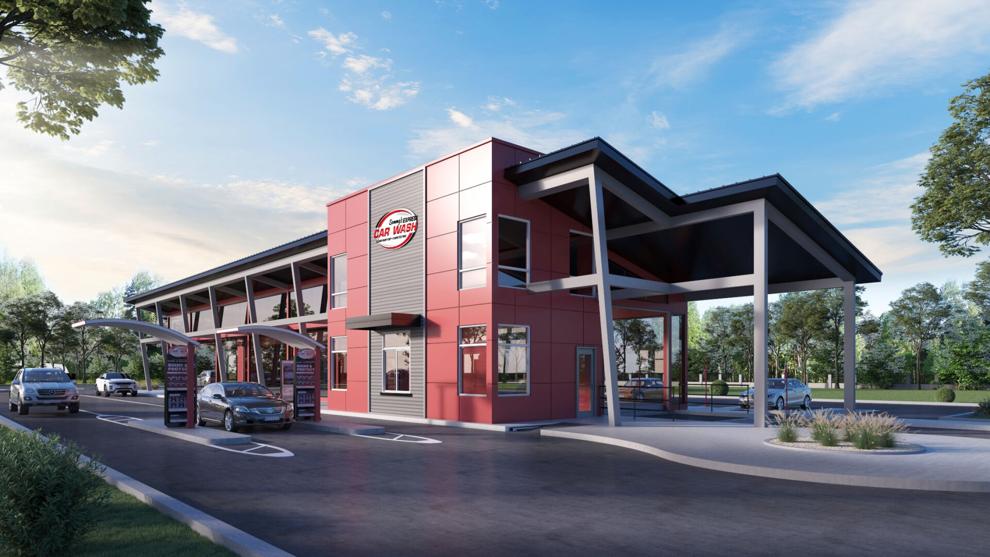 The modern washes do have some differences. Giannone at Sammy's promotes the vehicle's ride on the car wash conveyor belt without clamping onto the wheel. He said some customers are uneasy with the usual method. Vernon's stores use the traditional roller technology that holds the wheel, a system that Vernon says enables the car wash to more efficiently clean tires and rims.
Adopting a "green" approach
But the high-tech equipment that is most important is behind the scenes, helping to enhance profit margins.
Both Giannone and Vernon explained their washes reclaim dirty water, filtering it underground and sending back as much as 85% of what has been used. That saves on buying water and the impact of sending it into the sewer system. Vernon said a lot of the green technology was developed in Europe in nations like Germany, which bans car washing at home.
One advantage to the old G Boys site for Sammy's in Marlton is that the property, although narrow, also is deep, Giannone said. That will allow him to install solar panels at the back of the property that will cover about 18% of the wash's electricity usage, he said.
Both Sammy's and Valet have a bank of video screens monitoring strategically placed cameras that record the size of vehicles and other information to customize wash settings. One historical issue with washes has been potential damage to the car or truck.
And high-tech car washes are not big employers, which adds to profit margins. Sammy's expects to employ eight people at its new Marlton site, Giannone said. Vernon said Valet washes need only two or three employees on duty even on the busiest days.
Clearing the zoning hurdles
One of the biggest concerns among zoning officials in the 70and73 area is whether waiting cars will spill out onto major roads during busy times, such as after a snowstorm or during pollen season.
Vernon was grilled by zoning board members about queueing and busy days, with some members pushing for specific estimates of how many cars might be in line on a busy day.
A long queue, Vernon testified, is more than 20 cars waiting. Vernon's consulting engineer for the application, John W. Kornick, president of K2 Consulting Engineers Inc. in Haddonfield, testified that the entrance lanes will be able to stack up to 34 cars. The company's site plan showed 21 cars in three lanes at the back of the property and far from the Route 73 entrance.
Vernon testified that a car's trip through the car wash takes three minutes. About half of the customers leave immediately, while the other half stops in the free vacuum area.