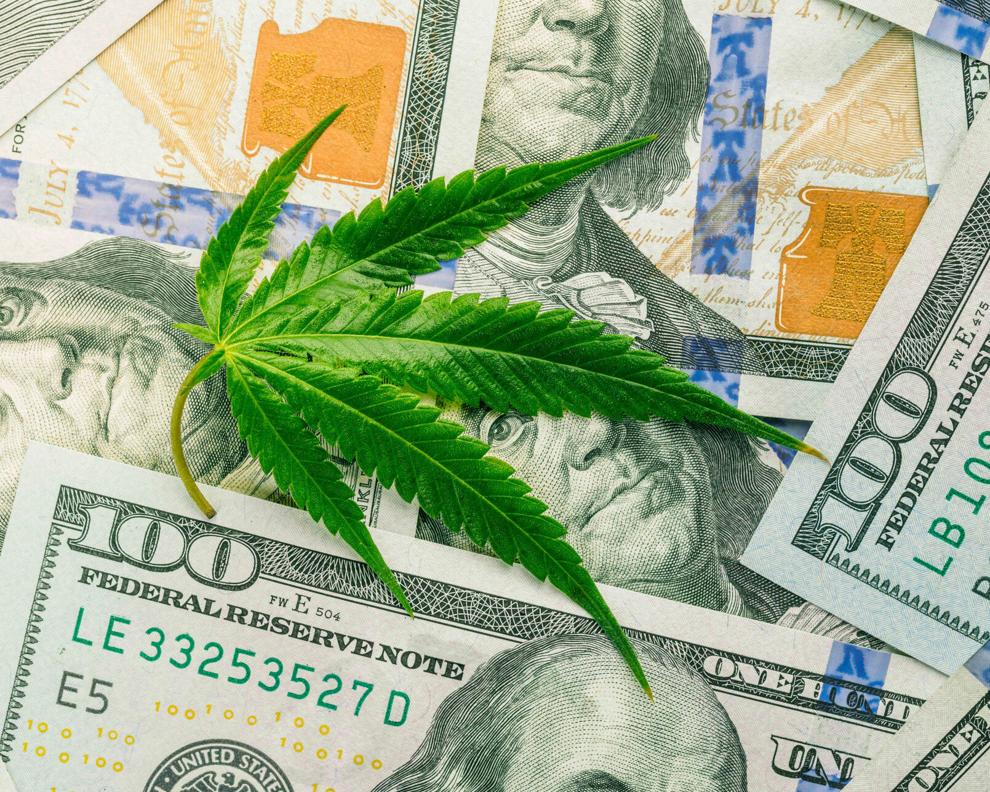 ---
Where will marijuana sales be permitted? See list of 106 South Jersey municipalities at end of article.
---
Nearly three out of four South Jersey municipalities will prohibit recreational marijuana businesses within their borders, although some are saying the ban may be only temporary until they can gauge the impact of newly legal cannabis.
Township Council in Cherry Hill — the second-largest South Jersey municipality — on Monday night is scheduled to vote on an ordinance that would prohibit all recreational marijuana businesses. A copy of the proposed law was not available because, unlike many other communities, Cherry Hill does not provide proposed ordinances or resolutions until after a vote.
---

---
The Voorhees Township Committee also on Monday night has scheduled a vote, but Cherry Hill's neighbor wants to allow cannabis businesses. The proposed Voorhees ordinance states that all classes of recreational marijuana businesses — cultivating, manufacturing, wholesaling, distributing, retailing and delivery — may operate along Route 73 in town.
In addition, retail sales may open in the business zone on Haddonfield Berlin Road, east of White Horse Road, and in the Town Center redevelopment area, according to the proposed ordinance. Cultivating, wholesaling, distributing and retailing will be permitted along Laurel Oak Road and Voorhees Drive.  
Municipalities across New Jersey are under pressure to make a decision before August 21, when the state Cannabis Regulatory Commission will disclose its regulations. If a municipality makes no decision, the businesses would be permitted within its borders for five years, under the state law.
A big incentive to allowing the businesses in: The municipality can impose its own sales tax on the cannabis businesses in addition to the state sales tax. 
A companion ordinance in Voorhees establishes the sales tax rates for cannabis businesses: 2% on retailers, cultivators and manufacturers. A 1% tax would be imposed on wholesalers located in Voorhees. Those are the maximums allowed under the state law.
New Jersey voters last November overwhelmingly decided to permit recreational marijuana use for those 21 years and older.  Even though cannabis businesses may not be permitted in a given community, its residents are allowed to smoke marijuana and use other cannabis products under the law. However, several South Jersey communities have passed laws limiting marijuana use in public places.
An analysis of proposed ordinances by 70and73.com shows that, so far, 29 municipalities will welcome all or some types of cannabis businesses, while 77 will prohibit them. Several still have yet to decide, including Evesham. Mount Laurel is permitting sales, while Medford and Medford Lakes are prohibiting the businesses.
Camden, the largest municipality in South Jersey, will prohibit the businesses. South Jersey is defined as Burlington County to Cape May County.
An ordinance before City Council in Atlantic City this month would allow all classes of cannabis businesses, but keep them off the Boardwalk.
---
RECREATIONAL MARIJUANA SALES IN SOUTH JERSEY
| MUNICIPALITY | COUNTY | DECISION |
| --- | --- | --- |
| Absecon | Atlantic | ALLOW |
| Atlantic City | Atlantic | ALLOW |
| Brigantine | Atlantic | PROHIBIT |
| Buena Vista | Atlantic | PROHIBIT |
| Egg Harbor Township | Atlantic | ALLOW |
| Estell Manor | Atlantic | PROHIBIT |
| Longport | Atlantic | PROHIBIT |
| Margate | Atlantic | PROHIBIT |
| Mullica Township | Atlantic | PROHIBIT |
| Northfield | Atlantic | ALLOW (5) |
| Port Republic | Atlantic | PROHIBIT |
| Somers Point | Atlantic | PROHIBIT |
| Ventnor | Atlantic | PROHIBIT |
| Weymouth | Atlantic | PROHIBIT |
| Bass River | Burlington | ALLOW |
| Beverly | Burlington | ALLOW |
| Bordentown | Burlington | PROHIBIT |
| Burlington City | Burlington | ALLOW |
| Burlington Township | Burlington | PROHIBIT |
| Chesterfield | Burlington | PROHIBIT |
| Cinnaminson | Burlington | ALLOW (1) |
| Delanco | Burlington | PROHIBIT |
| Delran | Burlington | ALLOW |
| Eastampton | Burlington | ALLOW |
| Evesham | Burlington | ALLOW |
| Fieldsboro | Burlington | PROHIBIT |
| Florence | Burlington | PROHIBIT |
| Lumberton | Burlington | ALLOW |
| Mansfield | Burlington | PROHIBIT |
| Maple Shade | Burlington | PROHIBIT |
| Medford | Burlington | PROHIBIT |
| Medford Lakes | Burlington | PROHIBIT |
| Mount Holly | Burlington | ALLOW |
| Mount Laurel | Burlington | ALLOW |
| New Hanover | Burlington | PROHIBIT |
| North Hanover | Burlington | PROHIBIT |
| Palmyra | Burlington | PROHIBIT |
| Pemberton Borough | Burlington | PROHIBIT |
| Pemberton Township | Burlington | ALLOW |
| Riverton | Burlington | PROHIBIT |
| Shamong | Burlington | ALLOW |
| Southampton | Burlington | PROHIBIT |
| Springfield | Burlington | PROHIBIT |
| Tabernacle | Burlington | PROHIBIT |
| Westampton | Burlington | PROHIBIT |
| Wrightstown | Burlington | PROHIBIT |
| Audubon | Camden | PROHIBIT |
| Audubon Park | Camden | PROHIBIT |
| Barrington | Camden | ALLOW |
| Bellmawr | Camden | PROHIBIT |
| Berlin Borough | Camden | PROHIBIT |
| Berlin Township | Camden | PROHIBIT |
| Camden | Camden | PROHIBIT |
| Cherry HIll | Camden | PROHIBIT |
| Chesilhurst | Camden | PROHIBIT |
| Clementon | Camden | PROHIBIT |
| Haddon Heights | Camden | PROHIBIT |
| Haddon Township | Camden | PROHIBIT |
| Haddonfield | Camden | PROHIBIT |
| Hi-Nella | Camden | PROHIBIT |
| Lawnside | Camden | PROHIBIT |
| Lindenwold | Camden | PROHIBIT |
| Magnolia | Camden | PROHIBIT |
| Merchantville | Camden | ALLOW |
| Mount Ephraim | Camden | PROHIBIT |
| Oaklyn | Camden | ALLOW |
| Pine Hill | Camden | PROHIBIT |
| Runnemede | Camden | PROHIBIT |
| Stratford | Camden | PROHIBIT |
| Voorhees | Camden | ALLOW |
| Avalon | Cape May | PROHIBIT |
| Cape May City | Cape May | PROHIBIT |
| Dennis | Cape May | PROHIBIT |
| Lower Township | Cape May | ALLOW |
| Middle Township | Cape May | PROHIBIT |
| North Wildwood | Cape May | PROHIBIT |
| Ocean City | Cape May | PROHIBIT |
| Sea Isle | Cape May | PROHIBIT |
| Stone Harbor | Cape May | PROHIBIT |
| Upper Cape May | Cape May | PROHIBIT |
| Upper Township | Cape May | PROHIBIT |
| West Wildwood | Cape May | PROHIBIT |
| Wildwood | Cape May | PROHIBIT |
| Wildwood Crest | Cape May | PROHIBIT |
| Woodbine | Cape May | ALLOW |
| Deerfield | Cumberland | PROHIBIT |
| Greenwich | Cumberland | PROHIBIT |
| Maurice River Township | Cumberland | PROHIBIT |
| Upper Deerfield | Cumberland | PROHIBIT |
| Vineland | Cumberland | ALLOW |
| Deptford | Gloucester | PROHIBIT |
| East Greenwich | Gloucester | ALLOW (4) |
| Logan | Gloucester | ALLOW (2) |
| Mantua | Gloucester | PROHIBIT (7) |
| Monroe | Gloucester | ALLOW |
| South Harrison | Gloucester | PROHIBIT |
| Swedesboro | Gloucester | PROHIBIT |
| Washington Township | Gloucester | PROHIBIT |
| Wenonah | Gloucester | PROHIBIT |
| West Deptford | Gloucester | ALLOW |
| Westville | Gloucester | PROHIBIT |
| Woodbury Heights | Gloucester | PROHIBIT |
| Alloway | Salem | PROHIBIT |
| Carneys Point | Salem | ALLOW |
| Elsinboro Township | Salem | PROHIBIT |
| Lower Alloways Creek | Salem | ALLOW (3) |
| Mannington | Salem | PROHIBIT |
| Oldmans | Salem | PROHIBIT |
| Pilesgrove | Salem | PROHIBIT |
| Quinton | Salem | PROHIBIT |
| Salem | Salem | PROHIBIT |
| Upper Pittsgrove | Salem | PROHIBIT |
| | | |