Plans for a 100-bed, assisted-living and memory care center on a vacant nine-acre site at Route 73 and Dutch Road unanimously were approved Monday night by the Evesham Zoning Board of Adjustment.
Oakleigh Development Group's approved preliminary and final major site plans call for a three-story, 85,621-square-foot senior facility on the northbound side of Route 73 across the highway from the La-Z-Boy Furniture store. The site is about a third of a mile north of the intersection of Route 73 and Kresson and Braddock Mill roads.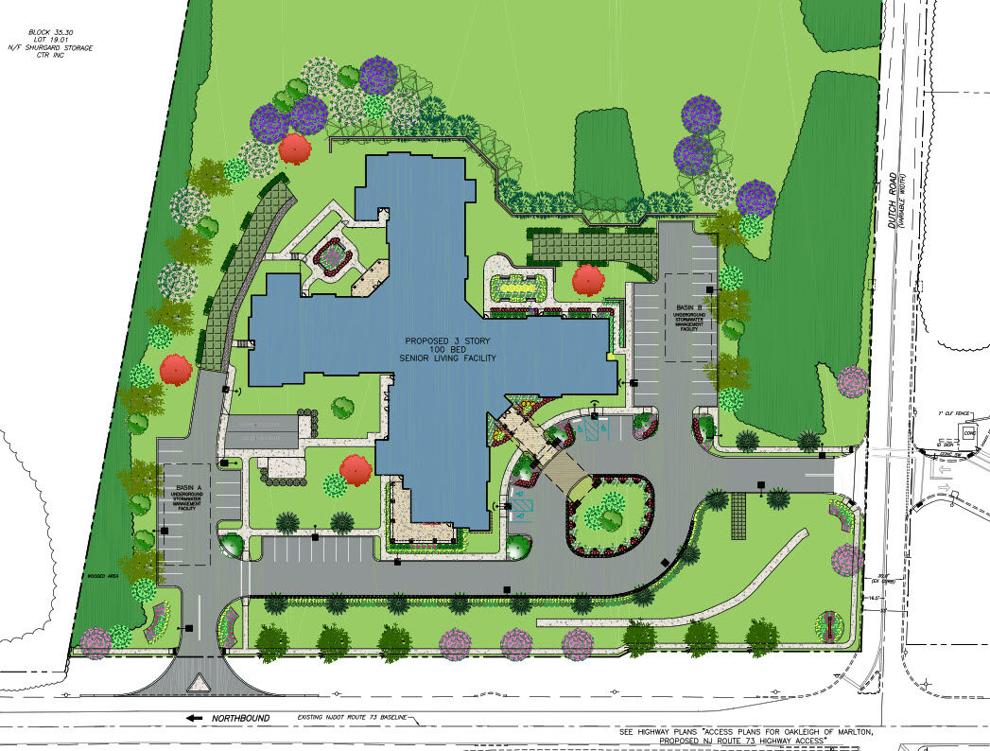 The property at 880 Route 73 is zoned commercial and owned by Thunder Road Properties LLC, 1939 Route 70, Cherry Hill, which bought it in 2010, according to the zoning application. Former plans for the site included a hotel, restaurant and bar — a project that did not materialize, partly because of economic conditions, board chair Sandy Student said.  
Board members in December granted use and height variances to Oakleigh, owned by a St. Louis-based company that advertises "upscale senior living" at its 17 facilities in nine states, including New Jersey and Pennsylvania. The board vote Monday night was 7-0.
Dan Thies, an Oakleigh managing principal, told the board the average age of a resident at Oakleigh's facilities is 85 and that about three-quarters of residents are women. Thies also outlined the COVID-19 precautions taken at Oakleigh facilities including holding dining rooms to 50% capacity and taking vital signs of residents and staff once a week. It would have about 75 employees, Thies said.
The facility would have 69 assisted-living units, including 41 one-bedroom, 20 studio and eight two-bedroom apartments, testified Donald E. Rosemann of Rosemann & Associates, the project's architect. The memory-care unit would have 20 studio and three one-bedroom apartments. Ten percent of the units would be set aside as affordable housing.