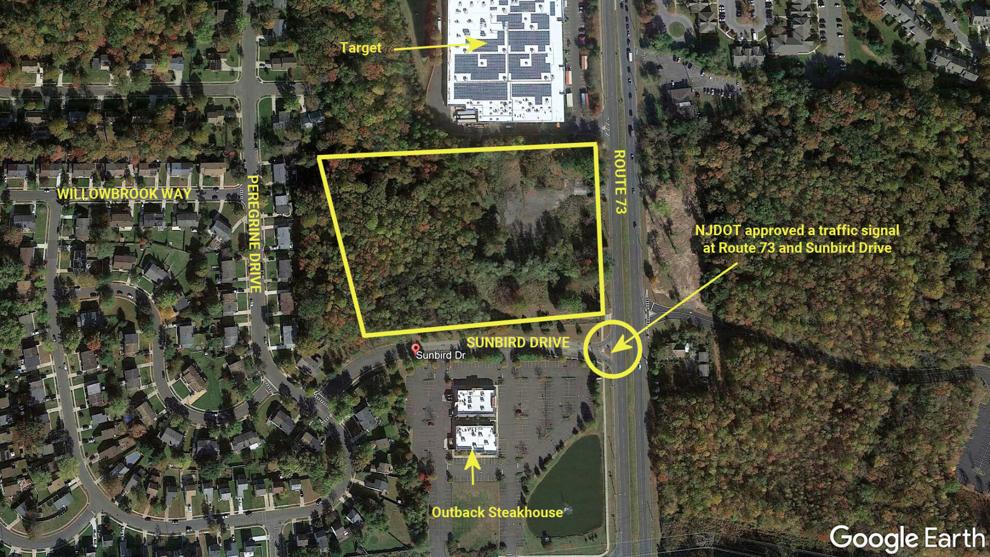 Plans for a convenience store with gasoline pumps as well as other retail space at Route 73 and Sunbird Drive in Evesham — on the Voorhees border — were renewed for a year by the Planning Board on Thursday night.
The project by developer RB Marlton Investors LLC originally was approved by the board in 2018. At the time, Royal Farms was going to be the convenience store, but it has since pulled out of the project.
Richard J. Hoff Jr., the developer's lawyer, told the board that his client had a lengthy wait for New Jersey Department of Transportation approval of a traffic signal at Route 73 and Sunbird Drive. The traffic signal was required for the project to proceed.
"That light is the key to the development of this property," Hoff told the board.
Hoff, of the Bisgaier Hoff law firm in Haddonfield, said the developer applied in 2018 and did not get final DOT approval until February this year.
"They're notorious for taking long," the lawyer said. "But this one is sort of even long by their standards, three and a half years."
A convenience store with filling station, similar to the Royal Farms concept, still is planned, along with the extra 21,150 square feet of retail space, he said.
Now vacant and wooded, the property had been the site of the Scaturro's Restaurant and Bar. The restaurant, which closed in 2016, was in an 1841 homestead that was torn down in 2018. The Target store is to the north and the Outback Steakhouse is to the south.
The site sits on the Evesham-Voorhees border. Homes on Peregrine Drive in Voorhees will back up to the new development.