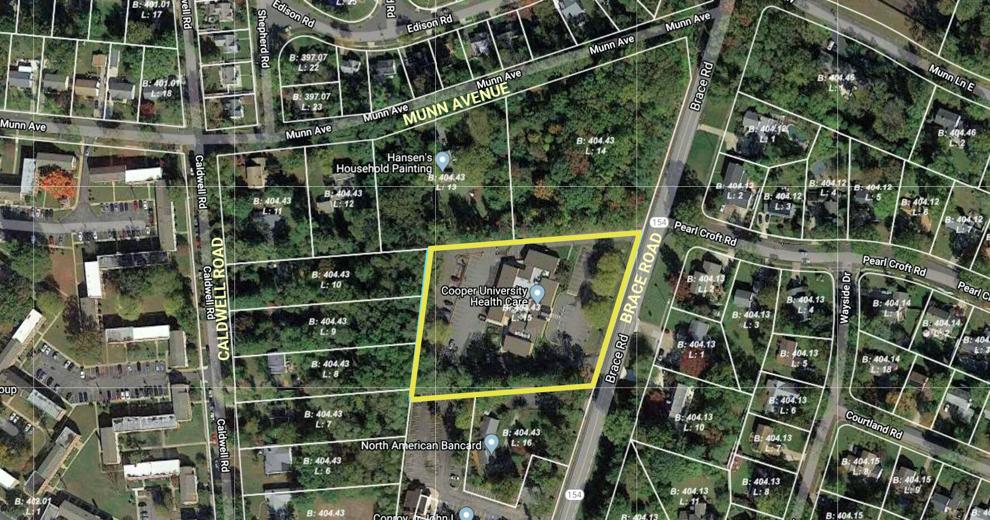 A Cooper Health System proposal to expand its parking lot and reduce the residential buffer at its offices at 1210 Brace Road in Cherry Hill goes before the Planning Board on Monday.
Cooper would add 20 parking spaces, resulting in a total of 126, to the 2.54-acre property that abuts residences on Caldwell Road and Munn Avenue, according to Township documents.
Several trees would be eliminated in the expansion and an eight-foot fence would be added. Spillover of lighting from the site is expected to worsen, according to a Township review of the application.
The Planning Board meeting caucus begins at 7 p.m. and the meeting starts at 7:30. Details on the plan can be found here. Cooper has requested approvals for preliminary and final site plans and other waivers.
A review of the application by board engineer Stacey Arcari, of Environmental Resolutions Inc. of Mount Laurel, cites a discrepancy about the number of parking spaces between Cooper's plans for the site and a cover letter about the application. Plans indicate 113 spaces are required under the ordinance and Cooper proposes 126, while the cover letter indicates 133 spaces are proposed. 
Arcari's letter explains the expansion along the rear property line would cut into the residential buffer and require the elimination of several trees. 
Lighting already spills over around the site and spillover would worsen, Arcari notes.
"Because of the removal of the mature trees along the rear residential property line, the spillover to the residential lots will likely be much more apparent," Arcari states in the letter. "The applicant should discuss how they propose to mitigate this spillover, which will now be exacerbated."