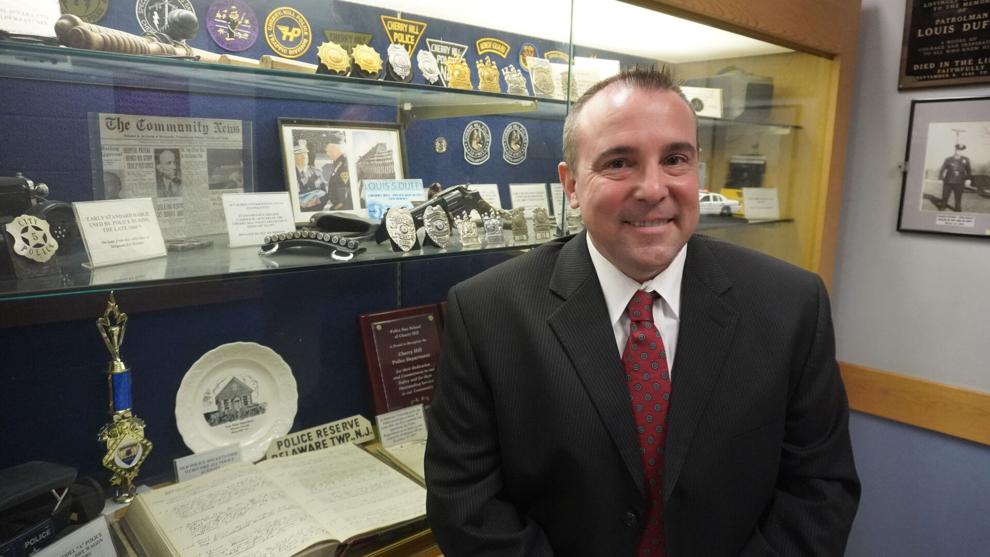 When Robert Kempf was in the dual-degree law school/MBA program at Rutgers University in Camden, he got a telephone message that he says changed his life.
Kempf, then 26, returned the call from a pay phone in the lower level of the law school in 1998 to learn that the Cherry Hill Police Department was offering to make him a patrol officer.
Later this month, Kempf, 49, is scheduled to be formally appointed Cherry Hill's chief of police by Township Council, replacing retired Chief William "Bud" Monaghan.
Monaghan, who retired in September, now is director of regional security for the Cherry Hill-based Jewish Federation of Southern New Jersey, which operates several community ventures, including the Katz Jewish Community Center in Cherry Hill.
For incoming Chief Kempf, his appointment is the continuation of a long love affair with Cherry Hill that began in 1986 when his family moved to Tyler Avenue and he started as a freshman at Cherry Hill West High School, where he graduated in 1990.
He told 70and73.com in an interview in his Police Department office that he remembers showing up in his high school homeroom and one of the first people he met was Erlton resident Christine Kerby.
They were married in 1998, two weeks before he was sworn in as a Cherry Hill police officer, and the couple moved into the Cherry Valley neighborhood, where they live today. They have a seventh-grade daughter, Charlotte Kempf, at Carusi Middle School; a daughter, Alexandra Kempf, who is a senior at Cherry Hill West and a son, Robert Kempf III, who graduated last year from Cherry Hill West and will attend Camden County College.
"We were both products of the Cherry Hill school system," Kempf said. "For us, it was just an easy decision where we would settle."
His mother, Joan Kempf, still lives in Cherry Hill. His late father, also Robert Kempf, owned Shea Surgical Supply Co., which was on Route 70 in Cherry Hill. 
Some police officers and teachers prefer not to live in the communities they serve. That has never been a thought for Kempf, he said.
"We love the community," Kempf said. "We love the diversity of the community. We love the people here. There was never a question for us where we were going to make roots and raise our family."
Kempf now leads a police department of 170 employees, including 134 full-time officers, six special law enforcement officers, 11 dispatchers and administrative and records personnel. His department averages more than 120,000 calls for service each year, according to the Township.
Cherry Hill, which had a population of 74,553 in the 2020 Census, is the largest municipality in South Jersey and the 12th-largest in the state.
"His decades of experience, educational background and dedication to our community make him an excellent fit for the role," Council President David Fleisher said in a December 21 statement when Kempf's appointment was announced. Mayor Susan Shin Angulo called him a "deeply engaged member of the Cherry Hill community" in the same statement.
The new chief, who received a bachelor's degree in management from Rutgers, completed his Rutgers MBA in 2001, but had to put off law school to attend the police academy and get on the Cherry Hill force.
He completed his law degree in 2010 and is licensed to practice law in New Jersey and Pennsylvania. He also is a 2017 graduate of the executive leadership program of the FBI National Academy in Quantico, Virginia.
Kempf worked in the computer industry before he began graduate studies at Rutgers, but he knew his goal was to become a Cherry Hill police officer.
When that job offer came, Kempf told Christine: "If I don't do this, I will always regret it." Christine is an educational assistant at Carusi.
His enthusiasm extended through his studies at the police academy and to his first day as a Cherry Hill patrol officer.
"I'll never forget the first day when you get done with the field training and you get in that car yourself," he told 70and73.com. "I must have driven from one end of town to the next with a big smile on my face."
Patrolling the streets is something he misses, and what he calls the "soul" of the department.
"It was probably the most fun position I had," said Kempf, who looks forward to occasionally getting out on patrol as chief.
When 70and73.com visited him, he was wearing a business suit. But, he noted, that was only because he was in the process of assembling a new uniform that has the right rank.
His last position was a lieutenant in charge of training. One of his favorite duties has been the annual, two-hour legal updates seminar for his department. The course enables Kempf to blend his law background with his law enforcement career to go over recent cases and changes in the law for the department's officers.
Kempf also was active in initiating the Junior Police Academy for middle school and younger high school students. Each high school also has a Police Club.
The new chief said he looks forward to the day a graduate of the junior academy — it's offered as a one-week camp through the Township Recreation Department each August — becomes a Cherry Hill police officer.
Kempf said one of the gems of Cherry Hill is its parks system, which he frequently uses to run or walk his dog. From its mall to its restaurants, the new police chief enjoys living in the community where he works.
"I can't think of anything you can't find here in Cherry Hill," he said.