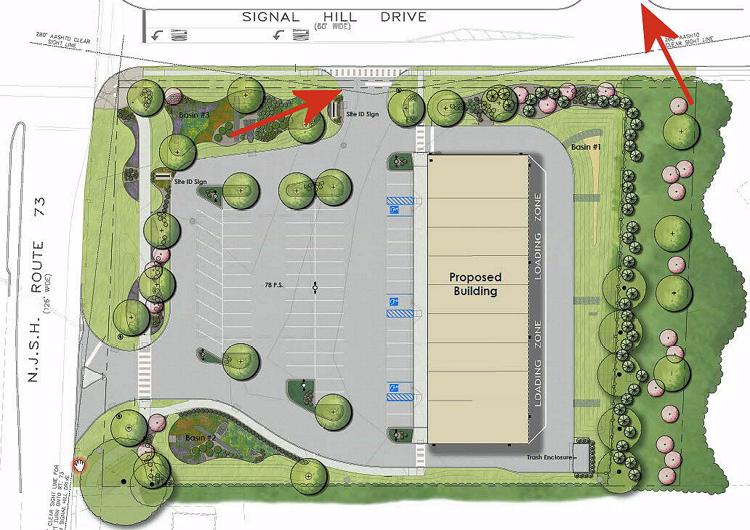 What troubled Dominic Anzideo the most was the potential impact of a proposed retail center's driveway on Signal Hill Drive in Voorhees.
"What I'm opposed to is you're dumping the traffic onto Signal Hill Drive," the 14-year resident of the Sturbridge Lakes development told a developer at the virtual meeting of the Planning Board on Wednesday night. "How can you say that you're not contributing any more congestion into our area?"
Anzideo was one of about two dozen Sturbridge Lakes residents who opposed plans by Dean Development Associates LLC of Scotch Plains, Union County, for Voorhees Commons, a 14,000-square-foot retail center with nine stores on two lots totaling 2.6 acres. The development at 122 Route 73 would be across Signal Hill Drive from one of the driveways for Signal Hill Elementary School.
A board vote shortly after midnight on a motion to approve the development was 4-4 — denying the developer's application because a majority vote was needed.
Plans for a retail center at the site were approved in 2006, when the lots were zoned commercial. The center was not built and the area has since been rezoned major business, which meant Dean Development — owned by Viken Kirian — needed to ask for other variances or waivers under the new zoning. The two lots are a long, thin one facing Signal Hill Drive totaling 0.046 acres owned by Voorhees lawyer Stephen D. Samost and a larger lot owned by Kirian, according to state property records. 
Citing land use case law, Dean lawyer Robert S. Baranowski Jr. of the Hyland Levin Shapiro law firm in Burlington County said the litany of residents' concerns about traffic at the intersection of Signal Hill Drive and Route 73 was not relevant to his client's application. "You're asking us to present you with a solution to a problem we're not creating," Baranowski said.
Dean Development and Baranowski presented testimony from traffic engineer Jay S. Troutman Jr. of the Westfield firm of McDonough & Rea Associates Inc. that showed the heaviest traffic impact of the retail strip would be during weekday afternoon commuter hours and mid-day Saturday.
Many of the residents disputed the traffic study, contending it was done in late December and doesn't reflect the day-to-day congestion already clogging the busy intersection.
"I live here every day," said James Brookins, whose home on Quail Hollow Court would back up to the development. Try getting out of this development when traffic is backed up on Route 73, he told the board. The engineer's study doesn't relate a true picture of traffic, and customers of the new retail center would make the situation worse, he testified.
"The intersection...is horrible at best," Greg Offt, who lives on Fox Hollow Road, told the board. As residential developments grew around Sturbridge Lakes, the traffic congestion worsened, he testified, noting he isn't against Route 73 commercial development but opposes the exit and entrance on Signal Hill Drive.
Several neighbors said the developer was trying to squeeze a building too large on a relatively small lot — thus the need for special permission from the board.
Under the new zoning, a larger rear yard setback was required. Dean Development proposed a 100-foot landscape buffer between the back of the stores and homes on Quail Hollow Court. The 50 feet of buffer nearest the homes would be existing woodland and the other 50 feet would be filled with new landscaping. After requests from residents and board members, Baranowski said the applicant would agree to a deed restriction that would require the 50 feet of woodland to forever remain untouched.
Dean Development also agreed to turn off lighting after hours, to forbid deliveries during hours when Signal Hill school begins and ends and to work with the township to provide a crosswalk or other traffic safety improvement near the driveway on Signal Hill Drive.
But, in the end, the applicant's concessions weren't enough for the board. Board member Bryan Stein, who voted "no," suggested the developer redraw its plans with a smaller building. Board chairman Ron Schwenke, who also cast a "no" vote, agreed with Stein, saying he wants to encourage new development in Voorhees and that a plan tweaked by the developer would be more palatable.
During public testimony, Marianne Twist, vice president of the Sturbridge Lakes Homeowners Association and a Battery Hill Drive resident, said a "huge percentage" of the children attending the school are walkers. "There needs to be protection for our children," she said.
Twist and others noted that during special events at the school, people are parked on each side of Signal Hill Drive. She said she feared traffic restrictions would result from the retail center and residents wouldn't be able to park where they have before.
Pamela Rosenberg of William Feather Drive, Dave Phung of Quail Hollow Court, Adam Austino of William Feather Drive and Diane Foster of Brookview Court all voiced concern about an increase in traffic near the busy intersection.
"You don't have to grant all of the variances," Timothy Stringfellow of William Feather Drive told the board.