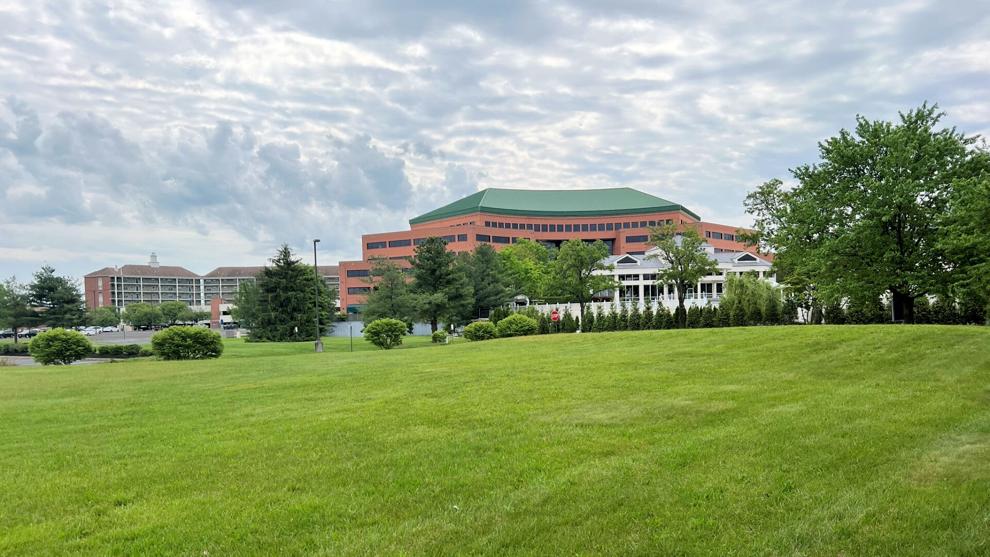 ---
Scheduled appearance at Planning Board on June 22 has been postponed to July 13 meeting, according to the Township (June 22, 2022).
---
A plan to demolish the landmark green-roofed and long-vacant office building in the Main Street Voorhees complex and replace it with apartments has been put on hold by the Township Planning Board.
Board members demanded more information on parking requirements for the proposed 280 apartments and the impact on the neighboring Mansion on Main Street catering facility at a contentious session on May 25.
The office building was declared an area in need of redevelopment by the Township last June, a designation that could come with tax breaks for new construction.
"We're shooting in the dark here," board solicitor Chris Norman said of the parking plan at the meeting.
Board members said they were concerned whether the apartments' parking needs would crowd out visitors to the Mansion.
The owner of the Plaza 1000 office building, Brandywine Plaza 1000 LLC and Brandywine-Main Street LLC, agreed to return before the board on June 22 at 7 p.m. The public hearing on the proposal also was postponed to the June meeting.
After the developer's professionals made their presentations, board member Andrew Schallenhammer said he was disturbed by the lack of specifics on parking shared among the occupants of the Main Street complex.
"Nobody mentions the Mansion," Schallenhammer said at the meeting. "It was out of sight, out of mind, in my opinion."
Engineer Charles Chelotti, representing Brandywine, said "the parking is more than adequate for this site, for this use."
Chelotti, of Consulting Engineer Services in Sicklerville, said the developer's team would pull together more parking data.
Brandywine requires Planning Board approval to build three buildings, which will have 96, 98 and 86 apartments. Of the total 280 apartments, 174 will have one bedroom and 106 will have two bedrooms. 
The apartments have been called "luxury" in the plans and Brandywine has no plans to include affordable housing. Instead, the company will pay an affordable housing fee to Voorhees equal to 1.5% of the cost of the project.
The Main Street complex has not enjoyed sustained success over the last 35 years and the six-story Plaza 1000 office building has been particularly hard hit: It has been completely vacant since at least 2016.
» READ MORE: Plan: Tear down Plaza 1000 office building in Main Street Voorhees, build residential development.