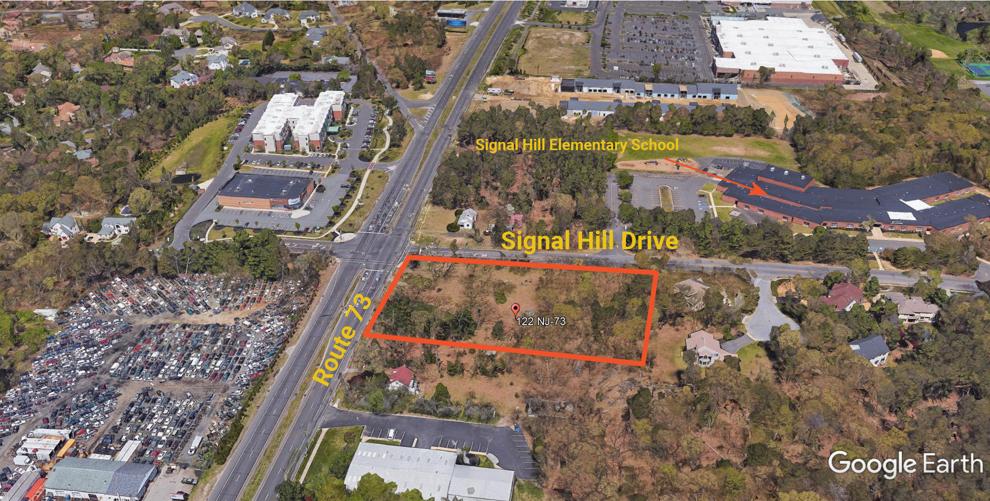 Updated with the Planning Board resolution denying the application and the Superior Court order granting the application. 70and73.com filed an Open Public Records Act (OPRA) request for the documents and received them on Friday (September 10).See links below.
---
A developer's plan to build a strip retail center on Route 73 that was denied by the Voorhees Planning Board has been approved by a state Superior Court judge.
Dean Development Associates LLC sued and won the approval from Superior Court Judge Deborah Silverman Katz to proceed with building the nine stores on 2.6 acres at the Signal Hill Drive intersection.
"This now constitutes the local approval," lawyer Robert S. Baranowski Jr., of the Hyland Levin Shapiro law firm in Burlington County, told 70and73.com on Thursday. Baranowski, representing the developer, said the retail project is a permitted use under zoning law.
Planning Board members voted 4-4 on the application in September 2020. Because a majority is needed, the board's vote constituted a denial.
Members heard public testimony against the project from several residents of the neighboring Sturbridge Lakes development. They said they were concerned that the shopping center's driveway onto Signal Hill Drive is near the driveway for the Signal Hill School, which is across the street.
"The intersection...is horrible at best," Greg Offt, who lives on Fox Hollow Road, told the board at the September 2020 meeting. As residential developments grew around Sturbridge Lakes, the traffic congestion worsened, he testified, noting he isn't against Route 73 commercial development but opposes the exit and entrance on Signal Hill Drive.
Several neighbors said the developer was trying to squeeze a building too large onto a relatively small lot — thus the need for special permission from the board.
"No evidence was presented on the record to demonstrate that any condition of unsafe ingress/egress would exist at the full movement secondary access drive on Signal Hill Road," Katz stated in her order on August 25. "The requested bulk variances and design waivers are completely unrelated to the traffic concerns."
Katz stated the application denial "was improperly based upon concerns with existing off-site traffic on Signal Hill Road for a permitted use" in the Major Business Zone.
Several conditions that Dean Development had agreed to were included in the judge's decision, including installing an eight-foot fence, scheduling lights to be turned off after hours to prevent spillover into the residential area and restricting the shops' delivery times. Because of drop-off and pick-up times at the elementary school, the developer agreed to forbid deliveries from 8:30 to 9:30 a.m. and 3 to 4 p.m. A 50-foot buffer in the center's rear yard also is required.
Baranowski on Thursday said Dean Development, which is based in Scotch Plains, Union County, has no committed tenants, but the intention is to lease to neighborhood-type businesses such as nail salons or dry cleaners.