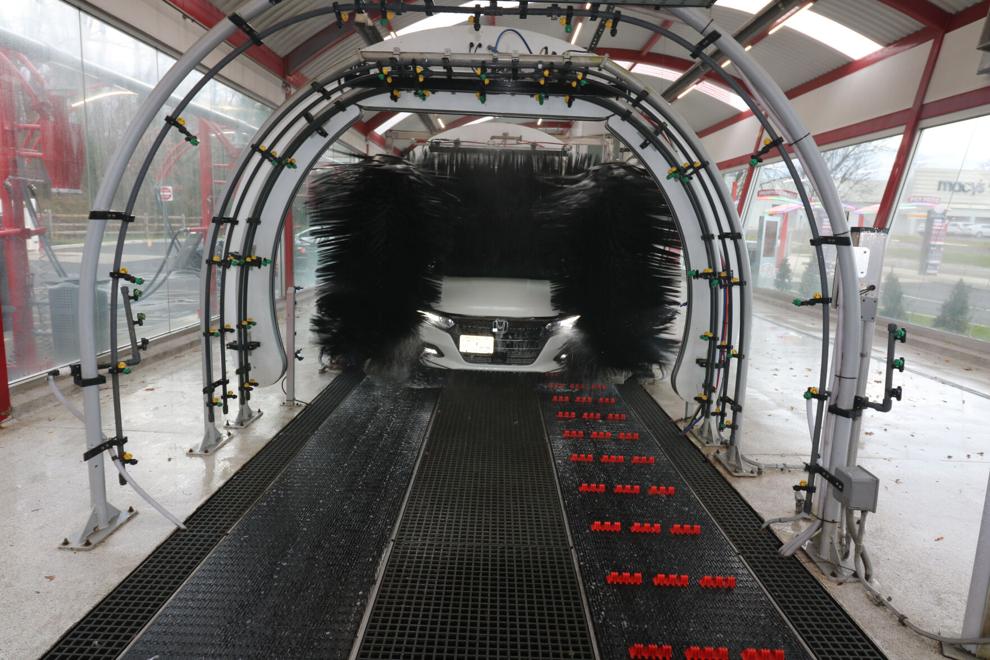 A car wash entrepreneur wants to build his third high-tech facility in the area on Route 38 in Mount Laurel near Hartford Road, according to plans filed with the Township Zoning Board of Adjustment.
Robert Giannone of Moorestown, through his Sammy's Express Car Wash Mt Laurel LLC, is scheduled to present the plans for the 4,275-square-foot facility to the zoning board next Wednesday.
Giannone opened his first Sammy's Express Car Wash in 2019 on Route 38 in Maple Shade and now is building his second on Route 70 in Marlton on the property that once housed the G Boys garden center.
The company's car wash in Maple Shade is lined with large windows that give it an open, airy feeling as cars ride a 120-foot conveyor belt, rather than hooking onto a wheel, as in a traditional car wash system. In an interview with 70and73.com last December, Giannone explained his car wash, which includes a popular free vacuum area that offers a high-pressure air hose to blow leftover water from hard-to-reach areas of the vehicle.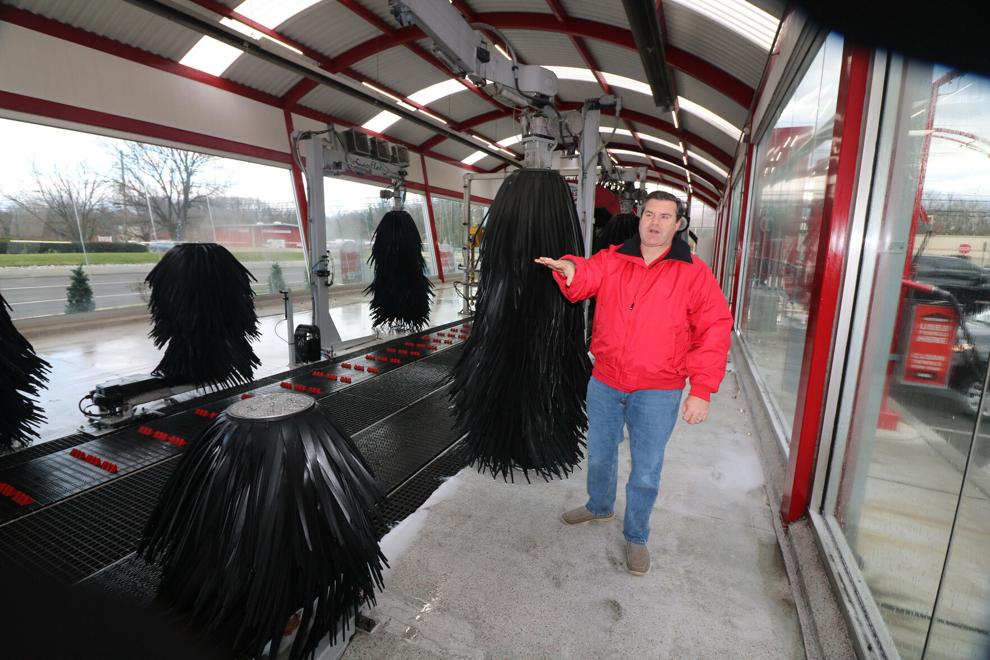 » READ MORE: How getting the family car clean has turned into a science.
The Mount Laurel Sammy's would take up three lots on the westbound side of Route 38. The middle lot now holds Abbruzzi & Giunta's Italian Market, which would remain on the site, according to the developer's plans. The car wash would open every day from 8 a.m. to 7 p.m., according to the application.
The section of Route 38 between Hartford Road and Larchmont Boulevard has seen a burst of new development. Taco Bell opened this year on the eastbound side and a Super Wawa next to the Taco Bell has been approved by the Township.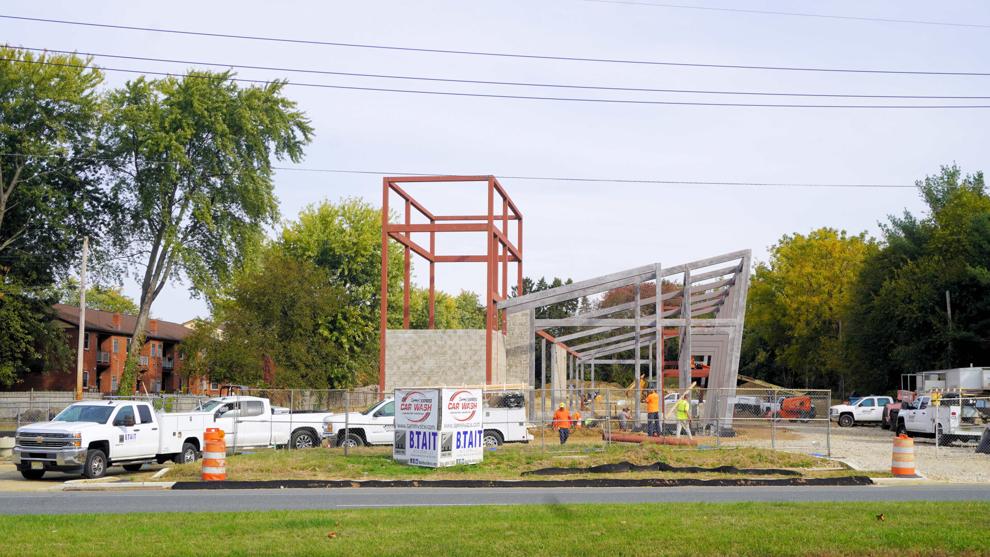 A car wash is not a permitted use for the lots, which are zoned business, and Sammy's would need a use variance, according to a review letter from board planner Joseph M. Petrongolo of Remington & Vernick Engineers of Haddonfield. 
When a car wash is proposed on main roads, townships tend to be most concerned about an overflow of waiting vehicles queuing into traffic on the road. 
"Under no circumstances shall vehicles be permitted to queue (onto) Route 38," board engineer Michael Angelastro of Remington & Vernick Engineers of Haddonfield wrote in his review letter.
Township zoning requires 10 stacking spaces for every wash lane, but the proposed Sammy's has three lanes of seven vehicles each, holding a total of 21 vehicles.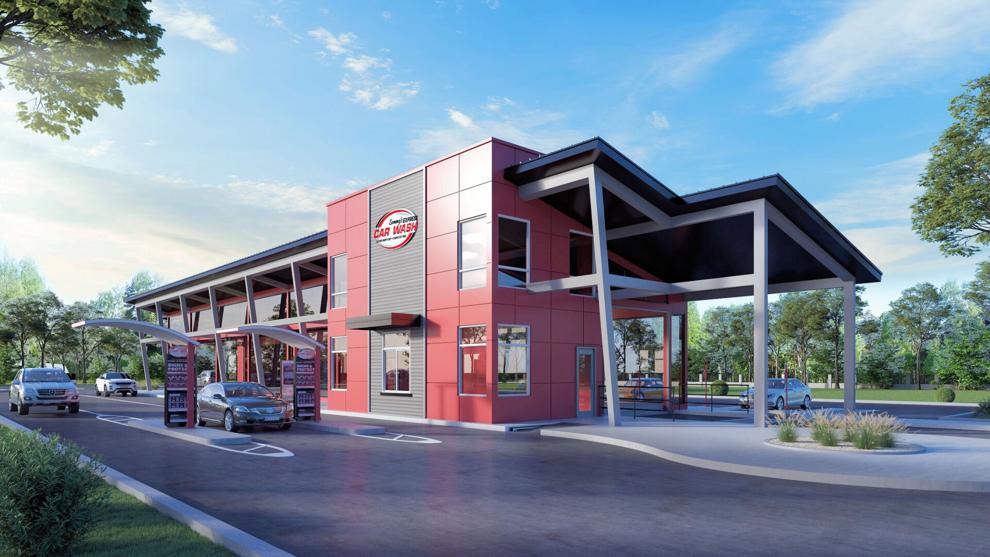 However, a traffic study for the applicant by engineer Nathan B. Mosley of Shropshire Associates LLC of Atco, stated an overflow onto Route 38 is not expected to be an issue. 
Shropshire Associates observed lines at Sammy's in Maple Shade on a Friday and Saturday in September and recorded a maximum of eight vehicles in line during the weekday peak and 13 vehicles in line during the Saturday peak. The maximum number of vehicles using the car wash in an hour was 89 on the Friday and 99 on Saturday.
The traffic engineer wrote that the proposed three payment kiosks accept pre-paid transactions — accounting for 50% to 60% of all sales. The pre-paid customer can use any lane and have immediate access without stopping at the kiosks because Sammy's uses license-plate-recognition technology, he stated. 
"Therefore, it is our opinion that the proposed 21-vehicle stacking for the future Sammy's Express facility in Mount Laurel will be more than sufficient to accommodate the anticipated peak demands," Mosley wrote.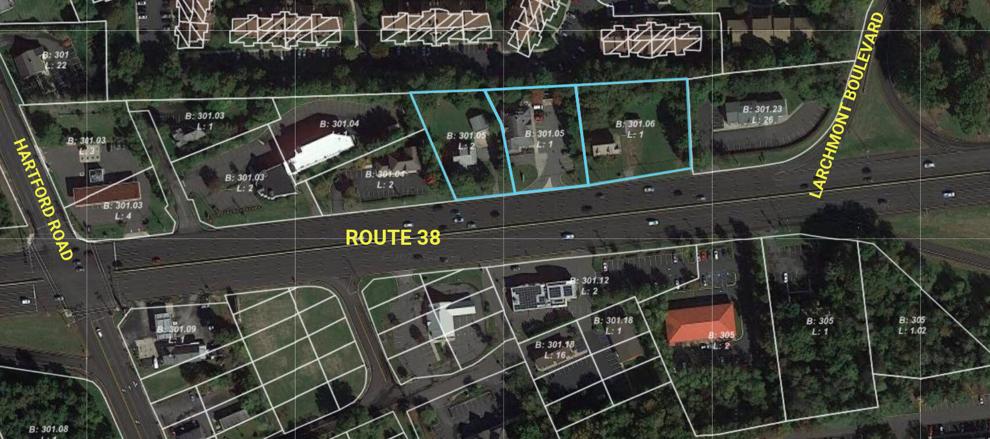 Lawyer Laura M. D'Allesandro of the Del Duca Lewis Law Firm of Haddonfield is representing Sammy's before the board and stated in a letter that other variances sought include those for the buffers, driveway width, accessory structure, stacking space and loading space. If approved, Sammy's will file a site plan and minor subdivision application in the future, she wrote.
"Granting the variance relief will not change the nature and character of this neighborhood nor result in any material adverse impact on any neighbors," D'Allesandro stated. "The property is located along a busy thoroughfare with other commercial uses in the immediate vicinity. The variances will not substantially impair the intent and the purpose of the zone plan or zoning ordinance."
Car wash entrepreneur Giannone grew up in Delran and Riverside and is a managing director of PNC Bank, where he has worked for 25 years and manages foreign exchange sales and consulting teams for the East Coast market, according to the application. His wife, Ivonne Ganem-Giannone, also is an investor and she helps to run the company. She is a dentist who was on the faculty of the Temple University School of Dentistry.
Other investors in the company are Mark Donohue, a neighbor of the Giannones in Moorestown, and George Stemetzki, a former South Jersey resident who now lives in Wall Township, Monmouth County.
Last December, Giannone told 70and73.com that research shows that years ago the primary car wash customers were men, but now it's predominantly women.
"They don't want to drive into a dark box," he said of today's consumers. Sammy's has glass walls and the inside is nearly as bright as the outside.
He called the system for Sammy's — named in honor of his late father-in-law — a "less anxiety-prone process" because it uses the conveyor belt rather than hitting the wheels or tires.