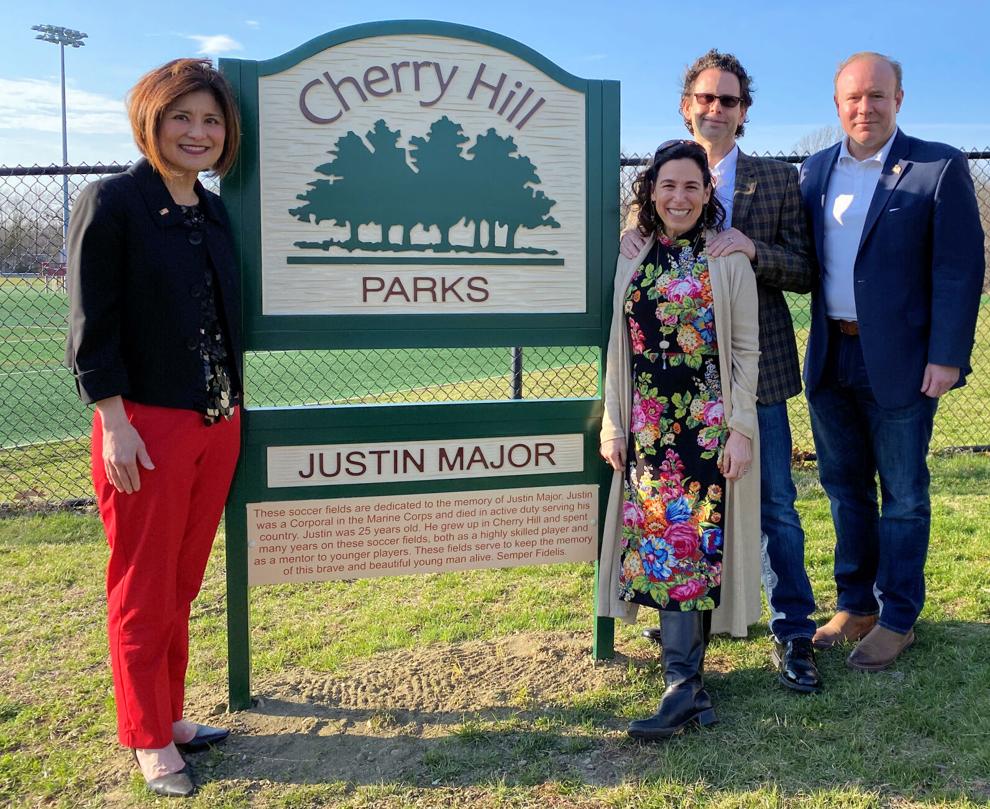 When Jeffrey Major used to pick up his young son from soccer practice, the boy would not be with other players waiting for rides in the parking lot of the Cherry Hill complex on Cropwell Road.
Instead, Justin Major could be found sitting on a small hill next to a storage building as he watched others play soccer, the game he shared a passion for with his father. At times, both father and son would sit on the hill, discussing the sport.
On Tuesday, a new Township sign on the same hill was dedicated to Justin, a U.S. Marine Corps corporal who, at 25 years old, died while on active duty last September 22. A tree will be planted next to the sign and a mural in May will be painted on the side of the building.
The young man, who grew up in the Woodcrest section and graduated from Cherry Hill West in 2015, underwent arthroscopic knee surgery and died less than two weeks later after an infection moved into his heart, his father told 70and73.com after the dedication ceremonies.
"We, of course, never will completely get over losing Justin," his mother, Marjie Major, said at the ceremony, speaking to a group of relatives and friends.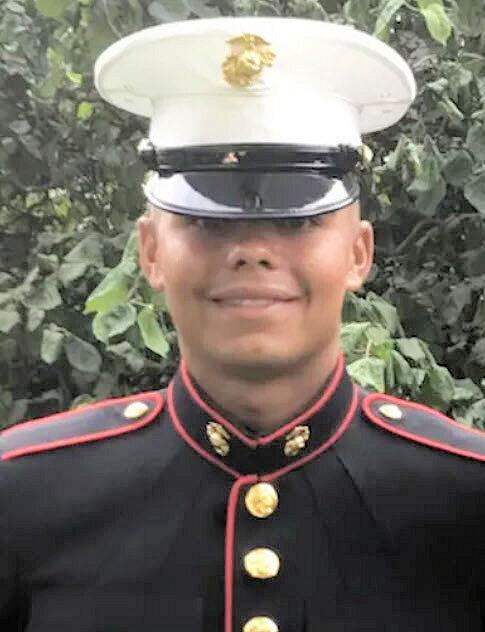 Justin was a Marine and an athlete, but he also played violin, loved dogs and was often cited for kindness to others, particularly underdogs, his mother said. 
She read a letter from friends who knew him when he served after high school on the West Coast as a volunteer in AmeriCorps, the federal agency for community service and volunteerism. The friends had dropped Justin at a restaurant and when they returned they found him sitting outside, sharing a meal with a stranger. The man had asked for food and Justin had gone into the restaurant, bought meals for himself and the man, and they sat outside chatting and eating.
After his year of service in AmeriCorps, Justin returned to Cherry Hill and told his parents he wanted to enlist in the Marine Corps. He would have time after serving to attend college, he told them.
Justin had one sibling, older brother Max Major, who lives in California and watched Tuesday's ceremony live-streamed from a tablet atop a tripod.
Cherry Hill Mayor Susan Shin Angulo said dedicating the soccer fields off Cropwell Road at the DeCou Sports Complex where Justin played so many games was a way to "channel a heart-breaking loss into something that is incredible for the community."
"I cannot fathom your pain," the mayor said.
Soccer and lacrosse players will pass Justin's sign, tree and mural as they walk to play and practice.
A tribute on the sign notes: "These soccer fields are dedicated to the memory of Justin Major. Justin was a Corporal in the Marine Corps and died in active duty serving his country. Justin was 25 years old. He grew up in Cherry Hill and spent many years on these soccer fields, both as a highly skilled player and as a mentor to younger players. These fields serve to keep the memory of this brave and beautiful young man alive. Semper Fidelis."
Soccer was a focus in the Major household. Father Jeffrey played while at Delran High School and grandfather Les Major also played. The Majors' television often was tuned to the latest Premier League match.
Justin started competing when he was 3 years old, later played on Cherry Hill traveling teams and was a varsity forward at Cherry Hill West, his father said. Father and son used to watch older players on Sunday mornings in a pick-up league at the Cherry Hill fields.
"I said, 'Justin, watch these guys,' " Jeffrey said.
They studied the European and South American style of play in the game until one player shouted out Jeffrey's name — they were players together at Delran High School. When Justin got older, he joined the group in pick-up games.
Justin attended Richard Stockton Elementary School through first grade and then transferred to Bret Harte Elementary when the family moved to the Woodcrest section, his mother said. After Harte, he attended Rosa International Middle School. Besides soccer, Justin also ran track in high school.
Both parents said Justin's life was about serving others.
"He was always a giver. Always community-minded," his father said.