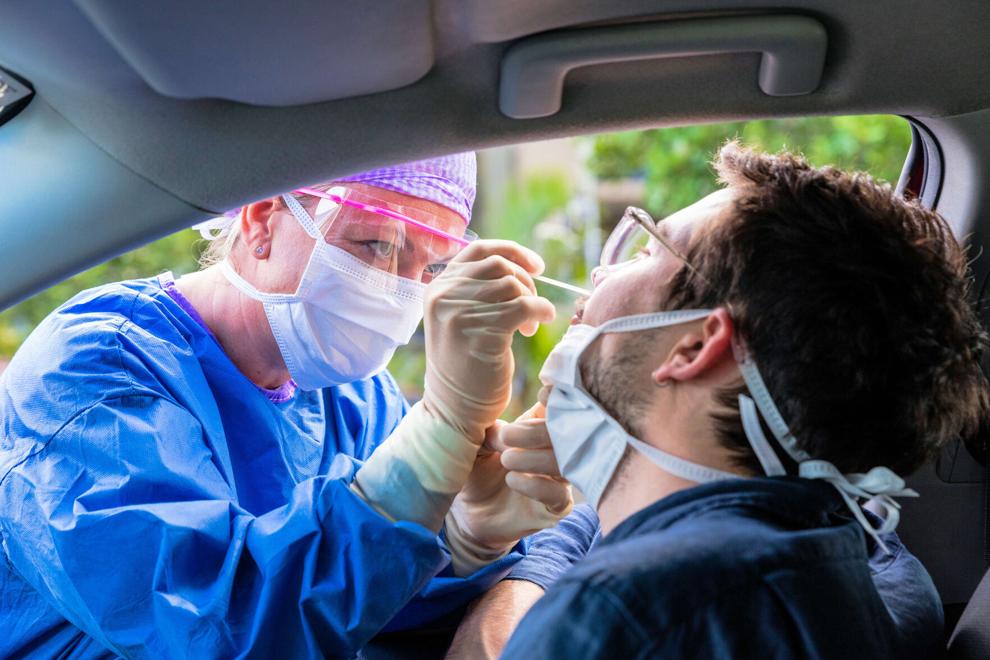 Despite the "omicron tsunami," the state does not anticipate shutting down schools as it did early in the COVID-19 pandemic, New Jersey Gov. Phil Murphy said Monday.
"We will do everything we can to keep our kids in school," Murphy said at the state's afternoon briefing. However, individual schools or districts may make their own decisions to teach remotely, he added.
Murphy said First Lady Tammy Murphy experienced no symptoms before testing positive for COVID on Sunday and then later testing positive again. This was despite being vaccinated, boosted and wearing double masks, the governor said.
"This thing is crazy transmissible," Murphy said. "Don't underestimate how easily you can get infected from this thing." He said his family was tested after a visitor later told them of positive test results.
The total number of cases reported in the state for Monday was 22,625 (both PCR and antigen testing), lower than recent days — cases reached 35,362 on December 30 — but far higher than the high on January 13, 2021 of 6,922 before the recent surge. The positivity rate on Monday was 32.2%, meaning that percentage of total test results showed COVID.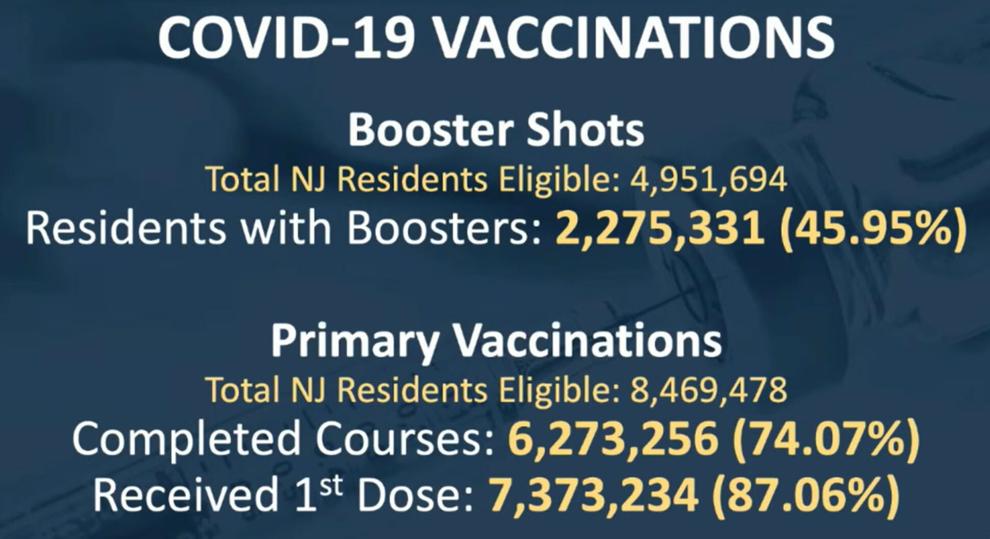 Of course, far more people are being tested now than during the height of the pandemic. Murphy said the state's total likely dramatically undercounts the true total because those testing at home typically do not report positive results.
Murphy reported 4,715 COVID hospitalizations for Sunday, a total he noted was far below the peak of 8,270 in April 2020. However, the number of hospitalizations is up about 50% from a week ago.
Roughly seven out of every 10 people showing up for treatment at New Jersey hospitals are unvaccinated or not completely vaccinated, Murphy said.
"These folks continue to be the primary driver of the numbers of hospitalizations, intensive care unit beds and, sadly, deaths," he said. 
The state's COVID model shows that hospitalizations will peak around January 14, but an update this week may show an earlier peak, said state Health Commissioner Judith M. Persichilli. At the peak, between 6,000 and 9,000 hospitalizations are anticipated, she said of the model.
"Hopefully, the trajectory comes down as fast as it goes up," Persichilli said. Murphy said South Africa and the United Kingdom have seen sharp fall-offs in infections after their peaks.
» NJ state information on testing, vaccinations and all-things COVID.
» View Monday's state briefing.
"The staffing challenge is bad," both for hospitals and long-term care facilities, Murphy said.
Persichilli said hospitals have been told to plan for 30% of their employees to be out at any one time. They are planning for the staffing shortages, including moving administrative employees to patient-facing roles, she said.
More than 1,000 testing sites are open across the state, but many have long lines and few have open appointments, Murphy said, adding that it is an issue in every state. In addition, the shortage of in-home testing kits continues and manufacturers are rationing state by state.