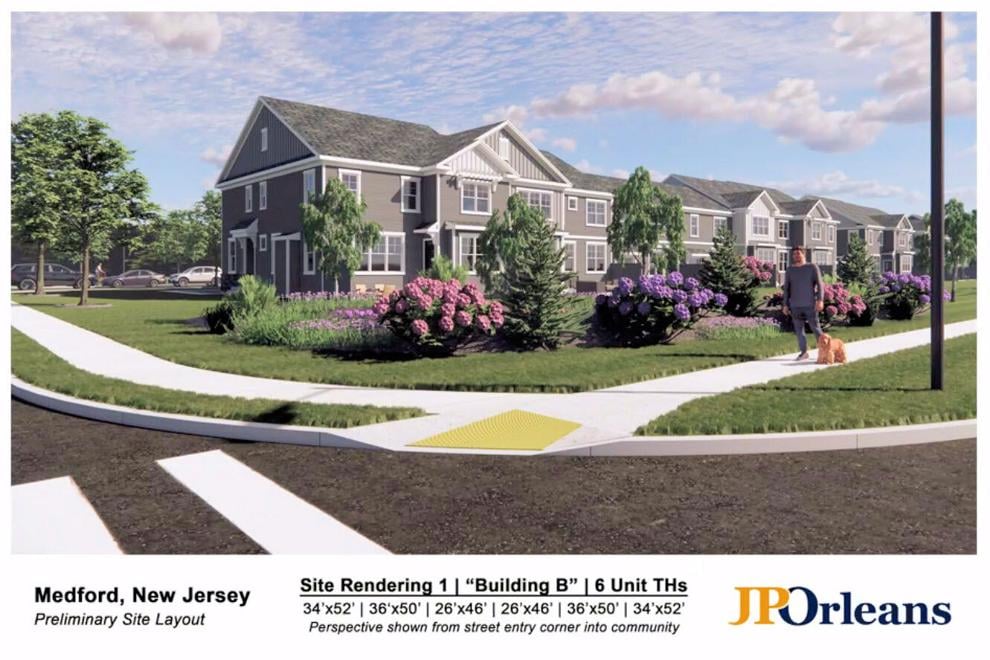 After scrutinizing more-detailed renderings that they had requested, members of the Medford Planning Board on Monday night unanimously approved plans for 30 new townhouses, including five affordable units, on a heavily wooded lot on Mill Street, near Himmelein Road.
Board members emphasized that the five affordable townhouses are part of the Township's court-ordered settlement to provide mandated lower-cost housing.  
The board voted 9-0 to approve preliminary and final major site plans. The townhouses are a permitted use on the property under Medford's zoning ordinances, the board noted.
Members said they still were concerned about the view of the townhouses by drivers on that stretch of Mill Street, which is near the Medford Memorial Middle School.
In their approval, the board directed developer Orleans Conservatory Group Partners LP to work with the Township planner and engineer to increase the height of a berm between Mill Street and the back of the townhouses. The board suggested two to three more feet in height, with plantings at the top of the berm, to provide a visual buffer.
Under the new plans, an open-lawn play area also was reduced to 60 feet by 60 feet from 100 feet by 100 feet so more of the property's mature trees could be saved.
Testimony about the project was presented at the board's September meeting and continued to the October meeting. However, it was postponed in October and moved to Monday night. 
Several Medford residents have testified against the plans — many of them concerned about more traffic — and the Township has been sharply criticized on social media for considering the townhouses. 
"I don't want to look at your ugly buildings," resident Sean Kilpatrick said at the board meeting Monday night. "The (new) plans are really a step backward."
Kilpatrick, who lives on Trimble Street, which is off Mill Street, said other developments in town are deep in the trees and cannot be seen from main roads. Kilpatrick also urged the Township to do its own traffic study — a "truly independent study" — to verify the findings of the developer's traffic study.
Another resident taking issue with the developer's traffic study was Robert Ellershaw of Mill Street, near the development. "I question the traffic study that has been conducted," Ellershaw told the board. He said the schools generate a lot of traffic from buses and parents dropping off students.
The board noted that the developer's traffic study was reviewed by the Planning Board's professionals.
New plans make the buildings "look better than they did in the last drawings," Brian Pelloni said Monday night. He pressed the board for more details of how the view of the land will change from where he lives across Himmelein Road.
Jonathan Reuther of Bretshire Court said he wanted to learn more about pedestrian circulation from the development into surrounding neighborhoods.