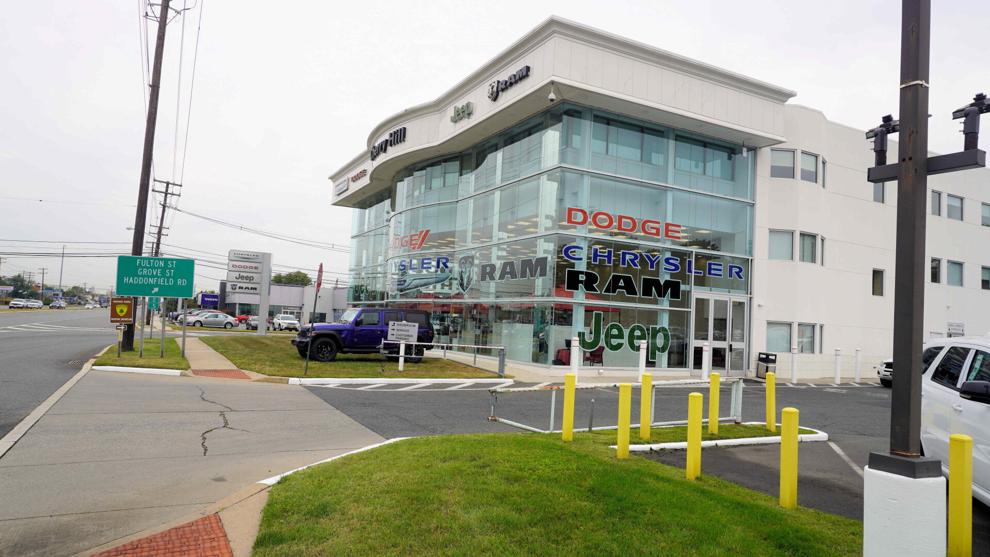 Residents of Cherry Hill's Locustwood neighborhood called on Township Council to investigate their continuing grievances against Cherry Hill Dodge and to help rescind the Planning Board's approval of the dealership's expansion.
After neighbors spoke of their frustrations with the Route 70 dealer at Monday night's Council meeting, Mayor Susan Shin Angulo said "we're going to look into this and make sure that the rules are followed."
Council members also said they want the grievances — including using panic alarms to find cars in the lot, taking test drives on residential streets, lighting that bleeds into the neighborhood and car carriers unloading on streets — to be researched.
Councilwoman Michele Golkow served on the Planning Board during marathon meetings last year before the board in October granted the dealership variances to demolish two homes on Wynnwood Avenue and expand its parking lot.
"All of these folks you heard from tonight...all these folks came out and told these really shocking stories of their grievances against Dodge and I was one of the Planning Board members who was disgusted," Golkow told her fellow Council members.
Golkow, who as a member of the Planning Board voted in favor of the dealer's expansion plan, at the time said the board would make sure the conditions of the approval were enforced.
On Monday night, she noted the board granted the variances, but also included several conditions for the approval including requiring owner Charles "Charlie" Foulke III to come up with another way to find cars on his lot besides setting off each vehicle's panic alarm.
Another requirement was a monthly meeting between Cherry Hill Dodge, part of the Cherry Hill Triplex of dealerships, and the neighbors. The residents speaking at the Council meeting said several meetings were held, but conditions still have not improved.
» MORE: Cherry Hill Dodge plan approved, but township vows oversight.
Dawn Higgins of Rhode Island Avenue represented the Council of Cherry Hill Civic Associations, which is made up of 20 Cherry Hill neighborhoods, and spoke on behalf of the Locustwood neighbors.
"We feel they (neighbors) have made a good faith effort to resolve the issues created by the encroachment of Cherry Hill Dodge into their neighborhood, but to no avail," Higgins said. "It is time to put an end to this situation that is having such a negative impact on the quality of their lives."
The neighborhood activist noted the Planning Board has the power to rescind approvals and revoke permits granted Cherry Hill Dodge. She said the January approval should be "rescinded in its entirety." 
'Not a good neighbor'
"Cherry Hill Triplex has not been a good neighbor to our community," said neighbor Lisa Perrone of Warren Avenue. After the neighborhood-dealership meetings, "some issues improved for a couple of days and then they reverted back to normal operations," she said.
"We are asking the Township Planning Board to rescind approvals for this application," Perrone said.
Frank Maloney, whose home on Chambers Avenue will be bordered on three sides by Cherry Hill Dodge's parking lot, said: "We have come to the conclusion that conditions set forth in the approved resolution...are not being followed or met." 
Maloney asked who in the Township should receive residents' complaints. "We filed them with several of the Township departments and we seldom, seldom, get any answers to our complaints. Then the infractions continue," Maloney said, calling for the Planning Board to rescind approval of the dealership's parking lot.
"Dodge's unmonitored operations continue to take its toll on our community," said Carlos Ruthner, who lives on Mercer Street. 
Alexander Esposito of Warren Avenue, who has lived in the Locustwood neighborhood since 1966 when his parents built his house, said that "unfortunately, Cherry Hill Dodge has just been a terrible neighbor" and has adversely affected the quality of life of residents.
At the Planning Board's September hearing on Cherry Hill Dodge's proposal, Kevin D. Sheehan, of the Parker McCay law firm and representing Cherry Hill Dodge, acknowledged that the issues raised by neighbors "are serious, they're valid concerns and they need to be addressed."
70and73.com emailed Sheehan late Monday night, asking if Cherry Hill Dodge had any response to the Township Council's vow to investigate the issues.
Council president David Fleisher on Monday night said that "it's quite obvious that the situation in Locustwood has escalated.
"This is something that needs to have some light shed on it," Fleisher told the neighbors. "And rest assured that there (will be) a much, much closer look at what's happening there so we can get some issues resolved and the situation improved. We hear you."
Long history of complaints
Strained relationships between Cherry Hill Dodge and nearby residents are not unusual and have been in the news for decades. The car dealership also is not the first to have problems with surrounding neighborhoods in Cherry Hill or other communities. 
Nearly 50 years ago, a variance request from Cherry Hill Dodge to add a parking lot to store new cars met with resistance from Locustwood neighbors. A Wynnwood Avenue resident gave the Zoning Board of Adjustment a petition with 162 names opposing the variance at a July 1972 meeting, according to an article in the Cherry Hill News.
One reason for the neighborhood opposition: the parking lot would harm the environment because 60 trees and shrubs would be replaced by asphalt. The zoning board in September 1972 approved the parking lot at 1108 Fulton Street. 
"Businesses are constantly trying to infringe on this residential area," a lawyer who lived on Wynnwood Avenue, testified at that meeting, according to a Cherry Hill News report. "Legally, they can't come along, expand their businesses — creating their own space problem — and then claim this as a special reason for a zoning change."
In the mid-1980s, owner Charles W. Foulke Jr., Charlie Foulke's father, tried unsuccessfully to move Cherry Hill Dodge to 13 acres, about five miles east on Route 70, in front of the Lakeview neighborhood. More than 200 residents of the Lakeview and Wexford Leas neighborhoods protested at a Township Council meeting, according to The Philadelphia Inquirer. Residents also fought the proposal in court.
The acres of former farm fields at the Lakeview site today are filled with the Dwell Cherry Hill Apartments and the Highlands at Cherry Hill apartments.
---