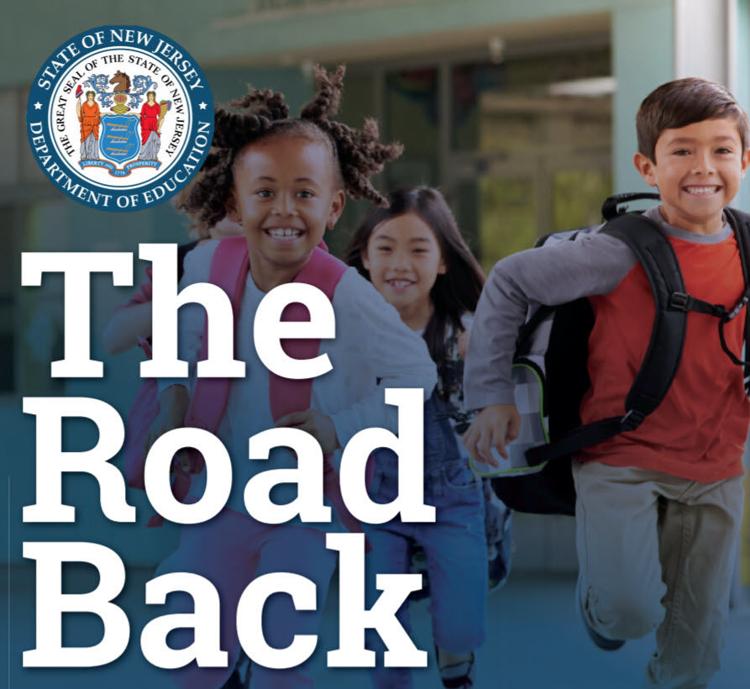 Protected by social distancing, a disinfectant regimen and face coverings in some instances, New Jersey students will be back in school buildings this fall.
"Yes, we have every expectation that our kids will return to our schools come September," Gov. Phil Murphy said Friday at the daily COVID-19 briefing. Health of students, their families and educators will be the top priority.
All faculty, staff and visitors will be required to wear face coverings and students will be encouraged to do so. Students will be required to wear coverings when social distancing cannot be maintained, such as between classes. 
"At a minimum, school districts must adopt a policy for screening students and employees for symptoms of COVID-19 and history of exposure," according to "The Road Back," the New Jersey Education Department's 104 pages of guidelines for reopening.
Daily disinfecting of building and equipment must be routine throughout the school and "the same will go for our buses that transport our students," the governor said. Students who cannot observe social distancing on buses will need to wear face coverings, Murphy explained. 
But, "it is necessary to acknowledge that enforcing the use of face coverings may be impractical for young children or individuals with disabilities," according to the state guidelines.
» MORE: Read the state's 104 pages of instructions for schools.
For weeks, the state Department of Education has held discussions, worked with school superintendents and listened to 50 community education organizations. 
No one-size-fits-all plan exists across school districts, Murphy emphasized, listing the differences between some school districts in the state. Individual districts and superintendents will need to have an effective implementation strategy.
"Social distancing will be our guiding principle," Murphy said. Where it can be done, overall class sizes should be limited with social distancing in mind. For larger districts, the school schedule might have to be rearranged because not all students can be in school at once. 
The "toughest nut to crack" will be the asymptomatic student who doesn't know he or she has COVID-19. That person can infect older people and those with underlying conditions, Murphy said earlier Friday in a television interview.
Lamont Repollet, the state commissioner of education, said when social distancing in the classroom is not possible the school should consider physical barriers.
While remote learning might work for some students, districts must work in advance to make sure each student has a device and an internet connection. Every district should be prepared to switch to remote learning at any time, Murphy said.
State guidelines provide wide-ranging detail
The state's guidelines say districts must address:
Minimizing use of shared objects, ensuring indoor facilities have adequate ventilation and maintaining hand sanitizing stations.
Contact tracing to identify those who have come into contact with people who have tested positive for the coronavirus.
Staggering eating times to allow for social distancing and disinfecting areas between groups.
Also staggering recess times and disinfecting playground and other shared equipment between uses.
Potentially closing locker rooms and encouraging students to wear comfortable clothing and safe footwear so they can participate in physical education.
Requiring social distancing and hygiene protocols for extracurricular activities. 
"Districts should consider leveraging staff to monitor student movement, hallway traffic and maintain safety according to guidelines," says "The Road Back."
Part of the consideration will be student athletics. "The New Jersey State Interscholastic Athletic Association (NJSIAA) has established a COVID-19 Medical Advisory Task Force (MATF) responsible for providing guidance to allow New Jersey high school student-athletes to return to athletics as soon and as safely as possible," according to the guidelines.
Other points in the state's guidelines:
Rooms such as the auditorium, cafeteria or gym can be used as classrooms to allow for social distancing.
Desks should be turned in the same direction and students should not be face to face.
Allow outdoor classrooms when possible and seasonally appropriate.
Build in the practice of handwashing throughout the day and add time to lunch and recess periods so students have time to wash hands.
Consider seating one student per row on the school bus and skipping a row between each student. This cuts the capacity of a bus to 11 from 54. Another possibility is physical barriers between rows, which would increase capacity from 11. Buses should be cleaned and disinfected daily, preferably between routes.
Limit the number of students who can enter the bathroom at one time and prop doors open to avoid touching of handles.
» MORE: The national discussion of school health standards.
School districts have been making plans
Reopening in the fall has been part of an ongoing discussion at New Jersey's school districts.
"There are definitely hurdles that are in there," Cherry Hill schools Superintendent Joseph Meloche told 70and73.com Friday afternoon after he had time to scan the guidelines. While the document held no surprises, he said, the challenges for South Jersey's largest school district — it has about 11,000 students and 1,700 employees — are evident.
Meloche said his biggest concern will be providing a healthy and safe environment for the Cherry Hill district's students and staff. A plan is being built based on advice from the district's Return to Work and Return to School committees, but "what does it look like in practice?" he asked. Meloche will present the plan to the school board on July 14.
Some in the state have worried that older teachers or staff members won't return because of COVID-19 fears. However, Cherry Hill, with about 1,000 professionals, has seen no increase over the usual number of retirements or resignations, Meloche said.
Face masks, particularly among younger students, will be "definitely a hurdle we need to work out," he said. Social distancing also can have an impact on the emotional and social development of young children who are "constantly bouncing off each other."
Another task will be identifying immunocompromised students or those with family members who are vulnerable to make sure educational needs are fulfilled, possibly by remote learning, Meloche said. Out of 11,000 students, he estimates at least a couple of hundred would fall into this category.
Busing, particularly with reduced capacities, also could be a logistical roadblock. Cherry Hill buses 8,000 students each day and contracts with private companies for all transport. The private bus companies already have a tough time trying to find bus drivers, he said. Extra busing to maintain distancing could impact school district costs.
At the Lenape Regional High School District, a team has been created called Operation Open LRHSD, Carol L. Birnbohm, superintendent of schools, told 70and73.com Friday afternoon in an email message.
"This first group is comprised of central office staff and principals and our charge was to identify every aspect in our organization which will need to be considered when carrying out the pending expectations. We distributed a survey to all current students and their parents... to obtain their feedback on LRHSD's remote learning programs during the pandemic," she stated.
Other committees, from curriculum and instruction to athletics and activities, were formed to help guide the Lenape district, she said.