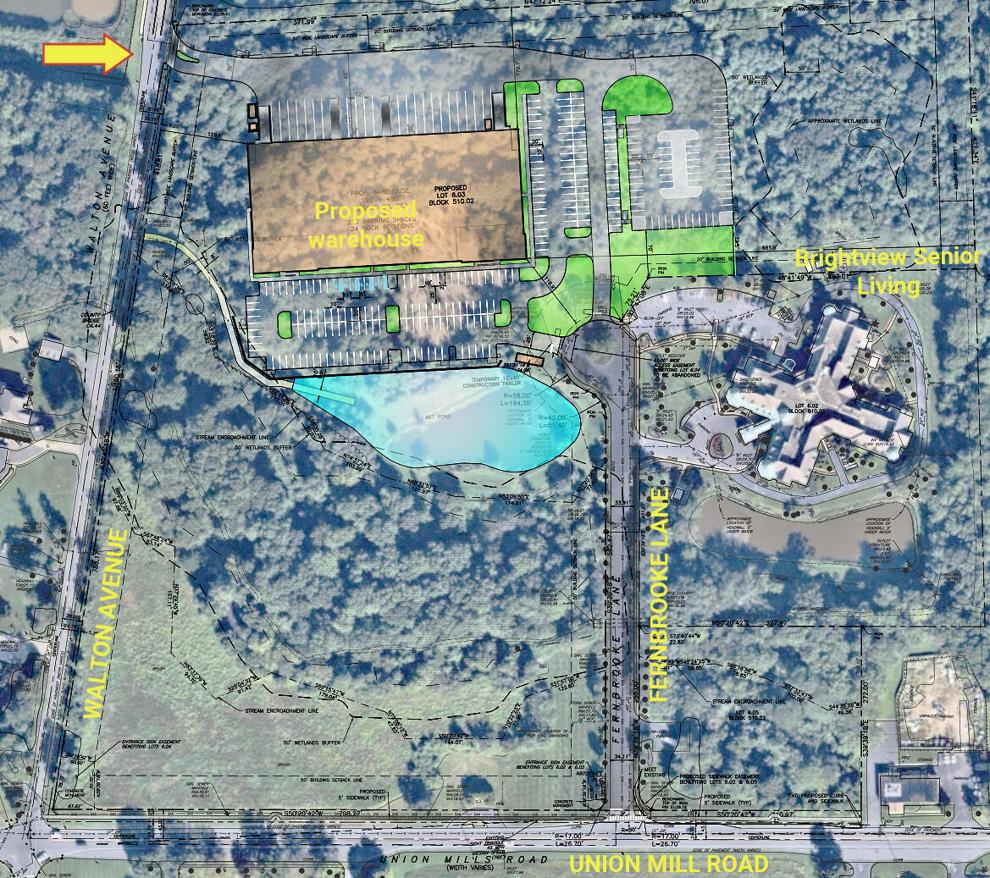 A developer's plan to build a 76,000-square-foot warehouse in Mount Laurel near Union Mill Road and Walton Avenue was unanimously denied Wednesday night by the Planning Board.
"I have major traffic concerns with the application," said board member and Township Manager Meredith Tomczyk, who made the motion to deny the application.
Mayor Stephen Steglik, also a board member, seconded Tomczyk's vote to deny, saying he agreed with her appraisal.
The vote was 8-0 to deny the application of Union Mill Road LLC of Wilton, Connecticut, to construct the warehouse next to the Brightview Senior Living complex on a heavily wooded property. 
Although the warehouse is a permitted use in the industrial zone, the plan could not overcome the uncertainties expressed by both residents and board members about traffic and the routing of tractor-trailer trucks to and from the site.
Trucks would have been limited to one driveway on Walton Avenue and they would have been allowed to drive only from the north down Walton Avenue, departing in the same direction. A bridge on Walton Avenue near Union Mill Road has a low weight restriction. In addition, the board in earlier meetings told the applicant that trucks should not use Fernbrooke Lane, a private road owned by Brightview.
The developer agreed to the restrictions and changed the street address of the warehouse from Union Mill Road to Walton Avenue, which would have resulted in GPS services routing most traffic to Walton Avenue, north to the property, as the board desired.
At Wednesday's meeting, board member Michael Pfeiffer posed detailed questions about truck routing and whether GPS would keep truck traffic away from the Walton Avenue and Union Mill Road intersection.
"We'll have to rely on signage enforcement to prevent trucks from accessing Walton Avenue from Union Mill," responded Planning Board traffic engineer Michael Angelastro, who said some truck drivers will use the GPS route and others more familiar with the area would choose their own routes.
"This is what we expect them to travel," said Angelastro, who works for Remington & Vernick Engineers in Haddonfield. "We can't say things with certainty." 
No potential tenants were named for the warehouse. It would have had 21 tractor-trailer docks and the developer's traffic consultant projected 49 trucks would use the facility each weekday. Plans shows a proposed building with 10,500 square feet of office space and 65,500 square feet of warehouse space and a parking lot with 272 spaces for passenger cars.
Board members also were told by Township officials that  they could not restrict the hours of operation for the warehouse because it is a permitted use under Township zoning ordinances. The Township has no hours-of-operation restrictions in industrial zones, they were told.
Several residents on Wednesday night spoke against the plan. Other residents registered their protests at the October board meeting.
"We moved to Mount Laurel for a specific reason," said Keleigh Howell of Spice Bush Court. "We moved here because it has a small-town feel, we have lots of greenery, we have lot of green spaces, we have a lot of space for the kids to play. We have wildlife."
She challenged the Planning Board to weigh the benefits against the detriments.
"We live here because we like it, we like it that way," she said. "We don't want our town to become industrialized."