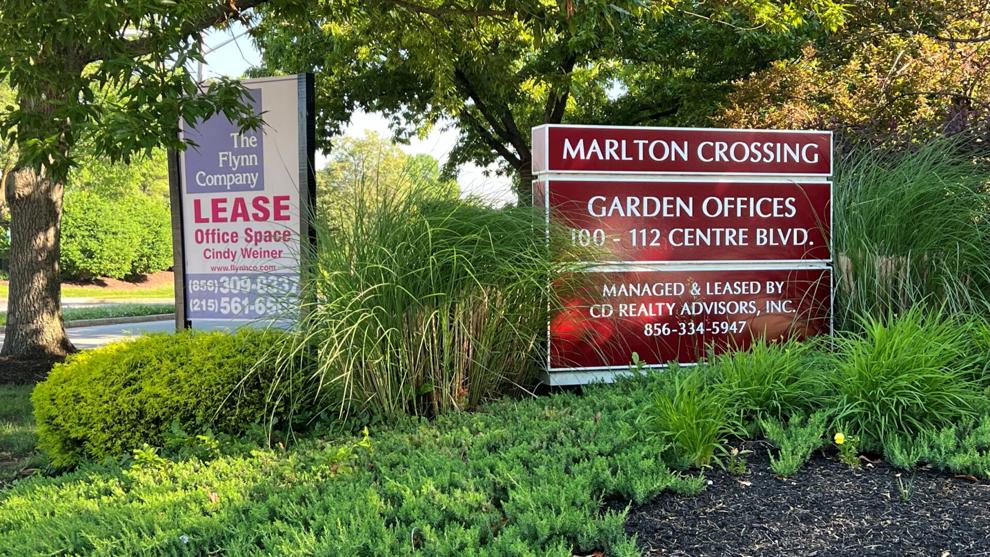 A 35-year-old office complex at Old Marlton Pike and Centre Boulevard that is almost 25% vacant may be deemed an area in need of redevelopment by Evesham Township.
Marlton Crossing Business Center — next to the Marlton Crossing Shopping Center on Route 73 — consists of "functionally obsolete office buildings," according to a May 20 report prepared for the Township by Heyer, Gruel & Associates, a Red Bank community planning consultant.
Under state law, the redevelopment designation allows a municipality to focus on an underutilized property and offer the owner tax breaks for improvements, which can include a completely new use for the site. 
"Redevelopment is reinvestment in neighborhoods and commercial areas to replace or repair previously developed buildings or plots of land that are in substandard condition or are no longer useful in their current state," according to New Jersey Future, a Trenton-based nonprofit that promotes "sensible and equitable growth."
Evesham Township Council in March directed the Planning Board to conduct a study of the office complex and make a recommendation to Council on whether it should be declared a redevelopment area. A public hearing on the proposal to make the property a redevelopment area is scheduled for the June 16 Planning Board meeting.
"There is no question that the vacancies at 100-112 Centre Boulevard over the last five years are significant," the report from Heyer, Gruel & Associates states. "The outdated design of the buildings contributes to the vacancies, as the most commonly vacant units are those with the lofted second floor areas that are undesirable for most tenants and lacking modern ADA (Americans with Disabilities Act) accessibility."
The report states that the physical form of the buildings "limits the ability to reasonably upgrade them, leaving them obsolete in their current layout."
A total of 82,317 square feet of space is leasable in the seven buildings on the 10-acre property that is owned by Marlton Crossing LLC, according to the report. The complex was sold in 1999 for $6 million.
A list of 27 tenants in the study shows a blend of healthcare, insurance, financial, publishing and marketing companies. Seven suites are listed as vacant.
Across New Jersey, office and retail properties have been designated as in need of redevelopment because they have outlived their usefulness.
In Voorhees, an example is the huge, six-story vacant Plaza 1000 office building in the Main Street development that was designated as an area in need of redevelopment in 2016. The building's owner recently proposed to demolish the green-roofed building and build 280 "luxury" apartments.
Moorestown Mall also has been declared an area in need of redevelopment. As many as 1,065 apartments and a hotel may be built on part of the mall property. The Planning Board in February approved a plan for 375 apartments.
The Moorestown board in February also approved plans to turn the now-vacant Sears store at the mall into what will be Cooper University Health Care's largest ambulatory center. 
» SIMILAR REDEVELOPMENT EXAMPLES:
Plan: Tear down Plaza 1000 office building in Main Street Voorhees, build residential development.
Moorestown Planning Board gives final approval for 375 apartments, parking garage at Moorestown Mall.
Cooper's largest ambulatory center approved for Moorestown Mall by town's Planning Board.
---