If you were around in the second half of the last century, you might remember a neighbor standing in his driveway, shirtless and with garden hose in hand, washing his car. For many, it was a Saturday-morning suburban ritual: pull out the plastic bucket, grab the detergent, yank the hose to the driveway and scrub away. 
Car washing at home — with wastewater and detergents flowing into storm sewers, then untreated into waterways — largely has gone the way of cassette tapes and telephones mounted on kitchen walls. In the late 1990s, about half of all consumers preferred to wash at home and, last year, only about 28% preferred that way, according to a survey by the International Carwash Association.
Robert Giannone of Moorestown is riding that "professional" car-wash wave and expects demand to become even more ubiquitous as he expands his Sammy's Express Car Wash chain in South Jersey and possibly into Philadelphia's western suburbs.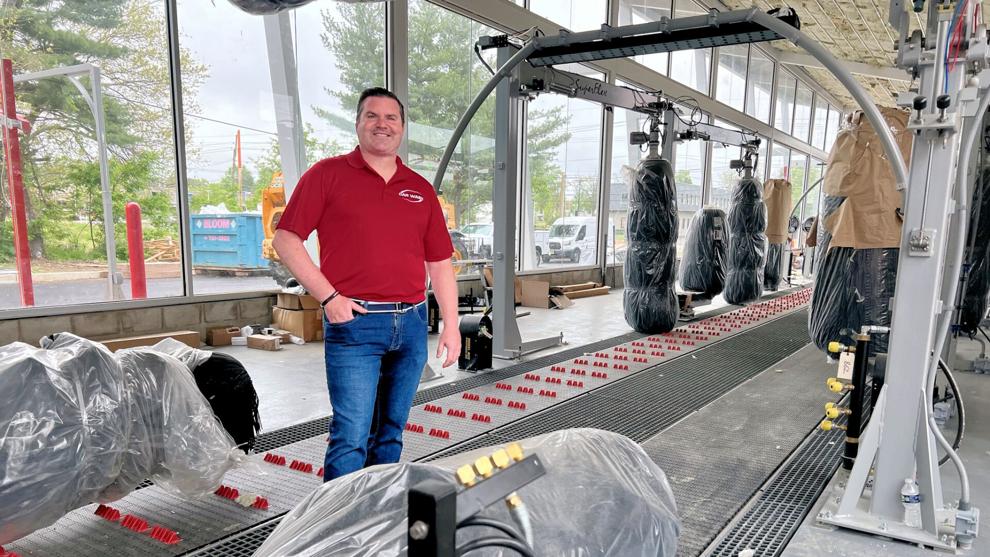 "We're still underserved," he said of the area's car-wash business in an interview with 70and73.com. The sector tends to be dominated by small operators with one car wash location and varying levels of service, he said.
Giannone, 50, retired in April after 25 years in banking to pursue the car wash business as a full-time entrepreneur. He last worked for PNC Bank in Center City Philadelphia.
Last week, he was giving wiring directions to a contractor as crews worked to finish his latest Sammy's, on westbound Route 70 in Marlton on the site of the former G Boys garden center between Conestoga Drive and North Cropwell Road. That site, which Giannone prizes for its deep lot that will accommodate his 150-foot-long wash tunnel, will be the second Sammy's when it opens in mid-June, according to Giannone's plans.
Giannone, who grew up in Delran and Riverside, remembers visiting G Boys at Christmastime, when the garden center set up a wonderland and recruited Santa to listen to wishes. He plans a Christmas light show on the Marlton site in homage to G Boys, he said.
The Marlton opening has been delayed by supply chain and contractor staffing shortages.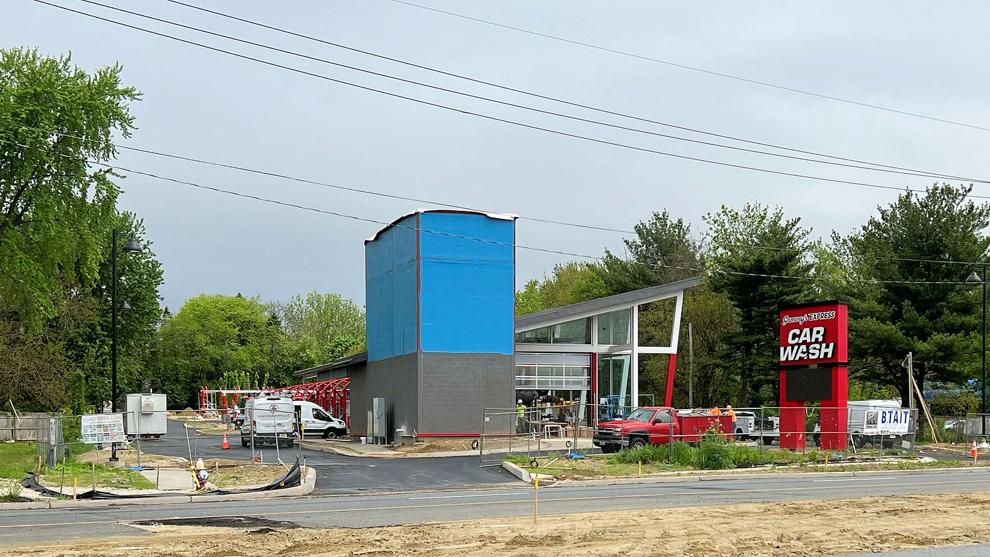 The first Sammy's — named in honor of Giannone's late father-in-law — debuted in 2019 on Route 38 in Maple Shade.
A third Sammy's is set in Mount Laurel, where the zoning board on May 4 approved final plans for a Sammy's on eastbound Route 38 that will be built on a lot adjoining the Abbruzzi & Giunta's Italian Market, near Hartford Road. Giannone expects to start that project sometime before November.
And the roll-out continues:  Sammy's is under contract to buy and demolish the former site of the Oceancrat Boiling Seafood restaurant on southbound Route 73 near Church Road in Mount Laurel (the restaurant has moved to Church Road). Giannone hopes to apply to the Township for approval this year.
Another Sammy's could be under way before the end of the year in Somerdale at White Horse Pike and Cedar Avenue. And Giannone is scouting around Route 130 and Collingswood for another.
Sammy's is part of a national trend in car wash industry growth. Between 1980 and 2020, the number of businesses devoted primarily to car washing and their employment have increased nearly fourfold, according to the Census Bureau's County Business Patterns. In 2020, the census study found 17,584 car washes employing 162,908 people. If washes associated with gasoline stations or car dealerships are included, the total count soars.
To Giannone, who with his investors spend as much as $6.5 million to acquire land and build a Sammy's, all car washes are not alike.
He refers to the ones built in the last century as "dark tunnels" and points to his design: glass walls through the tunnel that allow daylight to light the wash. Cars at Sammy's also travel on a car-wide conveyor belt, rather than hooking a wheel into the conveyor system.
Giannone also emphasizes the high-tech components of his business, such as the "brain" that controls each car's wash and what extra polishes and coats of protectants shoot from the nozzles, all based on the level of wash the customer has purchased.
In the car wash business, repeat customers are key and the way to lock that in is with monthly memberships that automatically bill credit cards. Giannone said a key strategy to adding value to the memberships is to add car washes around the region. A monthly member can stop at any of the Sammy's. 
On average, a car owner in the United States visits a car wash 12 times a year, according to the International Carwash Association, the industry trade group based in Glen Ellyn, Illinois. But many visit far more frequently and Giannone says some members show up at the Maple Shade car wash several times a week.
Single washes at Sammy's range from $12 for the basic wash and dry to $17 for the shine wash and $20 for the shine and protect wash. The monthly rates are $24.99, $34.99 and $37.99, respectively.
Like many car washes, Sammy's has signs along the wash path that light up when the "lava bath" kicks in or "ceramic shield" is sprayed on the vehicle.
The displays are called "confirmation signs" in the industry — cues for a skeptical consumer that the extra product is being applied. Giannone showed off the Marlton wash's operations room where computers keep track of every car, including their measurements, and what products are applied. 
One of the greatest fears of municipal officials when granting permission for car washes is queuing that may spill onto a main road. Giannone says a slow-moving line of customers is not a concern because they pay at kiosks — monthly members simply pass through and their license plates are scanned — and cars come out clean every 24 to 30 seconds.
Wash water is recycled and processed and the Marlton Sammy's will get solar panels in the back of the lot, eventually supplying 15% of the business' electricity.
The car wash entrepreneur also has tested for noise pollution.
A giant vacuum system centrally provides suction for the two dozen cleaning stations at the Marlton operation. Apartments border the Sammy's lot and Giannone explained decibel measurements during the 70and73.com interview. He stood about 15 feet away from the vacuum unit and said tests showed that, at that distance, the sound of the vacuum machine was equivalent to two people talking.
When the Mount Laurel zoning board asked for sound testing at the Maple Shade Sammy's before they made their decision on the Route 38 wash, the sound engineer hired by Sammy's said measurements were difficult because the noise of passing traffic on the highway drowned out the car wash sounds.
Giannone knew early on in his career that he did not want to be a banker forever and wanted to own a business. 
"I never would have thought car washes," he said, until the day he noticed a car wash being built and was inspired. He told his wife, dentist Ivonne Ganem-Giannone, of his idea in 2016 and his research began.