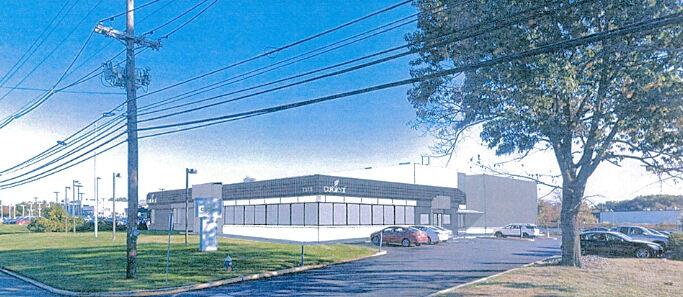 A request by New Jersey's largest medical marijuana retailer to open a distribution center on Route 73 in Mount Laurel will be heard by the Zoning Board of Adjustment on August 5.
The request comes as state residents in November will vote on the legal sale of marijuana to adults for recreational use.
Curaleaf New Jersey Inc. of Bellmawr has applied for variances to open the facility at 1315 Route 73 North, a building that now includes a Giant Fitness gym and is owned by Balducci Inc. of Haddonfield. 
The medical marijuana retail business would be 355 feet from a residential area and 895 feet from a church, school, child-care center or public park. However, the business would need to be 1,000 feet from each — the primary reason Curaleaf is before the zoning board asking for a variance. It also seeks a side yard variance: the building setback is under 21 feet where 50 feet is required.
"Applicant submits that the benefits of the proposed use are not detrimental to the public and promotes a growing need to provide avenues for alternative treatment for medical conditions," according to the application.
As of July 27, the agenda for the zoning meeting had not been posted, but interested residents can watch for it at the zoning board's page and sign up to testify at the virtual zoning hearing by computer (Zoom) or telephone. Because the matter is formally being heard by the Zoning Board of Adjustment, the mayor or council members cannot discuss it ahead of a zoning decision, said Bill Giegerich, the township's director of economic and community development. Those who testify at zoning hearings are sworn in and the testimony is similar to that in court.
Although the zoning application from October 2019 notes Curaleaf in Bellmawr is a nonprofit, it was purchased by Curaleaf Holdings Inc., a publicly traded company based in Wakefield, Massachusetts, the company announced in early July. Curaleaf is listed on the Canadian Securities Exchange.
"With our strong growth and a cannabis adult-use ballot approval on the horizon, we are actively investing in the expansion of our market leading position to better serve the more than nine million residents of the Garden State with the quality cannabis products they rely on," Curaleaf's CEO, Joseph Lusardi, said in a statement announcing the acquisition of Curaleaf in New Jersey. In 2018, Curaleaf dispensed 36% of the total medical marijuana sold in New Jersey, according to the company.
Curaleaf's state license and other assets were acquired in exchange for the public company canceling loans used to fund the building of the former nonprofit. New Jersey initially required such facilities to be nonprofits.
"Curaleaf's business in New Jersey operates the state's largest medical cannabis dispensary as well as more than 51,000 square feet of cultivation and processing space in Bellmawr, NJ, through its integrated license. ... Curaleaf plans to open two additional New Jersey dispensary locations, as well as an additional cultivation and processing operation, for which the company has secured a facility in the Township of Winslow, creating hundreds of jobs for the state," according to the acquisition announcement.
The state's medical marijuana distributors would be at a strategic advantage and in place should New Jersey voters in November approve the sale of marijuana to people 21 and older for recreational use.
"Rob DiPisa, partner and co-chair of cannabis law group Cole Schotz, called New Jersey a 'hot market' that has continuously expanded its medical marijuana program and, therefore, has the infrastructure in place for a successful recreational program," according to an article by Marijuana Business Daily, which hosted DiPisa and others in the industry in a panel discussion in June.
"In anticipation of future market growth and a continued favorable regulatory trend, Curaleaf NJ has secured a 129,000 square foot facility in Winslow, NJ, which it is building out for additional cultivation capacity. Curaleaf NJ expects to complete its first harvest from the Winslow facility by the end of 2020," according to a Curaleaf management discussion of its business filed with the Canadian Securities Exchange last year.
Curaleaf operates in 17 states with 57 local dispensaries, 15 cultivation sites and 24 processing sites, according to the company's website.