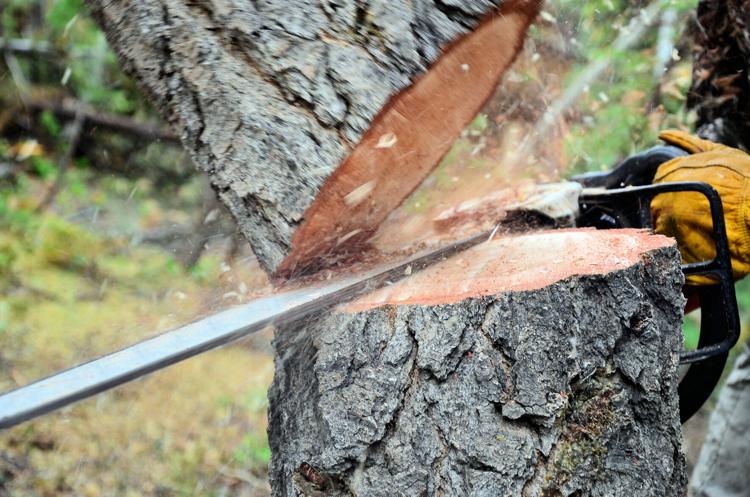 Put down that chainsaw. In the future, wielding it with abandon against trees in Medford could land you in jail.
Medford is close to enacting an ordinance regulating tree removal on residential property — rules that have been years in the making.
The tree ordinance was adopted on first reading Tuesday night at the Medford Town Council meeting. A public hearing on the ordinance will be held October 6 at 7 p.m. Council will consider it for final passage after the hearing.
Some residents already have asked for clarification on the ordinance. At Tuesday's meeting, one resident who operates a tree farm asked if it would apply to his business. He was told it would not. (Click on the Medford's Proposed Tree Ordinance link with this story to read or download a copy.)
In its ordinance, the township expresses concern over widespread tree removal in the lush, tree-filled community. The ordinance cites "instances of the indiscriminate, uncontrolled and excessive destruction, removal and cutting of trees on privately owned individual lots and tracts of land."
New rules are needed to "ensure and protect the safety, health and welfare of residents of the township and the public at large," the ordinance states. The regulations state they are intended to reduce soil erosion and protect surface water quality, reduce stormwater runoff, improve air quality, protect wildlife habitats, provide wind breaks and shade and "retain trees and woodlands that are important to the history or natural and aesthetic beauty" of Medford.
Regulating tree removal at the local level is nothing new in New Jersey. "Hundreds of New Jersey towns have laws governing the removal of trees on private property," according to a 2016 report by njspotlight.com on tree removal laws across the state.
In Cherry Hill, the rules are explained on the town's website. Residents need a township permit to remove any tree more than 15 inches in circumference, measured a foot off the ground. That's about 4.8 inches in diameter — a size that would cover most mature trees. And a permit is required before removing a healthy, diseased or dead tree, according to the tree removal permit application. To take down more than three trees in a 12-month period, the resident must get approval from the Cherry Hill Planning Board.
Medford Lakes also has its own tree removal ordinance, according to Borough Manager Robert J. Burton.
Medford's proposed ordinance does not require a permit to remove up to three trees in a 12-month period from an existing lot with a residential dwelling. However, no more than 10 may be removed in any five-year period, according to the rules. The ordinance notes it does not apply to removal of trees for construction of a new home or the addition to an existing home. It also doesn't apply when installing or replacing a septic system.
What trees are covered under the Medford ordinance?  Any "woody perennial deciduous plant" at least six inches in diameter, measured six inches above the ground. The definition also includes evergreens or thinner deciduous plant at least 15 feet above the ground, including dogwoods, birches and American Hornbeams.
If a dead or diseased tree presents an "imminent hazard or danger" to people or property, it may be removed immediately, according to the ordinance. But, if a zoning official questions the removal, the property owner must provide documentation including photographs and certification from a licensed tree removal professional or certified arborist.
Violations can result in a maximum fine of $1,000 or imprisonment for 30 days — or both — for each offense, according to the proposed law. In addition, the township zoning official can request and the court can order a restoration plan for cut trees and disturbed areas, it states.
The 11-page ordinance details and itemizes exemptions and other special considerations. For example, the property owner eager to get sunlight to solar panels should beware. "No trees may be removed or 'topped' to expose ground mounted or roof mounted solar panels unless expressly permitted as a part of the zoning permit application process," according to the proposed law.
And don't consider recouping the cost of tree removal by selling the byproduct as firewood on the front lawn. "The sale of wood at 'wood stands' or similar facilities, except at retail commercial establishment or garden centers, is prohibited in the township," the proposed ordinance states.