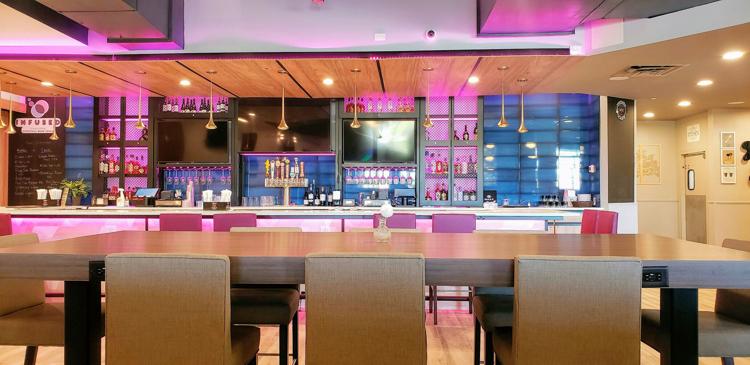 A new, stylish restaurant and bar with a globally inspired menu has opened inside the Holiday Inn on Route 70 in Cherry Hill, replacing the former Red Hot & Blue, a BBQ restaurant that closed in October 2019.
The quiet debut of Infused came in February, just before COVID-19 struck the area.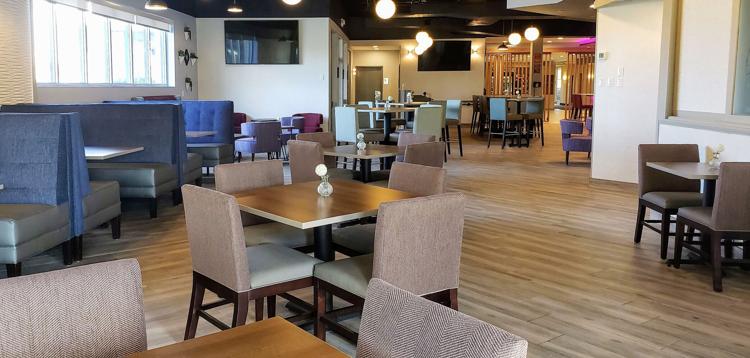 Thinking the restaurant would be closed for only a couple of weeks, General Manager Jennifer Enright, 36, of Merchantville, said: "We were so excited to welcome guests, but it became evident the dining room was going to be closed for many months. We quickly switched gears and immediately started offering curbside pickup and delivery."
Change at the property across Route 70 from the western end of the Market Place at Garden State Park didn't mean only a new restaurant. It was part of an overall strategy to bring new vitality to the hotel complex.
---
Striving to Thrive is a series of articles that look at how South Jersey businesses are faring in the COVID-19 pandemic and how they may change as we emerge from the crisis. Ideas or suggestions? Email contactus@70and73.com.
---
KPG Management purchased the hotel on Route 70 in July 2018. It began extensive renovations, using Pittsburgh-based design firm Hospitality Furnishings and Design, that included the restaurant.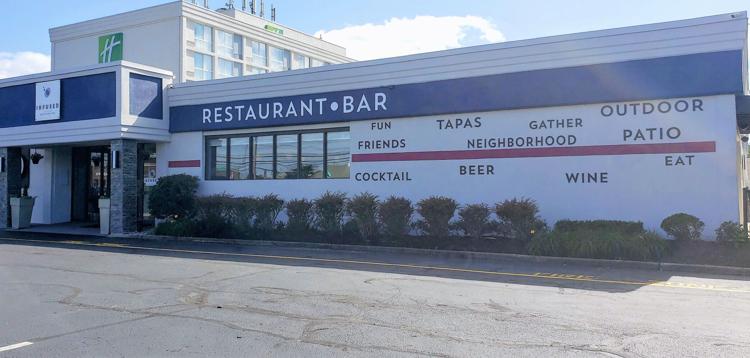 "We updated the restaurant as well as all of the guest rooms, meeting rooms, ballrooms, and pool," Tushar Shah, 42, of Lumberton, partner and chief operating officer of KPG Management, told 70and73.com. "We wanted the restaurant to reflect the changes at the hotel and breathe new life into it. We felt a new concept was necessary."
Before joining Infused, GM Enright had opened Spice Finch, a Mediterranean-inspired restaurant near Rittenhouse Square in Philadelphia.
"It's hard enough to open a new restaurant in 'normal' times, but during a pandemic, amid state-mandated restrictions, it has been a big challenge to get the word out that we are open for business," Enright said.
---
KNOW A GOOD PIZZA PLACE? What's your favorite pizza place in South Jersey? Click here to tell 70and73.com and be automatically entered for one of three $25 VISA gift cards. No strings. We just want to write about the most-favorite places!
---
In the early days of COVID-19, the restaurant's clientele was mostly hotel customers. Business remained slow until it signed up for GrubHub and DoorDash. The original opening menu had to be revised to accommodate items that traveled better. 
When outdoor dining was permitted in July, Infused hosted guests on an adjacent patio with tables spaced apart.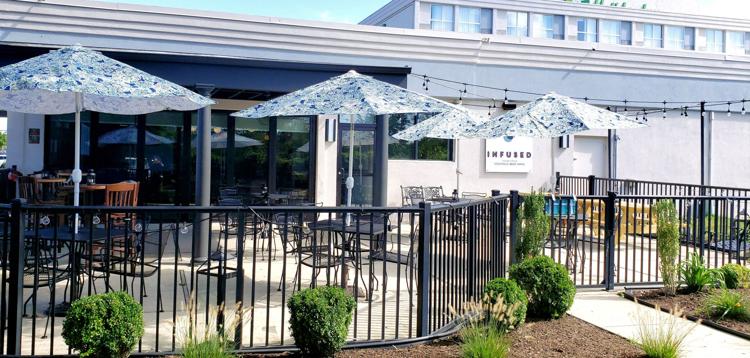 The restaurant, specializing in sharable tapas and handcrafted cocktails, now offers indoor dining at 25% capacity with an updated menu and mandatory mask-wearing when not seated at a table. It will move to 50% capacity when Gov. Phil Murphy permits.
"It's not just a hotel restaurant," Enright said. "It is a comfortable place for locals, too. We offer amazing happy-hour deals such as $2 domestic beers and $5 craft beers with $6 appetizers from 5 to 7 p.m. Monday through Friday. Not to mention our $6 handcrafted cocktails made with fresh ingredients such as hand-squeezed juices."
Emphasizing the attraction of the local market, Enright wants to get the word out that it's a place to watch games — bolstered by seven flat-screen televisions throughout the dining room for guests to watch the Eagles. Game-day drink and food specials are offered. Tables are limited to four to a group, and a few seats spaced six feet apart at the bar.
The restaurant will start featuring local musicians for live music on October 23.
Now open just for dinner, from 4 to 10 p.m., Infused eventually will offer breakfast and lunch during the week and brunch on the weekends. "We are currently holding off...due to not having enough volume, but we anticipate that changing once constraints lift," Shah said.
Besides an eclectic variety of small, medium, and large tapas items perfect for sharing, the menu also features flatbreads, sandwiches, and a few larger entrees, using fresh ingredients.
Sharable classics such as wings and cheesesteak nachos are featured next to trendier dishes such as avocado toast, crispy Brussels sprouts, and Bavarian pretzels with pimento cheese. Lighter options like hummus, roasted carrots, and quinoa and kale with feta and dried cherries provide a healthier counterpoint to rich, elevated fare like mussels, French onion meatballs, and short rib macaroni and cheese.
The signature Infused burger with smoked gouda and bacon, crab cake sandwich with tarragon aioli, and street tacos with a choice of proteins make up the hand-held offerings. The forks-required menu offers heartier entrees such as a roasted half chicken with root vegetables, New York strip steak with roasted potatoes, roasted salmon with tzatziki sauce, and shrimp tortellini with a mushroom cream sauce.
Refreshing house-special cocktails include the "Now & Later" — rum, hibiscus, and pineapple juice — and the "Touche" featuring vodka, carrot juice, ginger, and coconut water. A house punch and sangria also are included on the cocktail program created by Enright. Classic mixed drinks are also available by request at the full-service bar.
Local craft brews will regularly rotate with Somerdale's Flying Fish, Pennsauken's Double Nickel, and Millville's Glasstown Brewing Company, featured most recently.
---
The basics:
Daily: 4  to 10 p.m.
Address: 2175 Route 70 W, Cherry Hill, NJ 08002
Website: infusedrestaurant.com/
Telephone: 856-665-7427
---