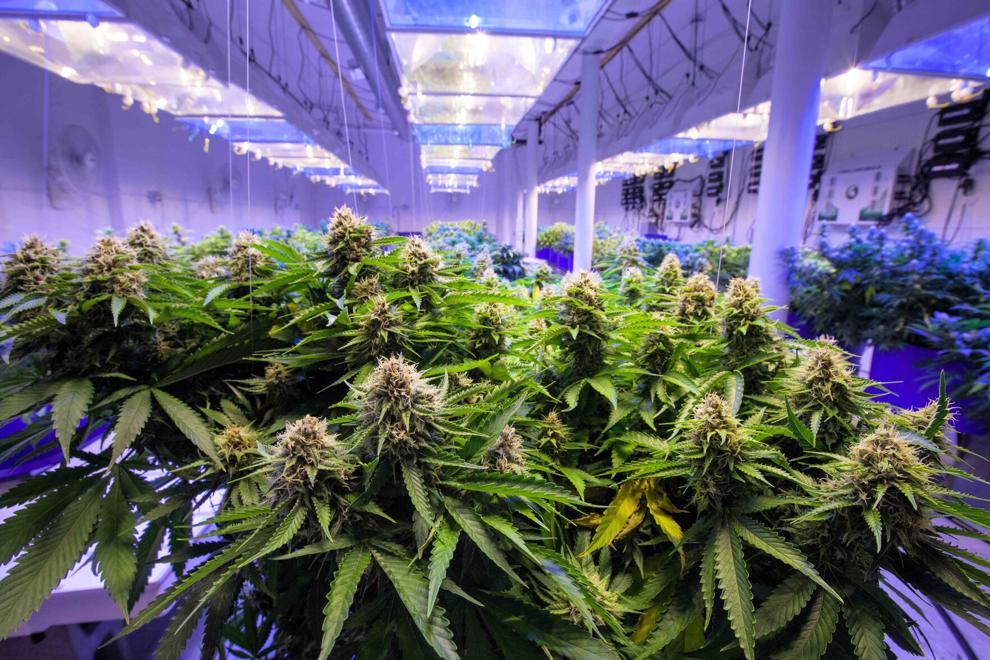 To David Fleisher, it's about the fine print. Or, in this case, the missing fine print.
Fleisher, president of Cherry Hill Township Council, last week said the "quirkiness" of New Jersey's new law decriminalizing marijuana means municipalities deciding whether or not to welcome recreational marijuana businesses to their towns must do so without seeing the rules.
Those state rules governing cannabis retailers, wholesalers, cultivators and other businesses are not due out until August 22. But towns, cities and boroughs must make their decisions by August 21. No decision means the community is open to all classes of marijuana businesses for a period of at least five years.
"I personally don't think there's anyone in this room who would sign a contract without reading the fine print. My opinion is by enacting it before seeing the regs it would be like signing a contract without reading the fine print," Fleisher told Council members at their caucus before the meeting.
At stake are millions of dollars that communities could collect from up to 2% in local sales taxes imposed on the different kinds of businesses.  However, some local leaders worry about the potential impact of recreational marijuana outlets in their communities.
Cherry Hill's new ordinance prohibits any cannabis business from setting up shop within its borders at the outset, but in the next six months Council expects to consider allowing businesses once the rules are clear and Township leaders can see how other towns are handling the businesses. A municipality can opt-in at any time.
A resident of Cherry Hill, the second-largest municipality in South Jersey, will not have to go far to buy legal marijuana. Nearby communities such as Voorhees, Evesham, Mount Laurel, Moorestown and Pennsauken have decided to permit cannabis businesses in their communities — a five-year commitment under the state law.
A 70and73.com review of new ordinances in municipalities in South Jersey (Burlington County south to Cape May County) shows about one-third plan to allow cannabis businesses in some form within their borders. The 70and73.com survey, based mostly on legal notices, covers 149 of South Jersey's 169 municipalities. (See list below.)
Like Cherry Hill, the majority of municipalities in South Jersey are at least postponing any decision on allowing cannabis businesses to operate. 
Camden, the largest municipality in South Jersey, decided to hold off permitting cannabis businesses in the city. The city's ordinance specifies Camden leaders' concerns, stating the ban on the businesses is "due to present uncertainties regarding the potential future impacts" of allowing cannabis businesses inside the city.
Washington Township in Gloucester County — South Jersey's fifth-largest community in population — went so far as to use bullet points in its law to justify its decision to prohibit the businesses, including "a lack of clarity and direction" in the state law, "potential negative impacts upon children in the Township" and "potential detriments on residents." 
Township leaders "need more time to study and review the Act and its impact on the Township of Washington and its residents," the law states.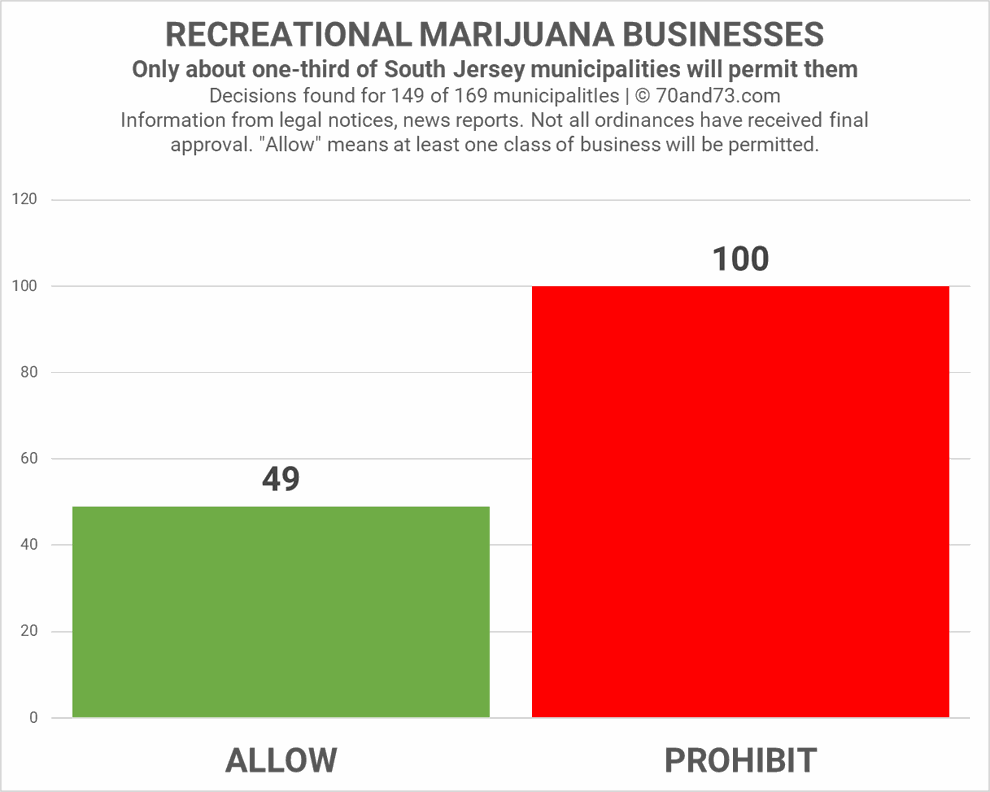 The six classes of cannabis businesses are cultivator, manufacturer, wholesaler, distributor, retailer and delivery/courier services.
Some municipalities are being selective of the kinds of businesses or limiting each type of business to specific zoning districts in the community.
For example, Merchantville and Barrington, both in Camden County, will permit only marijuana retailers, but not the other classes of business. Greenwich, Cumberland County, will permit all classes except the retailers. Logan Township in Gloucester County decided to allow only cannabis manufacturers.
---
10 LARGEST SOUTH JERSEY MUNICIPALITIES
| Rank | Municipality | County | Cannabis Businesses |
| --- | --- | --- | --- |
| 1 | Camden | Camden | PROHIBIT |
| 2 | Cherry Hill | Camden | PROHIBIT |
| 3 | Gloucester Township | Camden | ALLOW |
| 4 | Vineland | Cumberland | ALLOW |
| 5 | Washington Township | Gloucester | PROHIBIT |
| 6 | Evesham | Burlington | ALLOW |
| 7 | Egg Harbor Township | Atlantic | ALLOW |
| 8 | Mount Laurel | Burlington | ALLOW |
| 9 | Winslow | Camden | ALLOW |
| 10 | Atlantic City | Atlantic | ALLOW |
---
Communities cannot prohibit cannabis delivery services within their boundaries, according to a legislative briefing for local government leaders by the New Jersey League of Municipalities.
Municipalities will get a say on how businesses operate in their communities, according to the NJLM. When a firm applies to the state to do business, the state within 14 days must forward a copy of the application to the municipality.
The "municipality must determine whether the application complies with local restrictions on times of operation, location, manner and the number of cannabis businesses," the NJLM briefing noted.
At last week's Cherry Hill Township Council meeting, several residents protested the decision to wait and see and forgo the tax dollars.
"People in Cherry Hill will be driving farther to get their cannabis and they will be giving their money to other towns. It just won't be coming to Cherry Hill," Rena Margulis of School Lane, a frequent commenter at the meetings, told the Council.
Jeff Podowitz, of Kilburn Drive, said people are focusing too much on the 1% and 2% local tax, which he said is not a lot of money. "The money that we'll be getting is negligible," he said.
"Am I in favor of it being sold in Cherry Hill? No," Podowitz said.
"I don't want people to come from Pennsylvania, come and stop at Costco and get gas and buy their stuff and then get their marijuana conveniently near Costco or near Cherry Hill Mall," he said. "If they want to go to another community, fine."
Some residents pointed out that more than two thirds of New Jersey voters last fall voted in favor of decriminalization and the recreational use by people 21 and older. That should be enough motivation for Cherry Hill, they said.
Council member Carole Roskoph said the Township already has had six months to have a plan. She has pushed for a timeline to reconsider the ban.
Roskoph said an ideal timeline would include a recommendation from the Police Department by October, a recommendation from the Community Development Department by November, a public town hall discussion by January and a decision by February.
Mayor Susan Shin Angulo said Cherry Hill was going to "hit pause" on allowing the businesses in town because it wants to wait for state rules and regulations. However, "we ultimately expect these cannabis businesses to come to the Township in some form in the future."
Council members voted 6-0 in favor, a final decision on the ordinance banning cannabis businesses, at least temporarily.
Roskoph emphasized that, despite the debate on cannabis businesses, the use of marijuana now is legal in New Jersey.
"We are not talking about consumption," Roskoph said. "If a person wants to consume on their deck in their backyard, we can't regulate that....So please don't call our police department because your neighbors are smoking on their back deck."
---
RECREATIONAL MARIJUANA SALES IN SOUTH JERSEY
| MUNICIPALITY | COUNTY | DECISION |
| --- | --- | --- |
| Absecon | Atlantic | ALLOW |
| Atlantic City | Atlantic | ALLOW |
| Brigantine | Atlantic | PROHIBIT |
| Buena Vista | Atlantic | PROHIBIT |
| Corbin City | Atlantic | PROHIBIT |
| Egg Harbor City | Atlantic | ALLOW |
| Egg Harbor Township | Atlantic | ALLOW |
| Estell Manor | Atlantic | PROHIBIT |
| Galloway | Atlantic | ALLOW |
| Hamilton | Atlantic | ALLOW |
| Hammonton | Atlantic | ALLOW |
| Linwood | Atlantic | PROHIBIT |
| Longport | Atlantic | PROHIBIT |
| Margate | Atlantic | PROHIBIT |
| Mullica Township | Atlantic | PROHIBIT |
| Northfield | Atlantic | PROHIBIT |
| Pleasantville | Atlantic | ALLOW |
| Port Republic | Atlantic | PROHIBIT |
| Somers Point | Atlantic | PROHIBIT |
| Ventnor | Atlantic | PROHIBIT |
| Weymouth | Atlantic | PROHIBIT |
| Bass River | Burlington | ALLOW |
| Beverly | Burlington | ALLOW |
| Bordentown City | Burlington | PROHIBIT |
| Bordentown Township | Burlington | PROHIBIT |
| Burlington City | Burlington | ALLOW |
| Burlington Township | Burlington | PROHIBIT |
| Chesterfield | Burlington | PROHIBIT |
| Cinnaminson | Burlington | ALLOW |
| Delanco | Burlington | PROHIBIT |
| Delran | Burlington | ALLOW |
| Eastampton | Burlington | ALLOW |
| Evesham | Burlington | ALLOW |
| Fieldsboro | Burlington | PROHIBIT |
| Florence | Burlington | PROHIBIT |
| Hainesport | Burlington | PROHIBIT |
| Lumberton | Burlington | ALLOW |
| Mansfield | Burlington | PROHIBIT |
| Maple Shade | Burlington | PROHIBIT |
| Medford | Burlington | PROHIBIT |
| Medford Lakes | Burlington | PROHIBIT |
| Moorestown | Burlington | ALLOW |
| Mount Holly | Burlington | ALLOW |
| Mount Laurel | Burlington | ALLOW |
| New Hanover | Burlington | PROHIBIT |
| North Hanover | Burlington | PROHIBIT |
| Palmyra | Burlington | PROHIBIT |
| Pemberton Borough | Burlington | PROHIBIT |
| Pemberton Township | Burlington | ALLOW |
| Riverton | Burlington | PROHIBIT |
| Shamong | Burlington | ALLOW |
| Southampton | Burlington | PROHIBIT |
| Springfield | Burlington | PROHIBIT |
| Tabernacle | Burlington | PROHIBIT |
| Washington | Burlington | PROHIBIT |
| Westampton | Burlington | PROHIBIT |
| Willingboro | Burlington | ALLOW |
| Wrightstown | Burlington | PROHIBIT |
| Audubon | Camden | PROHIBIT |
| Audubon Park | Camden | PROHIBIT |
| Barrington | Camden | ALLOW |
| Bellmawr | Camden | PROHIBIT |
| Berlin Borough | Camden | PROHIBIT |
| Berlin Township | Camden | PROHIBIT |
| Camden | Camden | PROHIBIT |
| Cherry HIll | Camden | PROHIBIT |
| Chesilhurst | Camden | PROHIBIT |
| Clementon | Camden | PROHIBIT |
| Collingswood | Camden | ALLOW |
| Gibbsboro | Camden | ALLOW |
| Gloucester City | Camden | PROHIBIT |
| Gloucester Township | Camden | ALLOW |
| Haddon Heights | Camden | PROHIBIT |
| Haddon Township | Camden | PROHIBIT |
| Haddonfield | Camden | PROHIBIT |
| Hi-Nella | Camden | PROHIBIT |
| Lawnside | Camden | PROHIBIT |
| Lindenwold | Camden | PROHIBIT |
| Magnolia | Camden | PROHIBIT |
| Merchantville | Camden | ALLOW |
| Mount Ephraim | Camden | PROHIBIT |
| Oaklyn | Camden | ALLOW |
| Pennsauken | Camden | ALLOW |
| Pine Hill | Camden | PROHIBIT |
| Runnemede | Camden | PROHIBIT |
| Somerdale | Camden | ALLOW |
| Stratford | Camden | PROHIBIT |
| Voorhees | Camden | ALLOW |
| Waterford | Camden | ALLOW |
| Winslow | Camden | ALLOW |
| Woodlynne | Camden | PROHIBIT |
| Avalon | Cape May | PROHIBIT |
| Cape May City | Cape May | PROHIBIT |
| Dennis | Cape May | PROHIBIT |
| Lower Township | Cape May | ALLOW |
| Middle Township | Cape May | PROHIBIT |
| North Wildwood | Cape May | PROHIBIT |
| Ocean City | Cape May | PROHIBIT |
| Sea Isle | Cape May | PROHIBIT |
| Stone Harbor | Cape May | PROHIBIT |
| North Wildwood | Cape May | PROHIBIT |
| Upper Township | Cape May | PROHIBIT |
| West Cape May | Cape May | ALLOW |
| West Wildwood | Cape May | PROHIBIT |
| Wildwood | Cape May | PROHIBIT |
| Wildwood Crest | Cape May | PROHIBIT |
| Woodbine | Cape May | ALLOW |
| Bridgeton | Cumberland | ALLOW |
| Commercial | Cumberland | ALLOW |
| Deerfield | Cumberland | PROHIBIT |
| Downe | Cumberland | PROHIBIT |
| Greenwich | Cumberland | ALLOW |
| Hopewell | Cumberland | PROHIBIT |
| Lawrence | Cumberland | PROHIBIT |
| Maurice River Township | Cumberland | PROHIBIT |
| Millville | Cumberland | ALLOW |
| Upper Deerfield | Cumberland | PROHIBIT |
| Vineland | Cumberland | ALLOW |
| Deptford | Gloucester | PROHIBIT |
| East Greenwich | Gloucester | PROHIBIT |
| Franklin | Gloucester | PROHIBIT |
| Glassboro | Gloucester | PROHIBIT |
| Greenwich | Gloucester | ALLOW |
| Harrison | Gloucester | PROHIBIT |
| Logan | Gloucester | ALLOW |
| Mantua | Gloucester | PROHIBIT |
| Monroe | Gloucester | ALLOW |
| Newfield | Gloucester | PROHIBIT |
| Paulsboro | Gloucester | ALLOW |
| Pitman | Gloucester | PROHIBIT |
| South Harrison | Gloucester | PROHIBIT |
| Swedesboro | Gloucester | PROHIBIT |
| Washington Township | Gloucester | PROHIBIT |
| Wenonah | Gloucester | PROHIBIT |
| West Deptford | Gloucester | ALLOW |
| Westville | Gloucester | PROHIBIT |
| Woodbury | Gloucester | ALLOW |
| Woodbury Heights | Gloucester | PROHIBIT |
| Alloway | Salem | PROHIBIT |
| Carneys Point | Salem | ALLOW |
| Elsinboro Township | Salem | PROHIBIT |
| Lower Alloways Creek | Salem | ALLOW |
| Mannington | Salem | PROHIBIT |
| Oldmans | Salem | PROHIBIT |
| Penns Grove | Salem | PROHIBIT |
| Pilesgrove | Salem | PROHIBIT |
| Quinton | Salem | PROHIBIT |
| Salem | Salem | PROHIBIT |
| Upper Pittsgrove | Salem | PROHIBIT |
| Woodstown | Salem | PROHIBIT |