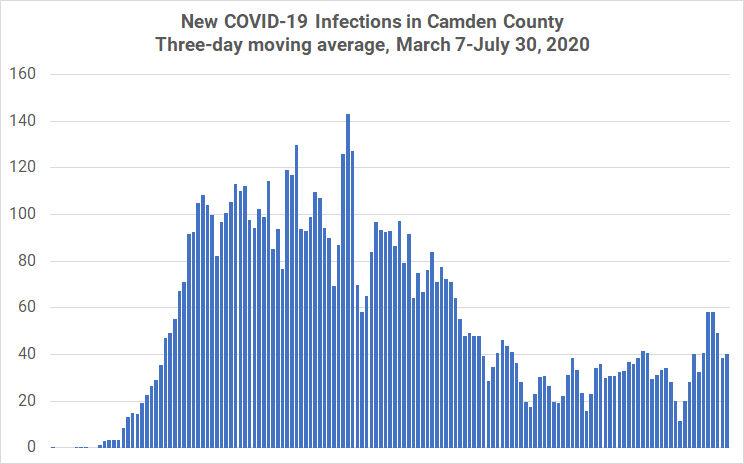 An uptick in the number of people infected with COVID-19 in Camden County has some worried. And large gatherings, particularly among teens, could be fueling the spread.
"We can't afford to ignore the trends that we're seeing: our average number of new cases per day is back to where it was at the beginning of June and trending upwards," county Freeholder Director Louis Cappelli Jr. said in a statement on Thursday.
Meanwhile, ABC News is reporting a daily report of hot spots it obtained from the Department of Homeland Security cites 98 hot spots in 30 states, and Camden and Mercer counties in New Jersey were identified as emerging.
New infections in Camden County announced in recent weeks
| Date | New infections announced |
| --- | --- |
| 7/17 | 26 |
| 7/18 | 29 |
| 7/19 | 5 |
| 7/20 | 0 |
| 7/21 | 55 |
| 7/22 | 29 |
| 7/23 | 36 |
| 7/24 | 32 |
| 7/25 | 54 |
| 7/26 | 88 |
| 7/27 | 33 |
| 7/28 | 27 |
| 7/29 | 56 |
| 7/30 | 38 |
| 7/31 | 42 |
Camden County's new infection total has trended higher in the last couple of weeks compared with relatively low totals reported in June. The county reported 88 new infections on July 26 — the highest total since May 28 when 100 were reported.
"This virus is still extremely active in our community and we have to take this threat seriously. No one should be attending large gatherings. Everyone needs to wear a mask when they are in public and maintain social distancing. We are not impervious to this virus because we were hit hard in the beginning and recovered," Cappelli said in the statement.
Camden County data are available at camdencounty.com/service/covid-19-updates-and-preparations/most-recent-updates/.
In his Wednesday COVID-19 briefing, Gov. Phil Murphy railed against house parties where hundreds of young people gathered and didn't observe precautions against the spread of the disease.
"We cannot, we simply cannot continue to have crowded house parties. They are not safe, period. They are how coronavirus gets passed around more efficiently. They put the hard work we've all undertaken together, the millions of us, since March at risk of being undone," Murphy said at Wednesday's briefing.
Murphy said several house parties attended by teens in Middletown have been linked to 55 new positive cases among people from 14 to 19. Another party on Long Beach Island "sidelined nearly three dozen lifeguards from Harvey Cedars (and) Surf City who have tested positive," he said.
Health Commissioner Judith Persichilli, speaking at Wednesday's briefing, also cited a graduation party in Cape May County at the end of June that led to 46 new cases among New Jersey and Pennsylvania residents from 16 to 23 years old. 
"As we have said previously, the percentage of our cases that fall between the ages of 18 to 29 continues to increase. For the first three weeks in July, the percentage of case among 18 to 29 ranged from 24% to 33% compared to 12% in April and 22% in June," she said. "Every single one of those cases has the potential to infect other people; their grandparents, their parents, siblings, friends, loved ones. And if any of their contacts have underlying conditions like cardiovascular disease or diabetes mellitus, the result could be fatal."