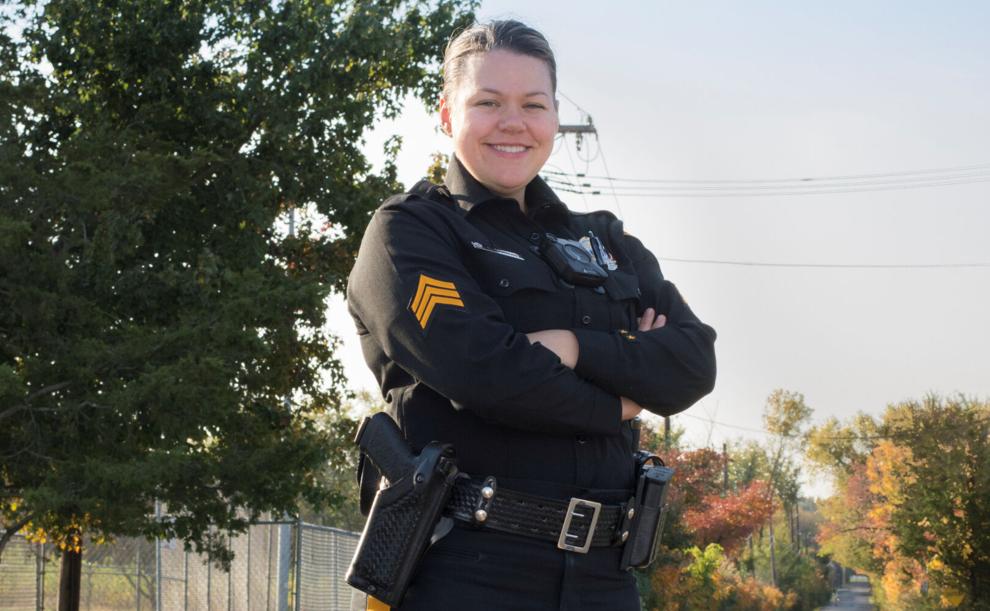 When Erin Gorman was hired as a police officer by the Evesham Police Department, she was just out of the Camden County Police Academy and had completed her bachelor's degree in criminal justice from Rutgers University in Camden.
That was more than 16 years ago for the Gloucester City native, who has since had three children and risen to sergeant — the highest-ranking female officer — in Burlington County's largest police department, which is surpassed in size only by Cherry Hill and Gloucester Township in this part of South Jersey.
Knowing then what she knows today, would she have chosen a different career path?
No, says Gorman. "It's super-rewarding," she told 70and73.com in an interview. "Every day you're feeling like you helped somebody. And that's satisfying."
Gorman, 38, is a leader and mentor to others in a department that has committed to a national program with a goal of having women account for 30% of police recruit classes by 2030 and to "ensure (that) police policies and culture intentionally support the success of qualified women officers throughout their careers."
The 30x30 program, operated by the Policing Project at the New York University School of Law, has been joined by departments from Long Beach, California to Manchester, New Hampshire. Evesham is the only New Jersey department listed on the initiative's website.
"Currently, women make up only 12% of sworn officers and 3% of police leadership in the U.S.," according to the 30x30 program. In Evesham, the 10 female sworn officers account for about 11% of the force of 93.
"It's going to take a little bit," to reach the 30% goal, Chief Christopher Chew told 70and73.com. One of the big impediments is low turnover: Openings are needed to add more women to the force.
However, Chew said, three of the four officers who recently got offers to replace retiring officers were women. One is an Asian-American woman and the others are white. The fourth offer went to an African-American man. The department now has seven Hispanics, three Asian-Americans and one African-American among its sworn officers, according statistics provided by Chew.
Evesham's first female police officer was Jane Marie Taylor, who joined the force in August 1980. She was one of 75 applicants for the job, according to news reports at the time.
The chief said Gorman has made an impact on the whole department. Each year, the department has an annual awards ceremony and in the latest Gorman received the greatest number of nominations from her peers for supervisor of the year. Gorman supervises a shift as a patrol bureau supervisor, often on the road, and she also oversees the department's Wellness Committee, which consists of nine department employees who help to make sure staff is safe physically, emotionally and financially, Chew said.
An under-representation of women in police departments "undermines public safety," the 30x30 project site states. "Research shows women officers use less force and less excessive force; are named in fewer complaints and lawsuits; are perceived by communities as being more honest and compassionate; see better outcomes for crime victims, especially in sexual assault cases; and make fewer discretionary arrests."
Having women on the force helps bring in more women and allows male leadership to understand "those things you would never really pay attention to or understand," Chew said. It can be as simple, but not obvious, as recognizing males and females have different body types and one type of ballistic vest or equipment belt doesn't fit all, he explained.
Gorman recalls being recruited for a police officer opening in Evesham and not knowing where the town was located. She was more familiar with "Marlton," she said.
She still lives in Gloucester City, where her father rose to deputy police chief after 25 years and where her sister, Johanna James, now is a police officer. Working 12-hour shifts is made easier because of the more-regular hours of her husband, Sean Gorman, who is principal of Gloucester City High School.
"Our police department sets the best example for how an organization should support the female staff," Gorman said. An example, she said, is women returning to duty after pregnancy and in need of private space for lactation. The Evesham department made arrangements.
Gorman also said senior leadership at her police department seeks out female-specific training without being asked.
"My experience there has been welcomed, encouraged to professionally grow," she said, with time in the detective bureau and internal affairs unit. Now she wants to rise in the command ranks, which would next require becoming a lieutenant.