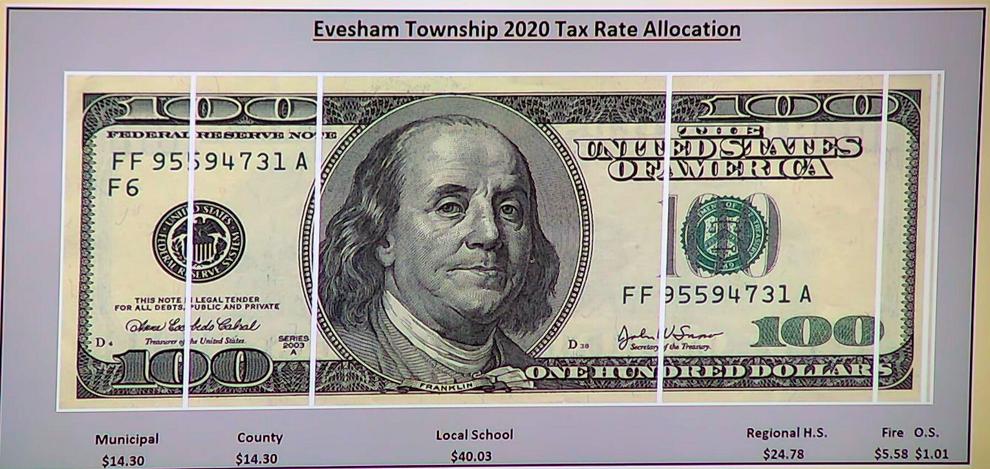 Property taxes for Evesham Township's municipal budget next year will not increase, according to a preliminary 2021 budget presented Wednesday night.
Township Manager Robert Corrales told Township Council members that last year "was truly an unprecedented year" and that the new budget keeps in mind residents and businesses affected by the COVID-19 pandemic. Township revenues from the court system, rentals and other sources plunged last year, but the Township also cut costs, he said.
"We know that there are still many residents who are not working or struggling to earn what they were making before the pandemic," Corrales said. "We know that our local businesses are still hurting from being closed for many weeks and months and they're trying to get back on their feet."
Out of every $100 in property taxes paid in Evesham Township just $14.30 goes to municipal costs. Most of the $100, a total of $64.81, goes to the Evesham Township School District and the Lenape Regional High School District, according to Corrales' presentation. (see chart above for complete breakdown)
Federal dollars from the American Rescue Plan Act are not included in the preliminary budget because the Township is awaiting guidance, but when applied to the budget the allocation will mean a big boost, Corrales said.
The preliminary 2021 budget totals $40.54 million; however, with no grants it is $40.47 million. Last year, the budget was $38.47 million, without grants included, and in 2019 it was $39.07 million, without grants.
A public hearing on the proposed budget will be held on June 23 at 7 p.m. at the Township Council meeting.