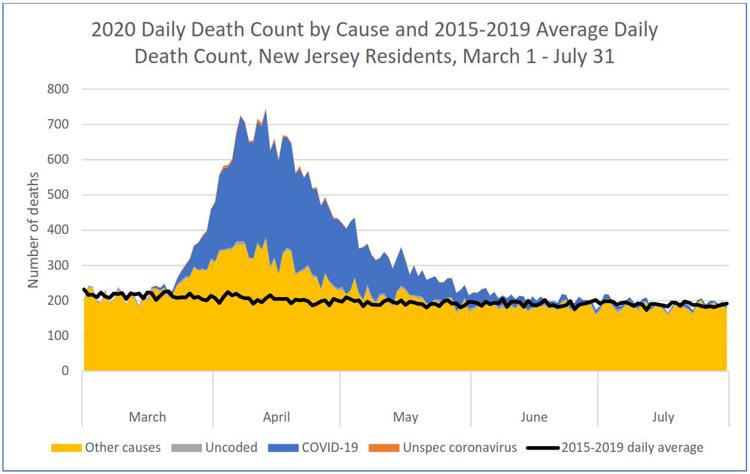 When health officials look at COVID-19 hotspots, the city of Camden and, specifically, ZIP Code 08105, is high on the list.
From November 1-18, Camden had 25% of the new infections in Camden County while accounting for only 15% of the county's population, according to a 70and73.com analysis of county data.
"The health department is putting employees on the street to do wellness checks with residents in Camden City," Paschal Nwako, Camden County health officer and public health coordinator, told 70and73.com on Friday. The department also is stepping up testing.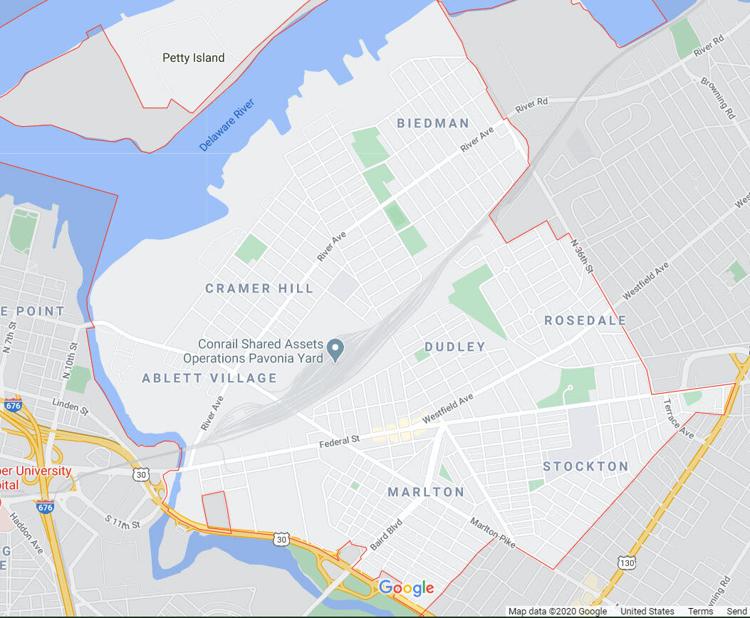 Nwako said the county also will partner with Virtua Health for new testing and educational programs in the 08105 ZIP Code. The ZIP has 28,534 residents and about two-thirds are Latino, according to the Census Bureau's American Community Survey. 
Since the pandemic began, ZIP Code 08105 has seen an infection rate of 5,236 per 100,000 population, according to state statistics. That's comparable with Newark's 5,664 per 100,000 rate in ZIP 07105 and one of the highest in the state. The rate is far higher than many other Camden County rates, including 2,637 per 100,000 in 08002 in Cherry Hill and 1,609 per 100,000 in 08003 in Cherry Hill.
» MORE: Virtua Health: COVID-19 hospitalizations up, far more expected than in the spring.
The county Health Department also is directing more outreach to Pennsauken, which accounts for 12% of new cases since November 1 in Camden County but only 7% of the county population. "We expect to do more," Nwako said of Camden and Pennsauken.
Gov. Phil Murphy, appraising the COVID-19 pandemic statewide at Friday's state COVID briefing, said of new cases and hospitalizations: "It is going to get unequivocally worse."
---
Find links to sources of COVID-19 data and information at the end of this article.
---
Vaccine could reach NJ next month
"The news on vaccines is unquestionably good," Murphy said at Friday's briefing.
Murphy said he was told by pharmaceutical giant Pfizer Inc. that, if it gets the go-ahead from the federal government to distribute, the company will begin making the vaccine available in New Jersey around Christmas. Another vaccine, from Moderna Inc., could be available in the state in early January.
"Our goal is to vaccinate 70% of the adult population, or 4.7 million New Jerseyans, in six months," state Health Commissioner Judith Persichilli said at Friday's briefing. 
Persichilli said the state would follow the guidelines from the U.S. Centers for Disease Control and Prevention to first vaccinate those who work in healthcare settings and have the potential for direct or indirect exposure to COVID-19. She said the first shipment of 130,000 doses from Pfizer is expected in the third week of December, followed by another 130,000 a week later. With Moderna's vaccine, as many as 460,000 doses could be in the state by early January, she said.
After the high-priority group is vaccinated, the vaccine would be used for other essential workers, residents with medical high risks and people over age 65. Persichilli said she expects sufficient supply in April or early May to meet the entire demand in the state.
More attention for long-term care
The number of outbreaks in the state's nursing homes and other long-term-care facilities has been growing since the beginning of November. On Friday, the state reported 285 active outbreaks and 2,615 cases among residents from those outbreaks.
"Next week I expect that we'll be putting out some pretty aggressive guidance on testing in our nursing homes," said Persichilli, who mentioned testing everyone who enters a long-term-care facility.
Plea for cooperating with contact tracers
"We continue to see a lack of cooperation with our contact tracers," Murphy said. When notified of a new case, tracers reach out to the infected person to find others who might have been in contact with the infected person.
However, statewide about 60% of the newly infected people contacted refuse to provide any detail about their contacts, he said.
"They're not in a witch hunt," Murphy said, urging them to cooperate.
In-person school debate
The governor said he was on a call with governors from six other states in the region, and all want to "reiterate the importance of keeping our schools open for in-person instruction," with protection against in-school transmission of the virus.
"We're also seeing the increasing evidence of the importance of time in school on a child's mental health and learning," he said. Since August, the state has reported 56 outbreaks of in-school transmission with 239 infections linked to those outbreaks.
The New Jersey Education Association, the union representing educators and school staff members, on Thursday said in a statement that it was dismayed Murphy and the other governors "downplayed the danger posed to students and school staff participating in in-person instruction during the current COVID-19 surge in our region."
"We agree wholeheartedly that in-person learning is the best possible scenario for all children, but only when that is safe," the NJEA stated. "In too many places, it is simply not safe now."
---
Camden County new cases by municipality, November 1-23
| MUNICIPALITY | CASES | % OF ALL CASES | % OF CTY. POP. | COVID RATE PER 1,000 |
| --- | --- | --- | --- | --- |
| Camden | 1,195 | 23% | 15% | 16 |
| Gloucester Township | 583 | 11% | 13% | 9 |
| Pennsauken | 576 | 11% | 7% | 16 |
| Cherry Hill | 529 | 10% | 14% | 7 |
| Winslow | 445 | 9% | 8% | 12 |
| Voorhees | 259 | 5% | 6% | 9 |
| Lindenwold | 178 | 3% | 3% | 10 |
| Bellmawr | 110 | 2% | 2% | 10 |
| Collingswood | 105 | 2% | 3% | 8 |
| Gloucester City | 100 | 2% | 2% | 9 |
| Haddon Township | 97 | 2% | 3% | 7 |
| Pine Hill | 89 | 2% | 2% | 9 |
| Waterford | 81 | 2% | 2% | 8 |
| Haddonfield | 67 | 1% | 2% | 6 |
| Audubon | 62 | 1% | 2% | 7 |
| Berlin Borough | 62 | 1% | 1% | 8 |
| Woodlynne | 52 | 1% | 1% | 18 |
| Runnemede | 47 | 1% | 2% | 6 |
| Berlin Township | 46 | 1% | 1% | 8 |
| Barrington | 45 | 1% | 1% | 7 |
| Merchantville | 43 | 1% | 1% | 12 |
| Somerdale | 41 | 1% | 1% | 7 |
| Clementon | 39 | 1% | 1% | 8 |
| Stratford | 35 | 1% | 1% | 5 |
| Lawnside | 33 | 1% | 1% | 11 |
| Haddon Heights | 32 | 1% | 1% | 4 |
| Magnolia | 31 | 1% | 1% | 7 |
| Oaklyn | 31 | 1% | 1% | 8 |
| Mount Ephraim | 30 | 1% | 1% | 7 |
| Brooklawn | 25 | <1% | <1% | 13 |
| Laurel Springs | 20 | <1% | <1% | 11 |
| Audubon Park | 18 | <1% | <1% | 18 |
| Gibbsboro | 16 | <1% | <1% | 7 |
| Hi-Nella | 9 | <1% | <1% | 10 |
| Chesilhurst | 7 | <1% | <1% | 4 |
| Unknown | 6 | <1% | <1% | NA |
---
Sources of COVID-19 data
Other COVID-19 data