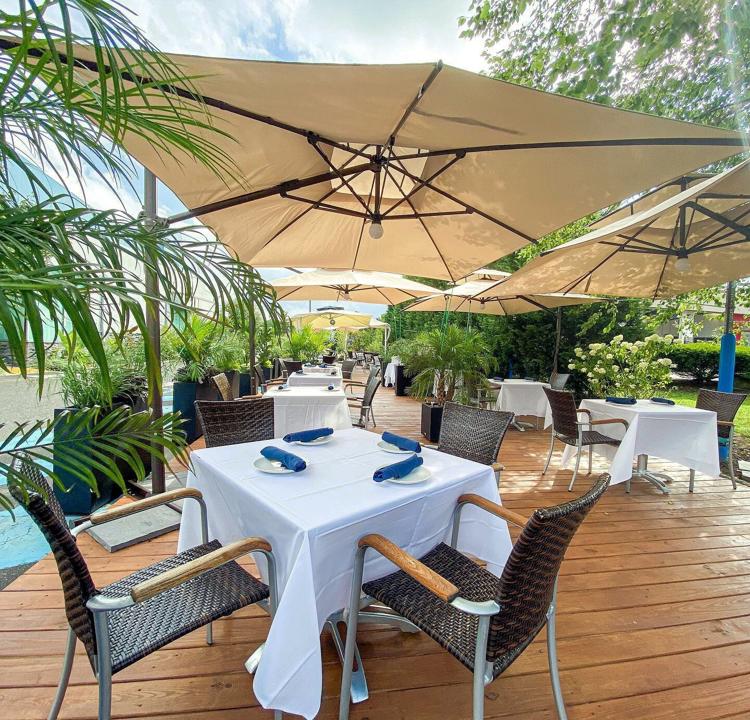 When the global pandemic first struck, Aldo Lamberti realized he had to change the business model at his area restaurants. He immediately established take-out via curbside pickup at Caffe Aldo Lamberti on Route 70 West in Cherry Hill. But he knew that wasn't enough.
Expecting outdoor dining to be approved, he promptly set out to expand outdoor seating with a new wooden deck along a portion of the parking lot adjacent to the restaurant — an oasis set apart from the rest of the property.
"The day after the state went on lockdown, my dad ordered lumber to start building the deck," said Rosita Lamberti, 41, director of restaurants for the Aldo Lamberti Family of Restaurants and Aldo's daughter. "He wasn't going to let the pandemic slow down our 33-year-old restaurant that's become a cherished destination for fine family dining."
The new deck seats between 30 and 40 guests and is surrounded by lush and full greens, including palm trees and elephant ears, all individually picked out by Aldo himself with help from Botanical Lighting in Medford.
With its relaxing water feature cascading in the middle, Patio at Caffe Aldo Lamberti was arranged to adhere to the COVID-19 restrictions and to accommodate diners six feet apart, it is brightened by lush plants, colorful flowers and oversized umbrellas. The restaurant's bar is now an additional dining area as two sides of the walls are completely open to the outside. At least 100 patrons can be seated outside comfortably.
"Safety for staff and patrons is our number one priority," owner Aldo Lamberti, 71, said. "It is essential that our guests feel safe when they dine with us. We want to replicate the same top-notch service, excellent food, and look/feel of our lovely spaces so that our outdoor dining experience is the next best thing to dining inside."
An underutilized Cigar Table was added in the corner of the parking lot for customers wanting a private dining experience.
"The Cigar Table is a hit with larger families who want their privacy. It is dozens of feet away from all other seating, and it's truly something special," Lamberti said.
For Caffe Aldo Lamberti, the most significant and most innovative change is the thermal body imaging system addition before you walk up to the host stand. The system screens the body temperature of everyone who enters the building, including all staff and guests. Any guest who has a temperature of over 100 will not be served.
Ted Campbell, the owner of Fortress Protection in Cherry Hill, stated, "thermal imaging is a non-intrusive way of monitoring an individual's body temperature while maintaining a safe distance."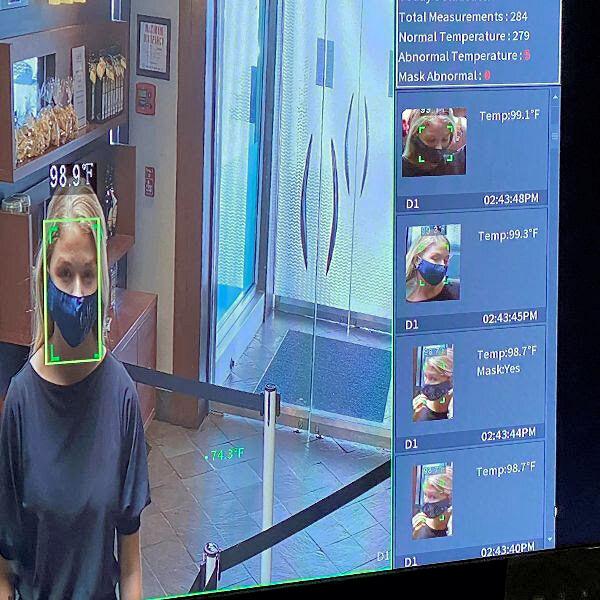 Other safety protocols include mandatory use of masks, staff temperature checks, ample hand sanitizer stations, one-way paths in and out of the rear patio, implementation of QR code menus and a vigorous cleaning schedule.
The inside of the restaurant is ready for 25% capacity when Gov. Phil Murphy allows indoor dining, which Lamberti hopes is soon. While the business has been brisk, the restaurant depends on large parties and private events that they haven't been able to book since the pandemic began.
"It's been a whirlwind, but we are weathering the storm," Lamberti said confidently. "Our restaurant team has gone above and beyond for our guests. We've had very few issues, and guests have been nothing but respectful toward our team. Despite the challenges, we're going to get through this."
---
The basics
Check out the menu.
Monday-Thursday: 11:30 a.m. to 9:30 p.m.
Friday-Saturday: 11:30 a.m. to 10 p.m.
Sunday: 1 to 9 p.m.
Address: 2011 Route 70 West, Cherry Hill, NJ 08002
Website: caffelamberti.com
Telephone: (856) 663-1747
Facebook: facebook.com/CaffeAldoLamberti/
Other South Jersey restaurants: Tutti Toscani (Cherry Hill) and Luna Rossa (Turnersville).