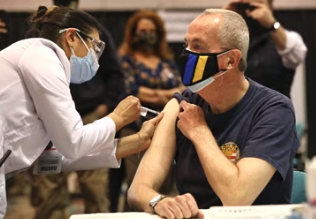 New Jersey Gov. Phil Murphy says he remains confident the state will reach its goal of vaccinating 70% of the adult population against COVID-19 by June 30.
More than 2.1 million New Jersey adults — nearly one-third of all people 18 and older — had been fully vaccinated with doses one and two as of Monday, the state reported. About half of the adult population in the state has had at least one dose.
Speaking at Monday's state COVID-19 briefing, Murphy said New Jersey is on target with its goal to vaccinate 4.7 million adults, or 7 out of 10 in that population, by the end of June. "We feel confident and comfortable to continue to say that," Murphy said.
Nationally, about 29% of the 18-and-older population had been fully vaccinated by Monday morning, according to the CDC. New Jersey's percentage was 32%.
"Please take whatever vaccination is available to you," state Health Commissioner Judith Persichilli said at Monday's state COVID-19 briefing. The Pfizer and Moderna vaccines require two doses and the Johnson & Johnson vaccine requires one.
A growing percentage of residents hospitalized with COVID-19 are younger residents, Persichilli disclosed.
"Overall, 48% of the new hospitalizations (over the weekend) were under the age of 60. This is a shift from our prior experience," she said.
By county, Hudson and Ocean counties had the lowest rates of 21% and 22% fully vaccinated, respectively, according to a 70and73.com analysis of state data. The highest rates were in Morris and Cape May counties, with rates of 40% and 41% respectively. Burlington stood at 34% and Camden was at 35%. (See county rates in the table, below.)
Murphy said 75% of state residents 65 and older have received at least one dose of the vaccine. The national percentage for the same group is nearly 79%, the CDC reported.
The demand for vaccinations continues to outstrip the supply of the vaccine, Murphy said, particularly with allocations of the Johnson & Johnson vaccine expected to temporarily drop in the next couple of weeks.
However, several vaccination sites in New Jersey, including Atlantic City and Camden County, report they have appointments available. Appointments for those eligible can be made at the Camden County clinic in Blackwood through camdencountyvaccine.com or by calling (856) 549-0530, the county said in a statement Monday morning.
All state residents 16 and older will be eligible for the vaccine beginning next Monday, April 19.
---
COVID-19 vaccination progress in NJ
| County | At least one dose | Fully vaccinated | % at least one | % fully vaccinated |
| --- | --- | --- | --- | --- |
| New Jersey | 3,461,239 | 2,192,021 | 50% | 32% |
| | | | | |
| Atlantic | 108,285 | 69,257 | 52% | 33% |
| Bergen | 376,859 | 253,694 | 51% | 35% |
| Burlington | 177,607 | 121,096 | 50% | 34% |
| Camden | 200,269 | 138,167 | 51% | 35% |
| Cape May | 42,417 | 31,404 | 55% | 41% |
| Cumberland | 48,709 | 31,014 | 42% | 27% |
| Essex | 278,559 | 161,277 | 46% | 27% |
| Gloucester | 117,996 | 83,705 | 52% | 37% |
| Hudson | 226,604 | 112,874 | 43% | 21% |
| Hunterdon | 50,190 | 29,797 | 50% | 30% |
| Mercer | 140,223 | 87,248 | 48% | 30% |
| Middlesex | 300,746 | 180,841 | 47% | 28% |
| Monmouth | 250,606 | 161,712 | 51% | 33% |
| Morris | 234,927 | 154,133 | 61% | 40% |
| Ocean | 163,964 | 99,098 | 36% | 22% |
| Passaic | 203,032 | 137,077 | 53% | 36% |
| Salem | 21,494 | 14,154 | 44% | 29% |
| Somerset | 141,562 | 88,349 | 55% | 34% |
| Sussex | 53,398 | 34,197 | 47% | 30% |
| Union | 193,946 | 112,617 | 46% | 27% |
| Warren | 33,442 | 22,590 | 39% | 27% |
| Unknown | 11,391 | 12,085 | --- | --- |
| Out of State | 85,013 | 55,635 | --- | --- |