Click through the slide show above.
---
Bill and Amy Green on Wednesday stood on their 248-year-old Stafford Farm in Voorhees in front of blackened rectangle of earth that in less than two years will hold their wine-tasting room.
That tasting room will feature wines from the farm's on-site, 9,600-square-foot production facility, which is expected to open next May.
And many of the grapes crushed into wine at the preserved farmland at Evesham and White Horse roads will come from what ultimately could be an estimated 30 acres of vineyards. The first wine crop is expected next year, when 2½ acres of Chardonnay grapes will ripen.
Green, who paid $900,000 for the nearly 70 acres just seven months ago, on Tuesday night received approval from the Camden County Agriculture Development Board for his "Saddlehill Cellars at the historic Stafford Farms," a combination winery, horse facility and flower and produce farm.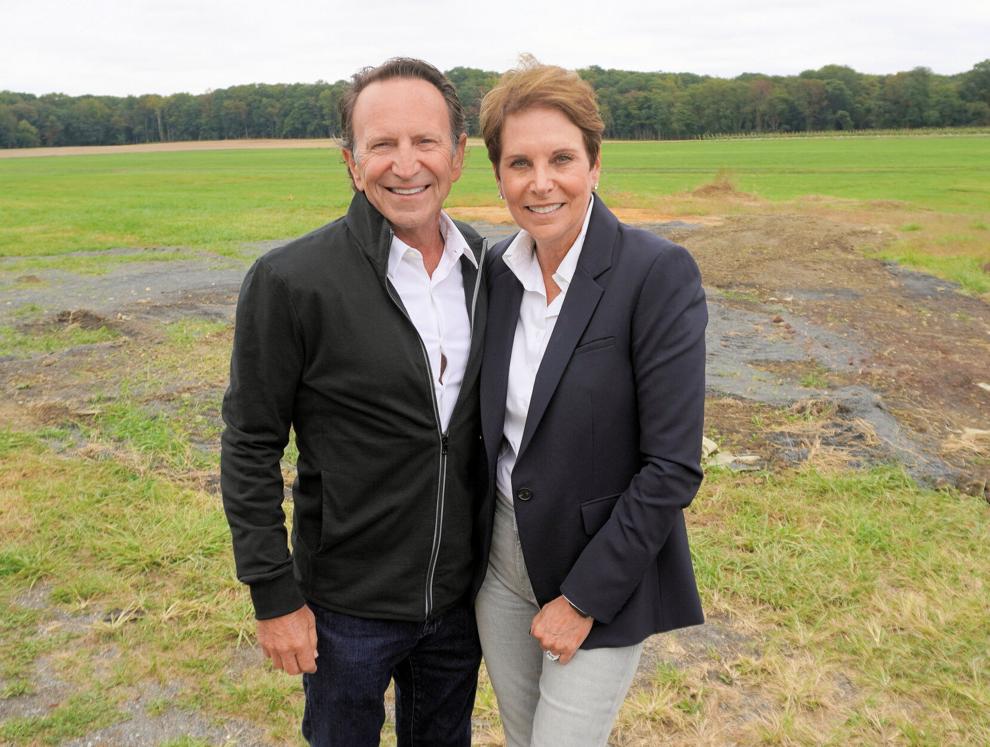 The 62-year-old entrepreneur, who now lives in Boca Raton, Florida but grew up in Marlton — he remembers getting ice cream as a child at the former Cow Tail Bar across the road in Cherry Hill and seeing horses running on Stafford Farm — already has invested more than $2 million in the project and expects it to cost several times that once complete.
"We view this as a very long-term investment. Generational," Green told 70and73.com in an interview at the farm, which is preserved only as farmland forever by the state. Green said it would overjoy him if a couple of hundred years from now it was still in the Green family, just as it had been in the Stafford family until it was sold in 2004.
Added Amy: "I adore this. I think the whole thing is wonderful beyond my wildest dreams."
Saddlehill, which will emphasize agritourism, will have a 7,000-square-foot tasting room and a small-scale equine breeding operation that will be housed in a new 4,320-square-foot barn, according to records filed with the county board. Themed events will be built around apple, peach, strawberry and pumpkin harvests, the plan notes. The tasting room will feature a patio with a view of the farm and tapas-like, small-plate food.
The corner of the farm near the intersection of Evesham, White Horse and Springdale roads will be a focal point for Saddlehill. In November, the farm staff will plant 250,000 tulip bulbs with expectations that they will bloom by next Mother's Day. The tulip crop will be rotated with sunflowers.
"That corner should always have flowers," Green said. 
But the flowers won't be only for the enjoyment for motorists stuck at the busy intersection on the Voorhees-Cherry Hill border. Green, ever the entrepreneur, said some flowers will be sold to area markets, but he also expects to work with Door Dash, which will deliver a bouquet of flowers in about a half-hour.
Green made his money from several entrepreneurial ventures. Crestar Partners is his current private equity company, investing in financial technology, consumer products and real estate businesses. He also authored "ALL IN: 101 Real Life Business Lessons For Emerging Entrepreneurs." That book, published in 2017 and translated into several other languages, was another of the entrepreneur's passion projects.
Over the summer, Green sold LendingOne, a company he co-founded that makes loans to businesses that fix and flip houses. He also is managing partner of OneKeyHomes, which specializes in renting single-family homes. It has nearly 500 houses in Pennsylvania around the Philadelphia area and is building new rental-only single-family homes in Delaware.
But it has been Saddlehill, Green's smallest business, that has monopolized his attention since last March. "Every waking moment," he joked.
Green and his staff work out of a roomy trailer on the farm, where he employs seven full-time employees. A new fence surrounds the property, keeping out the deer that populated the farm before he bought it and keeping in his horses and a herd of alpacas.
The businessman, who cannot conceal his joy when donning cowboy boots, a cowboy hat and swinging up into the saddle of his horse Marley, said he has found new ways to relax. Last week, he climbed aboard farm equipment and cut five acres of grass in two hours with a cigar in his mouth and earbuds playing soft rock and "some country."
The Greens said charitable activities are, and will be, a big component of their plans.
Young adults with autism from Sprouting Connections, a Stratford nonprofit, spent time on the farm helping with planting. And the Greens have chartered a bus to transport 20 children from the Boys & Girls Club of Camden County to the farm. The Greens bought a hay wagon for the occasion. They also plan to host yoga with alpacas — the animals emit a low hum that is relaxing — and will donate 100% of the proceeds to charity.
Green and Saddlehill could not have moved as fast as it did without his three key on-site employees, he explained. He hired Tom O'Neill as farm manager, Kate Bosch as barn and animal manager and Julia Hilfiker as flower farm manager. He already has begun recruiting for a winemaker.
O'Neill, who is from Collingswood, moved from cheesemonger to food runner to maître d' at Le Bec-Fin, the luxurious Center City Philadelphia French restaurant that closed in 2013. O'Neill said he was intrigued with raising edible flowers, working first at a farm in Swedesboro and then leasing his own farm in Sewell.
Overseeing the horses and alpacas is Bosch, who worked for 10 years at a Mercer County horse farm before joining Saddlehill over the summer. Bosch, who grew up in Delran, said she was attracted by "all of the ambitions of this property" and an eagerness to get in at the beginning.
Making sure the flowers grow, Hilfiker, who is from Maryland, worked on a Sewell farm. She will oversee the planting of the quarter-million tulip bulbs.
Green said it was important to honor the farm's heritage by including the Stafford name in its new name. He has met with the Stafford brothers, who last worked the farm before 140 acres were sold to Voorhees Township, the state and a nonprofit for $20.6 million to ensure the property would remain protected forever from commercial development.  
About half of the property was kept by Voorhees Township as open space and half preserved for agriculture and sold in 2005 to Ken and Amy Kazahaya for just over $1 million. The Kazahayas sold to the Greens.
The future, Green said, will be mainly in wine, attracting tourists from a wide area including Philadelphia and its Pennsylvania suburbs.
The couple has collected wine for more than 25 years and has visited wineries and vineyards in Napa, Bordeaux and Italy.
He predicted Saddlehill eventually will sell 10,000 cases of wine a year and rank as one of the largest wineries in New Jersey with a variety of both whites and reds. A wine club, signing up subscribers to get periodic deliveries of the wines, will account for two-thirds of the revenue, according to the business plan.
"It's going to be big," Green said.