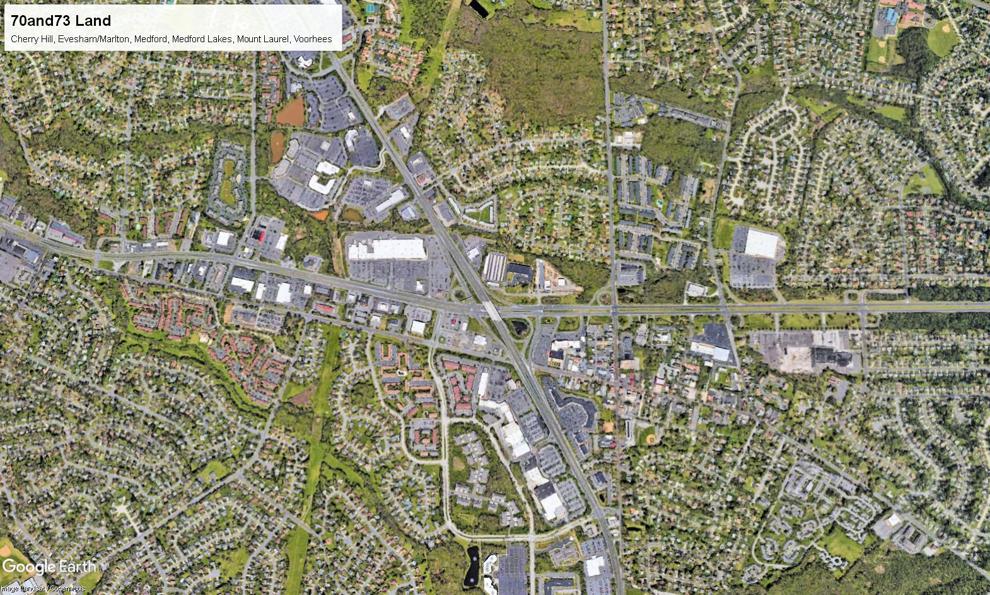 Although both 70and73.com and parent company Ewald Technology LLC are business infants, the idea behind them goes back a few decades.
Company founder and owner Neill Borowski lived in the Old Orchard section of Cherry Hill for 21 years when he was a reporter and editor — even spending two years as assistant circulation director — of The Philadelphia Inquirer, which he left in 2004.
In the 1980s, Borowski, whose reporting specialties included economics and demographics, was fascinated by the seemingly never-ending suburban expansion of South Jersey. The population explosion began with the birth of the Baby Boom (1946-64) but continued as residential and commercial properties spread into former farmland and woods. Burlington, Camden and Gloucester Counties seemed nothing like the New Jersey stereotype. The terrain in most of that region was beautiful and access to amenities like the Jersey Shore and Philadelphia was easy.
The social and economic engines in places like Cherry Hill, Evesham/Marlton, Medford, Medford Lakes, Mount Laurel and Voorhees have been fueled by young families who staked out their suburban turf and quickly began running to school activities, soccer, football, baseball, softball, dance, music lessons and endless other family functions. For many of these families, life usually was lived in a tight five-mile radius of home even if one or both parents commuted to Philadelphia, New York or elsewhere. Despite suburban sprawl so common everywhere in the nation, each of these towns offered a feeling of community, growing from schools, places of worship or youth sports organizations.
In recent years, the growth of apartments has exploded. Those who live there might be singles or couples. As renters, they still are stakeholders in their communities. This group's interests might range from the latest in restaurants, area social life, where to buy that first home to the best school districts to raise a family.
Newspapers like The Inquirer and smaller local news outlets early on recognized South Jersey as a vital market. The Inquirer at one time had twice-weekly tabloid inserts called "Neighbors" to serve the suburbs. News staffs were relatively large, coverage was focused and small-business advertising was sold in what the newspaper people called "micro-zones."
But newspapers soon would become an industry disrupted by the rise of the internet, which lured away both readers and advertisers.
Today, most local print newspapers, sadly, are in a death spiral. Print circulation has fallen steeply to a fraction of what it used to be. These legacy print newsrooms have turned to digital on the internet but the new business model is tentative at best because their corporate structures have come to depend on high-priced print advertising compared to the lower prices of digital ads. With declining revenue, newspapers have cut back on the number of pages, the geography of their coverage area and the size of their news staffs. One upstate New York newspaper had a newsroom of about 40 people in 2000. By 2018, it had shrunk to two people.
Despite the problems of the legacy news business, places like South Jersey still are vibrant markets deserving of coverage. And that's where start-up digital news/advertising sites such as 70and73.com come in. Are they the answer? The outcome isn't certain, but we know people still have a deep interest in their local communities and what's going on.
Borowski left The Inquirer in 2004 as Deputy New Jersey Editor, where he helped to lead the news coverage in the local communities. He joined the Indianapolis Star as Assistant Managing Editor/Local News, introducing many local news innovations. Later, he was Managing Editor of the Rochester (New York) Democrat & Chronicle, Executive Editor of The Press of Atlantic City and Executive Editor of three New York newspapers, in Binghamton, Ithaca and Elmira. At each stop, he developed new ways to cover local news and how to present it on the newsrooms' digital sites.
As he focused on local news in those diverse areas, he continued to think of South Jersey and, more specifically, the six communities in 70and73 Land. Why "70and73 Land"? If you live in the six communities listed above you'll know the intersection of Routes 70 and 73 in Marlton offer a bit of a regional identity. Think of it as a pin on a map and a circle with a radius of a few miles.
These six communities — Cherry Hill, Evesham/Marlton, Medford, Medford Lakes, Mount Laurel and Voorhees — have a lot in common. The population of 70and73 Land is about 214,000 people who live in 82,000 housing units, according to U.S. Census data.
In August 2019, Borowski left the legacy news business and started up 70and73. As 70and73.com was being designed and built by the experts at the BLOX/TownNews content management system, local content was presented on the 70and73.blog and Facebook.
70and73.com debuted on February 3, 2020. The site endeavors to present deeper looks at community news than offered elsewhere. Each article is written to include the "what, so what and now what?" When possible, 70and73 will offer potential solutions to challenges in the community.
70and73.com also offers local businesses a highly targeted marketing resource with several tools that can be customized. The 70and73 marketing concept poses this question to businesses: If most of your consumers live in or around the 70and73 Land six primary communities, why waste advertising dollars with websites that only touch on your market?
Most of all, Ewald Technology and 70and73 are locally owned small businesses based in Marlton and devoted to the communities around 70and73. We want to offer the widest and deepest news coverage possible to those who live here. And we want to be a marketing partner with local businesses to help them thrive in a highly competitive environment.
---
How to join forces with us?
How to reach us? 
Neill Borowski's email address is neillborowski@70and73.com and you can call him directly at 856.397.0146. For advertising, contact advertising director Anne Nguyen by email at anne@70and73.com.